Wauwatosa ballots found; aldermanic primary election results stand
WAUWATOSA, Wis. - Wauwatosa was supposed to count all of its absentee ballots on primary day, Feb. 15 – but a mistake meant a batch of ballots was overlooked.
With only 14 votes originally separating the three candidates for Aldermanic District 3, the race could've been flipped by those votes. However, following a count of those overlooked ballots inside City Hall, the candidates ended up in the same standing.
Two newcomers will oust the incumbent, facing one another in April's general election.
SIGN UP TODAY: Get daily headlines, breaking news emails from FOX6 News
Fifty-eight sealed envelopes with absentee ballots inside were opened more than a week late, including the ballot cast by Philip Helwig.
"I think that somebody goofed up. What else can you say? They didn't do their job," Helwig said.
FOX6 questioned the city leader who oversees elections: "Does there need to be an investigation here into what happened to make sure this never happens again?"
"No, as mentioned, there was simple checks and balances that just need to be followed and storage, as a mentioned is going to be simplified and the process internally is going to be simplified," said Wauwatosa Clerk Steven Braatz.
FOX6 continued the questions: "What do you say to critics who are saying they want to see action here, maybe even a resignation, potentially?"
"This really isn't about that. This is about how elections happen in Wauwatosa," said Braatz. "I explained the process, and the process going forward and making sure we are strictly following these processes, and training will occur and processes will be in place, and we'll have nice clean elections going forward."
FREE DOWNLOAD: Get breaking news alerts in the FOX6 News app for iOS or Android.
The clerk apologized for what he calls an error. On Feb. 22, they found the lawfully-cast absentee ballots in a bin in the office's secured vault – including 26 with votes for Aldermanic District 3.
Candidate Joseph Makhlouf came in second after the Feb. 15 primary, ousting incumbent Tim Hanson – but that was at risk. 
"The first thought is kind of shock and disbelief," Makhlouf said before the ballots were counted.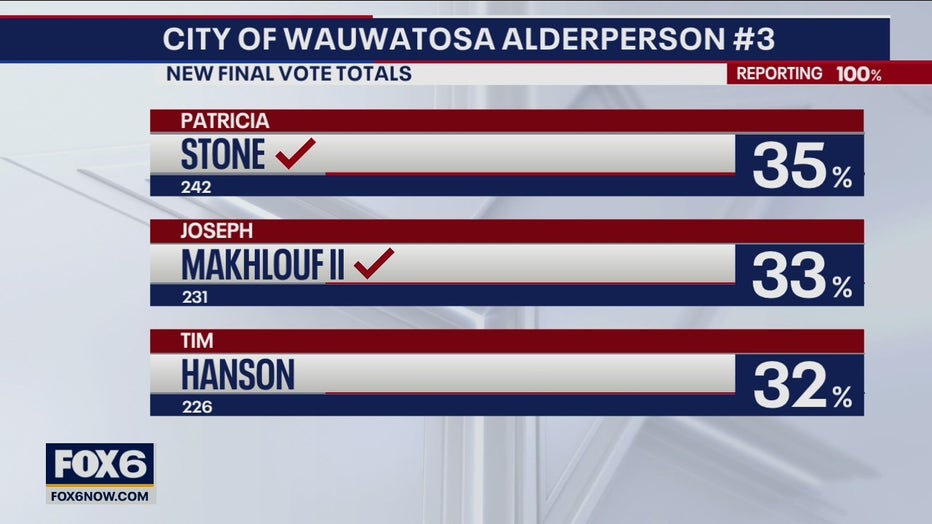 He watched as the Board of Canvassers opened and counted the ballots, one by one.
"I was pretty much holding my breath," said Makhloud. "Mistakes can happen, but there does need to be more accountability and making sure this doesn't happen to anyone else in the future. Having gone through it, I can tell you it is extraordinarily stressful."
The final results put the same two who won on primary day, Feb. 15 moving on to the general election – Makhlouf and Patricia Stone.
Vote total details
As of the Feb. 15 primary night count, the vote totals were:
Tim Hanson (incumbent): 219 votes
Joseph Makhlouf: 221 votes
Patricia Stone: 233 votes
FOX6 News cameras capturing the additional ballot count. The results were then:
Tim Hanson: 226
Joseph Makhlouf: 231
Patricia Stone: 242