Wauwatosa investigation: Two women robbed of their purses in separate incidents
WAUWATOSA -- The Wauwatosa Police Department is investigating a couple of robberies in the city -- both involved suspects who stole purses from their victims.

The first strong armed robbery occurred in the parking lot at the Walgreen's store near Highway 100 and Capitol Drive on Saturday, June 20th. A 78-year-old woman left the store shortly before 3 p.m. that day -- and was near her vehicle when she was approached by a subject in the parking lot. The suspect grabbed the victim's purse and dragged her across the parking lot, forcing her to let go of the purse. The victim sustained several, non-life threatening injuries.

The suspect in this incident is described as a male, black, medium height and build, wearing a dark-colored hooded sweatshirt with the hood pulled up and dark-colored athletic pants with white stripes down the side.

In a similar incident, a strong armed robbery occurred in the parking lot of the Mayfair Collection on Monday, June 22nd.

A 64-year-old female victim was approached in the parking lot by two subjects shortly before 1 p.m. One of the subjects forcibly grabbed the victim's purse. When she did not let go, a second subject said, "Just give me your purse and you won't get hurt." Police say the suspects were captured on a store surveillance camera (see below) shortly before the robbery.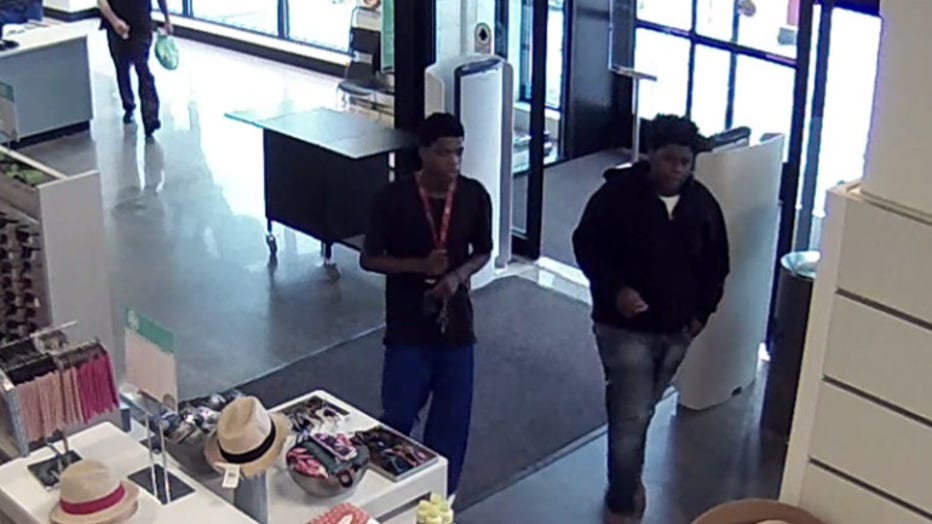 Robbery suspects in Wauwatosa


These same subjects are suspected to be involved in a similar robbery in Menomonee Falls on June 22nd, where the female victim suffered a severe head injury.

Citizens with information should contact Wauwatosa Detective James Donovan at 414-471-8430, extension 5140OR anonymously, contact Wauwatosa Crime Stoppers, 414-771-TOSA (8672).