Waukesha County officials celebrate Communications Center expansion; new 'Emergency Operations Center'


WAUKESHA  COUNTY -- A ribbon-cutting ceremony was held Tuesday, April 10 for an expansion at the Waukesha County Communications Center -- which includes a brand new Waukesha County Emergency Operations Center.

The original facility was built to house only Waukesha County Communications Center staff and equipment. The expansion project is designed to meet the county's current and future needs in both dispatch and emergency management operations. The 7,500 square foot addition includes high-tech meeting rooms, training facilities, a garage to house emergency management equipment and vehicles and room for additional 911 dispatch floor staff.

The ceremony was especially meaningful for the family of one employee.

Dispatchers in Waukesha County work around the clock -- answering more than 76,000 calls in 2017 alone. We rarely learn much about the dispatchers who send the help callers need. Few want the spotlight, including Bill Stolte.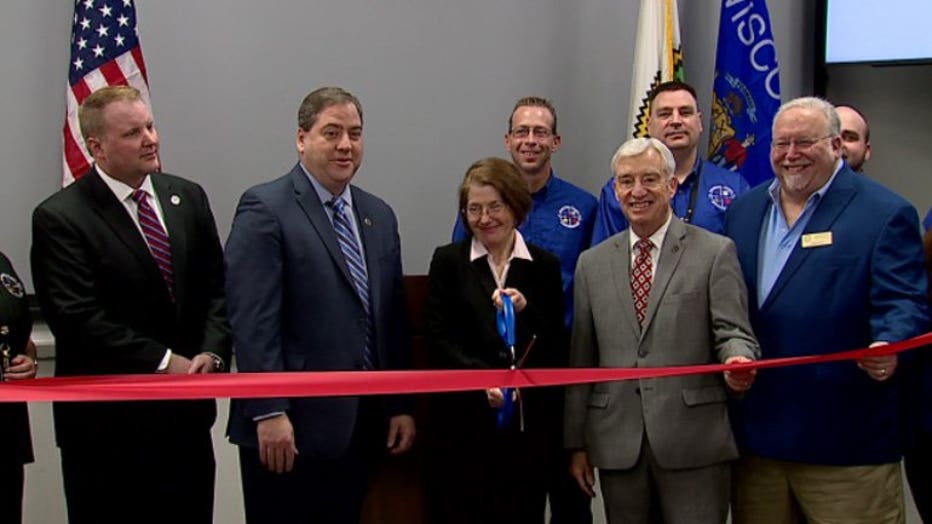 "Please know that Bill would be accepting this honor on your behalf. It is all of you and your relationships that make this possible, and our community safer," said Nancy Stolte, Bill's wife.

Bill Stolte believed in public service. His first job was a police dispatcher. Eventually, Stolte worked his way up to the position of Waukesha County Emergency Management coordinator -- a post he hoped to hold until he retired.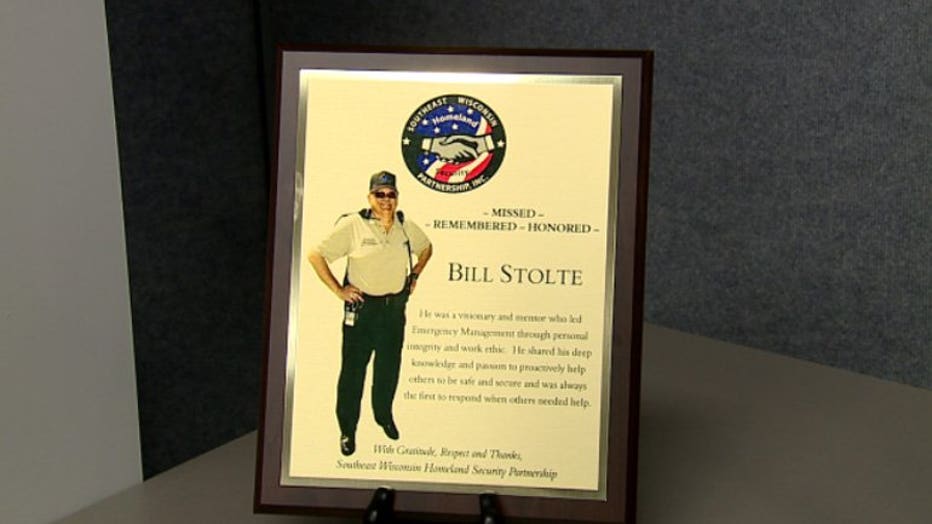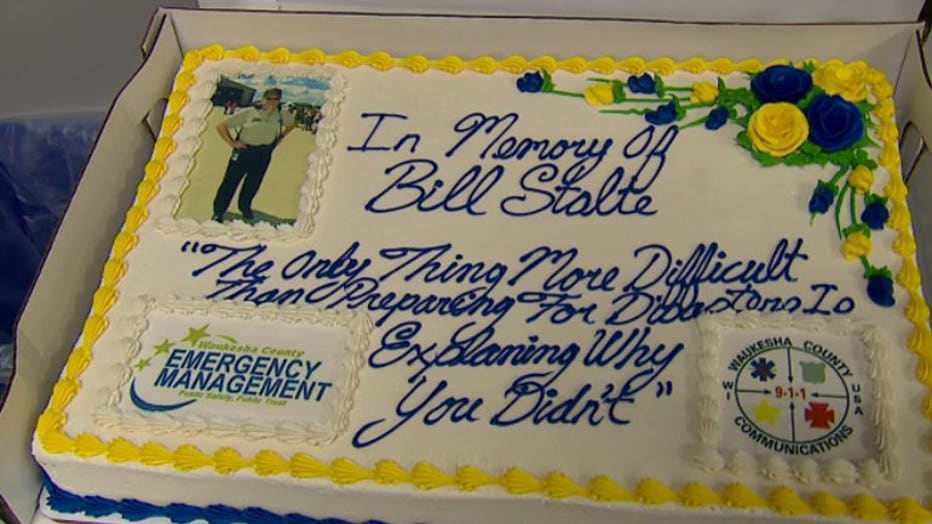 "His goal was to be prepared and never make a mistake," said Paul Farrow, county executive.

Stolte was overseeing an expansion when he passed away unexpectedly. His co-workers named the new center in his honor.

"He has been instrumental in continuing our organization, and we very much miss his leadership, his compassion, his knowledge and his dedication," said Matthew Meyer, Board of Directors, SE WI Homeland Security partnership.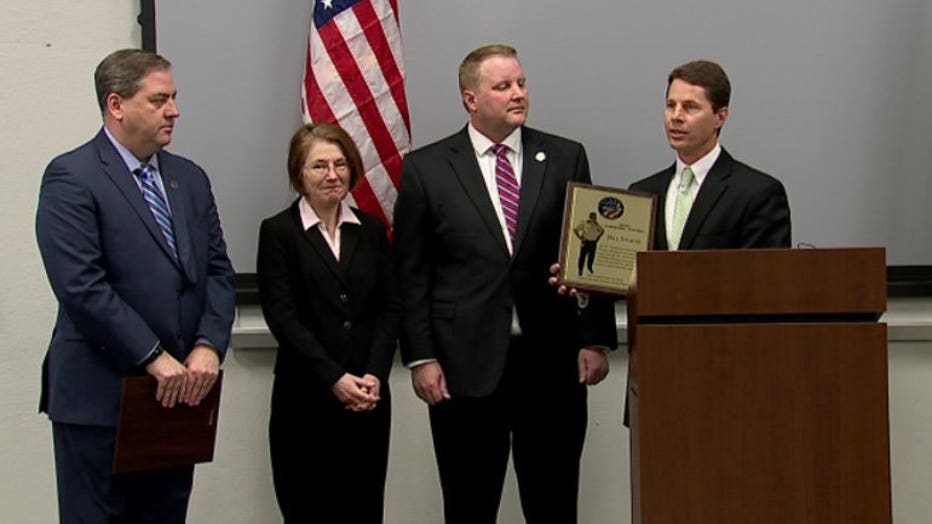 It's a lasting tribute to a man who lived to serve -- and who will continue to serve as an inspiration for years to come.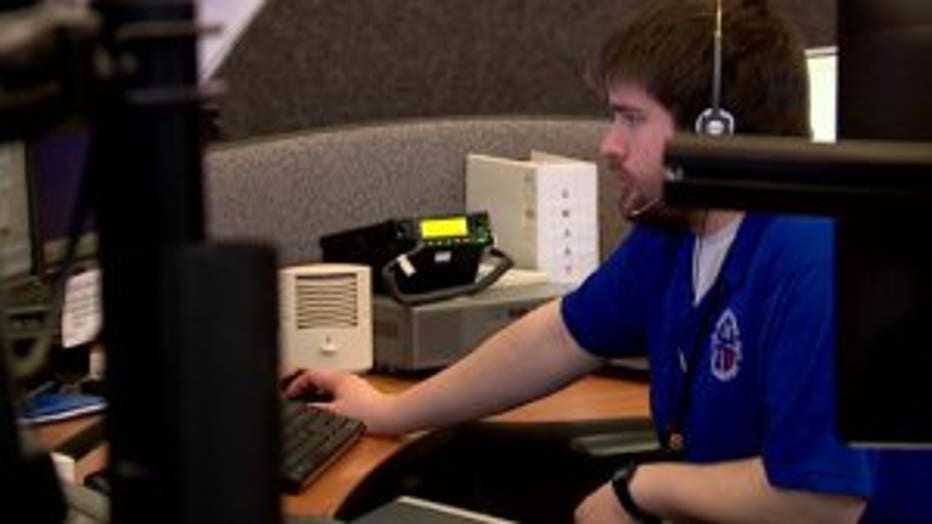 "Bill appreciated the opportunity to work with each and every one of you, both collectively and as individuals," said Nancy Stolte.

"We wouldn't be here without Bill Stolte," said Gary Bell, director of emergency preparedness.

The Waukesha County Emergency Management Operations Center, named in Stolte's honor, is a state-of-the-art facility that can withstand extreme weather conditions -- including an EF-2 tornado.

The ribbon-cutting ceremony came during Tornado and Severe Weather Awareness Week in Wisconsin, April 9-13.