Watch: Sea lion pup "Moana" begins training at Oceans of Fun


MILWAUKEE -- Making progress every day on her 'Second Chance' journey, Moana -- a sea lion pup at Oceans of Fun -- has started her official training.

The staff at Oceans of Fun inside the Milwaukee County Zoo, spend hours every day working with their animals. As part of the animal's training, when they does something correctly, the trainers make sure to let them know they've done a good job.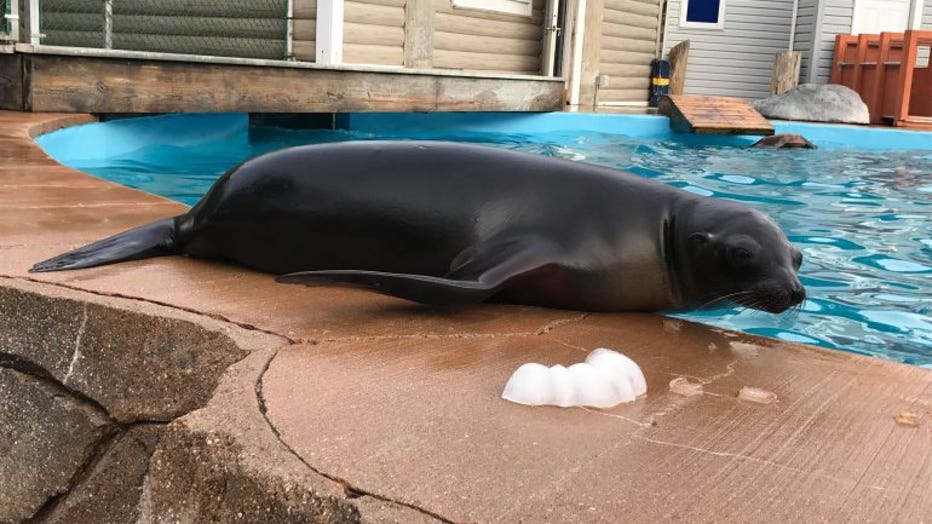 Friday, December 1st FOX6 News got a peek into the early stages of Moana's training -- and she's doing great! Oceans of Fun President Shelley Ballmann says at first Moana was intimidated by a "target pole," which is a ball at the end of a stick, but is becoming more comfortable with it around. Each day she trains, Moana is expected to get more comfortable with the pole, which is used to perform many of their tasks.

That's not all, the staff at Oceans of Fun are learning rather quickly Moana has a BIG personality! At the end of the training session on Friday, Moana got to enjoy a feast of ice cubes -- which seem to be her favorite -- and made it clear with some barks she did not want to share them with any of her pool mates...or us.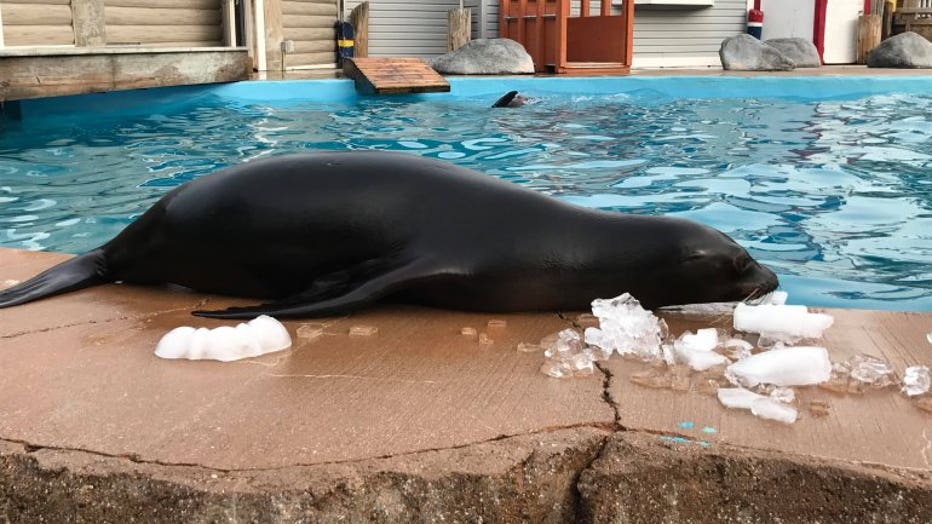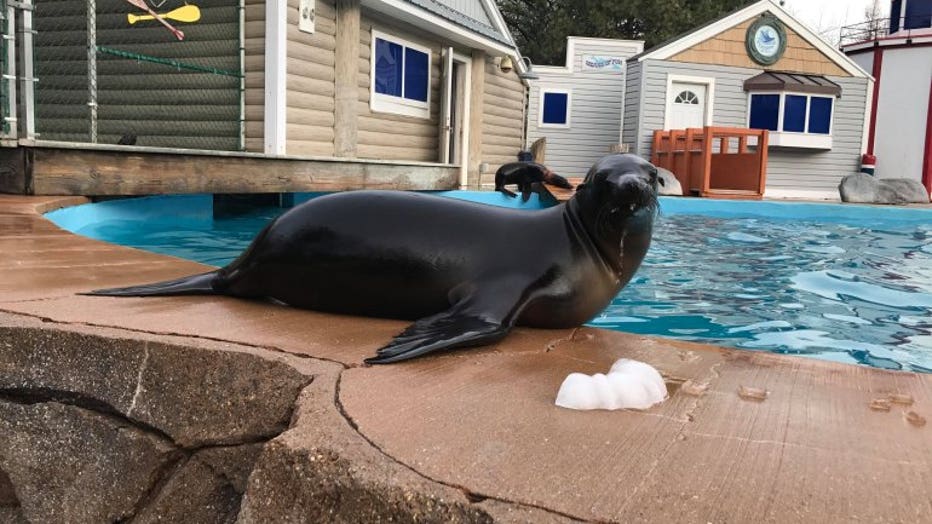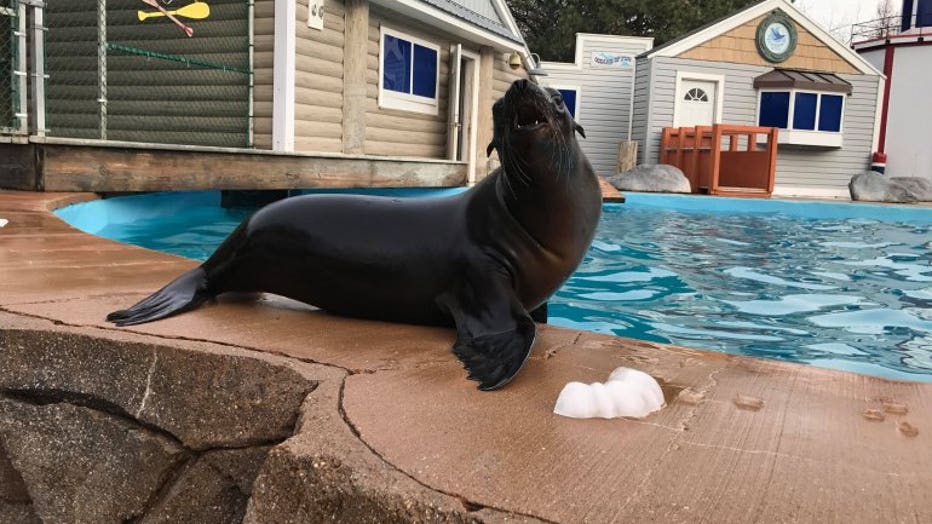 Want to meet Moana? This time of year, Oceans of Fun hosts "Meet and Greet" events every day, weather permitting. Follow their Facebook page for details -- or call ahead of your visit to learn more.

FOX6 News met Moana for the first time on October 10th. She has been at the Milwaukee County Zoo since early September. This, after she was found in a storm sewer in Laguna, California!

PHOTO GALLERY



Ballmann explained to FOX6 News that over the past four years along the California coastline, there's been what's called a "UME," or "unusual mortality event," where thousands of sea lion pups have become stranded on the beach due to starvation.

Three of those animals are currently being cared for at Oceans of Fun, "in an effort to provide them with a second chance," Ballmann said.




Moana is the most recent arrival at Oceans of Fun.



Ballmann said Moana is just about a year old.

She was found in the storm sewer when she was about three or four months old. She was then brought in by the Pacific Marine Mammal Center, where staff has a goal of making animals healthy again, and eventually releasing them back into the wild.

Unfortunately, that doesn't always go as planned, and this was the case with Moana.

Because she was so young, she still needed her mother in order to survive. She was a nursing-aged pup, and therefore wasn't eating a diet of fish yet. The staff at Pacific Marine tried to introduce fish and get her eating independently, but Ballmann said she didn't want anythign to do with it -- but she did learn to trust humans.




That's what led Moana to Milwaukee. Officials at Pacific Marine called staff at Oceans of Fun and asked whether they'd be able to provide a home for Moana for the rest of her life, and they said "yes, absolutely" -- "because who wouldn't fall in love with this little girl?!" Ballmann said.

Once she arrived in Milwaukee, she was named Moana, which means "from the sea."

Ballmann said she's a gift to them from the sea, and the staff at Oceans of Fun is now telling the story of Moana's second chance.




In addition to being cared for, loved and trained, Moana will serve as an ambassador for Oceans of Fun and the Milwaukee County Zoo. Ballmann said her role will be to educate people about marine conservation and the struggles that these animals are dealing with in the wild today. The goal, Ballmann said, is saving species.

There are challenges ahead for Moana. She's lived here in Milwaukee for just a month, and when she arrived, she couldn't simply move right in. The staff at Oceans of Fun had to repeat all of the testing done on Moana in California, out of an abundance of caution. Ballmann said she came from the wild, and there are diseases that could come with her, and they couldn't take any chances as they have eight other marine mammals at their facility.




Moana also had to be placed in quarantine, which Ballmann described as "a lot of work," noting that staff had to be careful not to cross between Moana and the other animals to ensure everyone stayed healthy.




She was released from quarantine just about a week ago (on October 5th) -- and now, everything in Moana's life has changed once again, as she gets used to a new space and meets the other animals at Oceans of Fun.

And of course, she's preparing for her public debut!

Ballmann said she'll soon begin training -- so there are a lot of big steps ahead for this little girl.




CLICK HERE to learn so much more about Moana via a special webpage at OceansofFun.org!