'Wanted to get done:' Early voting begins in Milwaukee as officials push absentee ballots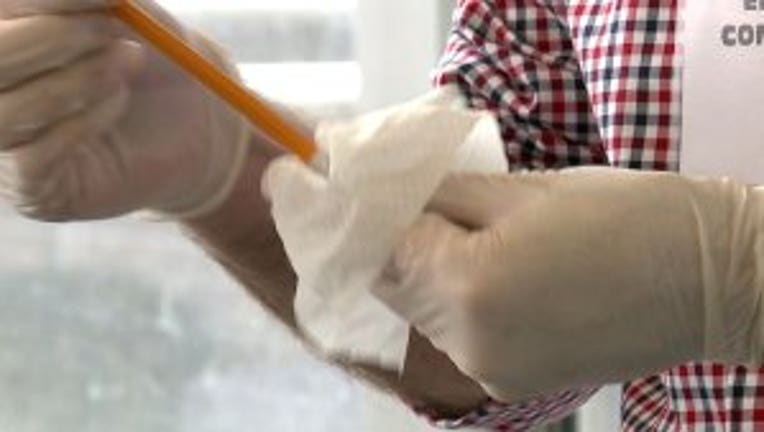 article


MILWAUKEE — Candidates and political parties aren't pushing to postpone Wisconsin's presidential primary April 7, instead urging voters to cast absentee ballots rather than line up at the polls as the national slowdown to contain the new coronavirus deepens. Those who wish to vote by absentee ballot must be registered by Wednesday, March 18. Voter registration can also be done in-person at your clerk's office or at the polls.

Important deadlines
Early voting in Milwaukee

Early voting started Monday, March 16 in Milwaukee.

"Thank you all for all of the efforts you are putting in to make it safe for us to cast our votes," said a voter as crews wiped down tables and pencils amid early voting in Milwaukee Monday, with voters selecting candidates for Milwaukee mayor, county executive, and state Supreme court.

"I just wanted to make sure to get my vote in, in case there were any problems coming up," said Dana Eick.

"I just wanted to make sure I got it done," said Kari Wellhausen. "I have no idea what's going to happen in the next weeks, and I want to make sure I get all of my T's crossed and my I's dotted before who knows what."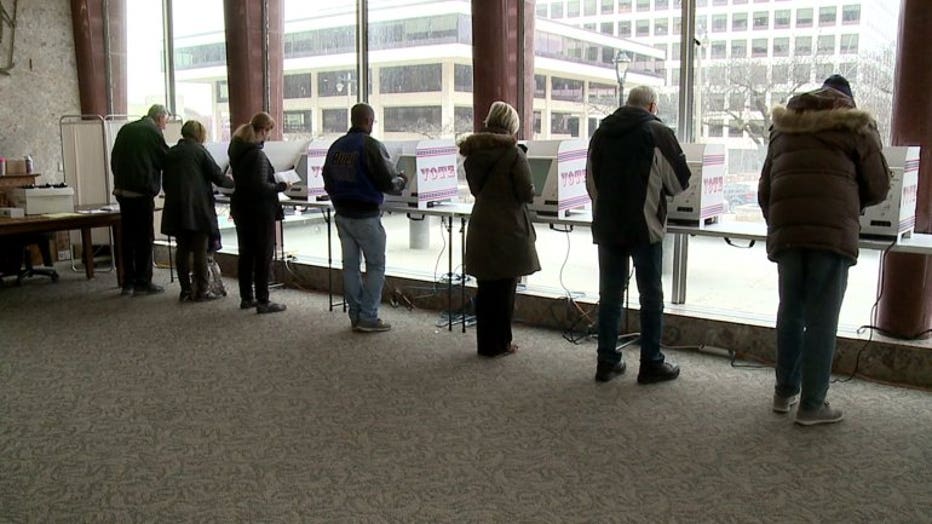 Poll workers were busy ensuring there were no fingers on the touchscreen.


"The back end of the pencil," said a poll worker.

Meanwhile, candidates stopped door knocking, instead, encouraging people to vote absentee.

"I actually did it online with my son, who is 7, and it took us four minutes," said State Senator Chris Larson, D-Milwaukee, candidate for Milwaukee County executive. "The most complicated part is you have to have an ID and scan that in. and I literally took a picture with my cellphone and emailed it to myself and download it in."

As of Monday, the City of Milwaukee was averaging 1,000 absentee ballot requests per day -- estimated to be a 500% increase, with a possible 50,000 to 60,000 absentee voters.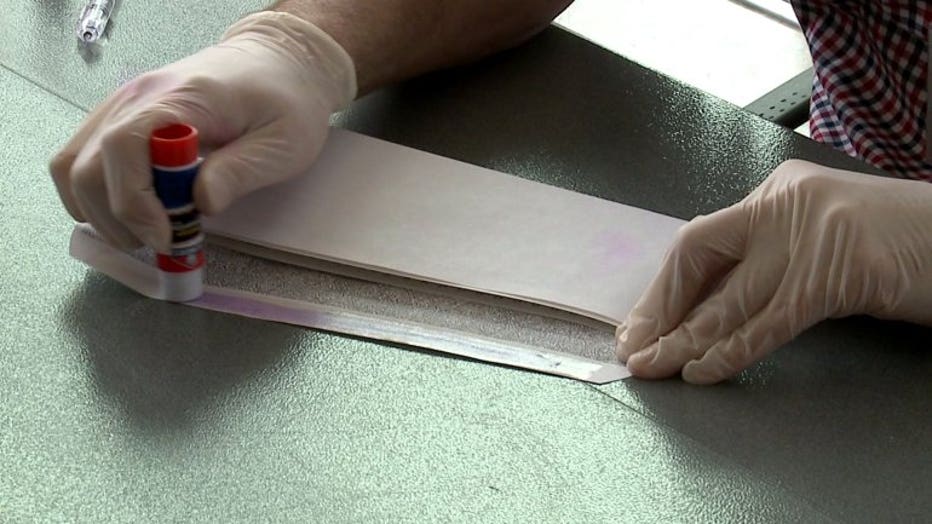 Election officials noted concerns about having enough poll workers. The Election Assistance Commission found 56% of poll workers were 61 and older in 2016 -- and experts said older people are more likely to have underlying health conditions that make it harder to cope with and recover from the coronavirus.

The in-person absentee voting schedule for the 2020 spring election is as follows:

Zeidler Municipal Building
841 N Broadway, Room 102

Midtown Center
5700 W Capitol Drive
(located west of Pick 'n Save)

Zablocki Library
3501 W Oklahoma Ave

Monday, March 16—Sunday, April 5

Monday—Friday 8 a.m. - 7 p.m.

Saturday—Sunday 10 a.m. - 3 p.m. (March 28 & 29 and April 4 & 5)

You will be required to show your acceptable photo ID when voting by in-person absentee ballot.

Here's how to request an absentee ballot (by April 2):

Some elections postponed -- not in Wisconsin

Fears of the virus led to widespread cancellations across the country and the state. The University of Wisconsin-Madison and Marquette University suspended face-to-face instruction and Gov. Tony Evers took the unprecedented step of ordering all K-12 schools in the state to shut down.

Ohio's health director was set to order polls closed just hours before they were to open there and in three other states for presidential primaries, the governor said late Monday. Gov. Mike DeWine said Health Director Amy Acton would declare a health emergency and order the polls closed for fears of exposing volunteer poll workers — many of them elderly — to the virus. Arizona, Florida, and Illinois were proceeding with their presidential primaries.

DeWine failed to get a judge to halt the primary Monday evening, even though the governor contended the election results wouldn't be viewed as legitimate in light of the pandemic.

Elsewhere, Georgia postponed next week's primary, and Louisiana postponed its scheduled April 4 primary.

As of Monday, no one was talking about canceling or postponing Wisconsin's April 7 election featuring the Democratic presidential primary as well as a state Supreme Court race between conservative Justice Daniel Kelly and liberal challenger Jill Karofsky -- with things looking tenuous after the Centers for Disease Control and Prevention on Sunday issued recommendations to limit gatherings to no more than 50 people. The White House issued updated guidance Monday -- limiting gatherings to no more than 10.

The Wisconsin Legislature could change state law to postpone the state's April 7 election featuring the Democratic presidential primary as well as a state Supreme Court race between conservative Justice Daniel Kelly and liberal challenger Jill Karofsky. That would be a tall order, though, since Republican legislators and the Democratic Evers have agreed on almost nothing over the last year.

State elections officials urge absentee voting

The state Elections Commission put out a notice on Friday urging people to vote via absentee ballot rather than travel to the polls and to register quickly if they haven't already done so.

The state Democratic Party held a video conference Monday morning urging Wisconsin residents to vote early or request an absentee ballot. The party decided to postpone in-person events ahead of the election. The party's chairman, Ben Wikler, said the party would reach out to voters through phone calls, text messages, and social media to let them know how to cast an absentee vote.

"We certainly want every voter in this state to know there are options," state Rep. Chris Taylor, a Madison Democrat, said during the conference.

Justice Daniel Kelly was scheduled to attend a St. Patrick's Day Party hosted by the Wisconsin Conservative Digest on Monday evening in Milwaukee County. The event's organizer, Chris Lawrence, said he expected at least 100 people and social distancing is an "overreaction" to the virus.

"We understand politically (health officials) have to overreact rather than underreact," Lawrence said. "We just believe in taking the proper precautions. Wash your hands. Stay home if you're sick."

Former Republican Gov. Tommy Thompson was invited to the event, Lawrence said, but could not get a flight to Wisconsin from Florida, he said.

Kelly's campaign manager, Charles Nichols, said Kelly was re-evaluating whether to attend the party in light of the CDC recommendations.

"We're up in the air right now," Nichols said. "A lot of things have changed, obviously. Dan's top concern is public safety. We don't want to endanger supporters or volunteers."

Karofsky campaign spokesman Sam Roecker said she canceled in-person events and stopped knocking on doors. The campaign instead turned heavily toward calling, emailing, and texting voters, he said.

Kelly launched a television ad Monday in Milwaukee, Green Bay, La Crosse, Wausau, and Madison.

The spot features actors playing a waitress and customers in a cafe. The waitress asks the customers what they would like and they reply that they want a judge who protects the public and doesn't make the law up. The camera then pans to Kelly sitting in his robe at the end of the counter. "Sounds good to me," he quips.

The ad doesn't make any mention of Karofsky.

Nichols said the spot was part of a $500,000 buy.

Coronavirus symptoms

For most people, the new coronavirus causes only mild or moderate symptoms, such as fever and cough. For some, especially older adults and people with existing health problems, it can cause more severe illness, including pneumonia.

The vast majority of people recover from the new virus. According to the World Health Organization, people with mild illness recover in about two weeks, while those with more severe illness may take three to six weeks to recover.

CLICK HERE to learn more about coronavirus via the CDC.