Videos show desperation of suspect in Facebook video killing


CLEVELAND — The suspect in the random killing of a retiree posted on Facebook made his living mentoring teens in Cleveland, but his life appeared to be unraveling under the weight of gambling debts and trouble with his girlfriend.

Rambling videos he shared showed his despair, saying he was out of options and wanted to kill as many innocent people as he could.

While authorities have not found any evidence that he killed anyone else, the manhunt for Steve Stephens stretched into a third day on Tuesday and far beyond the neighborhood where police said he shot a 74-year-old man who was picking up aluminum cans on Sunday after spending Easter with some of his children.

Stephens, 37, could be anywhere, authorities said, calling it a nationwide search. A $50,000 reward is being offered for information leading to his capture and prosecution.

Stephens posted a video of himself killing Robert Godwin Sr., a former foundry worker who had 10 children, police said. In it, he said, "I snapped, I just snapped." But police would not speculate on what was behind it.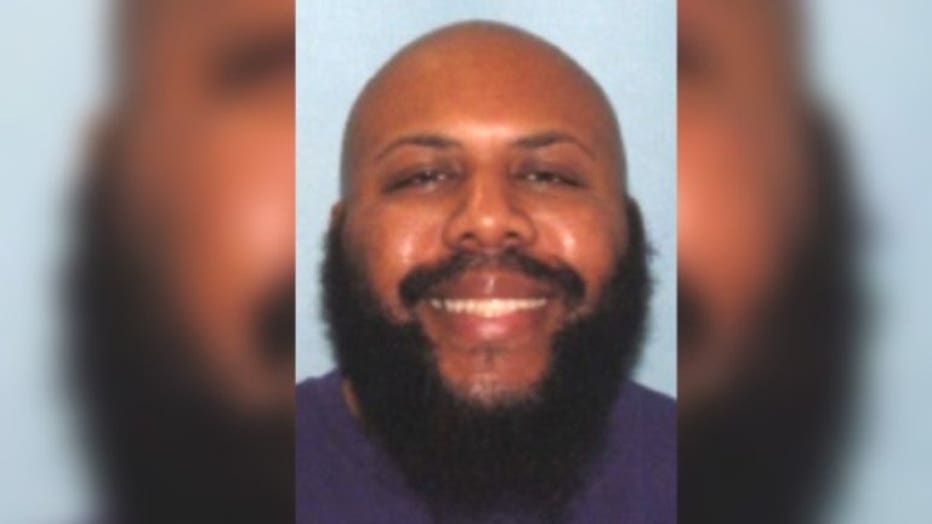 "Only Steve knows that," Williams said.

In the video, Stephens told Godwin a woman's name and said, "She's the reason that this is about to happen to you." Godwin did not seem to recognize the name.

The woman Stephens spoke of, Joy Lane, said in a text message to CBS that "we had been in a relationship for several years. I am sorry that all of this has happened."

She also said Stephens was "a nice guy" who was good to her and her children.

Police say Stephens had a permit to carry a concealed weapon.

WEWS-TV reports that a video Stephens posted to Facebook last year showed him firing rapidly at targets at the Sherwin Shooting Sports range, in violation of its safety rules, and being warned to stop by an employee.

The owner of the Willoughby gun range, Blake Frederick, told Cleveland.com that he recalls Stephens as nice and jovial and doesn't remember anything negative about him.

Stephens filed for bankruptcy two years ago despite holding down a job as a counselor helping young people develop job skills and find employment. The behavioral health agency where he worked said an extensive background check before he was hired turned up nothing worrisome.

In one video posted on Facebook, Stephens said that he gambled away everything and that he and his girlfriend had planned to marry but did not, without saying why. He blamed her for what was about to happen.

Some friends said they knew about his gambling. But the videos showed a man they did not recognize.

Alexis Lee, who saw Stephens last week, said his childhood friend always seemed respectful and got along with everybody.

"He never ever told me he had problems or issues. It was always good things," Lee said. "He was always just so happy and cool, calm, collected, like, that's why it's so shocking."

Other neighbors said he was quiet as a kid and intelligent, recalling how he went to college and got a master's degree.

"He was just a no problem person at all, compared to a lot of people," said Cynthia Coley, a former neighbor.

In one video in which he blamed his girlfriend, Stephens said he woke up last week and "couldn't take it anymore."

Investigators said that Godwin was the only victim so far linked to Stephens, despite his claim on Facebook that he killed over a dozen people.

On Monday evening, Facebook announced that it was launching a review for reporting harmful content following the killing. The company said that Stephens posted a video of himself announcing his intent to commit murder, then two minutes later posted another video of himself shooting and killing Godwin. A few minutes after that, he went live and confessed.

The company said it disabled Stephen's account within 23 minutes of receiving the first report about the video of the fatal shooting and two hours after receiving any report.

"In this case we did not receive a report about the first video, and we only received a report about the second video — containing the shooting — more than an hour and 45 minutes after it was posted," said Justin Osofsky, Facebook's vice president of global operations. "We received reports about the third video, containing the man's live confession, only after it had ended."

Officers searched dozens of places around Cleveland without finding Stephens or any other victims before expanding the manhunt. Detectives spoke with the suspect on Sunday by cellphone and tried to persuade him to surrender, police said.

Law enforcement officials said his cellphone was last tracked Sunday afternoon in Erie, Pennsylvania, about 100 miles (160 kilometers) east of Cleveland. Police in Philadelphia said eight elementary schools and a high school were locked down Monday while they investigated reported sightings but found nothing.