VIDEO: Large fire at Dousman Transportation Company in Waukesha County; 35 buses impacted


WAUKESHA COUNTY -- Officials battled a large fire on this Sunday, October 2nd at the Dousman Transportation Company in Merton. The big question now is what started the fire.

Officials with the Waukesha County Sheriff's Department and the Merton Community Fire Department responded to N77 W30902 Hartman Court just before 1:00 p.m. A series of small explosions shattered the quiet Sunday afternoon in Waukesha County.

Upon arrival, it was determined more than 30 school buses were fully engulfed. We're told 35 buses and the bus barn were destroyed by fire.

Below is a photo sent in by a FOX6 viewer of this fire: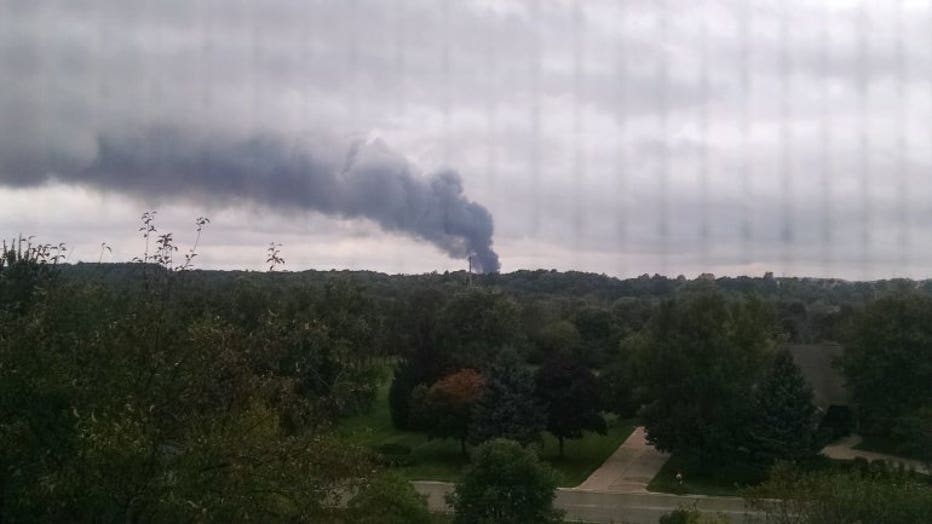 Fire in Dousman in Waukesha County


Below is video of this fire from FOX6's Mickie Leach:




Multiple fire departments responded to this scene. Some crews stayed for six hours.

"The explosions were pretty scary, and we wanted to keep our people out of harm's way -- so we re-positioned our truck once we got there to get a better safety vantage point for our staff," Brian Cull, Merton fire chief said.

PHOTO GALLERY



Officials with the Waukesha County Sheriff's Department told FOX6 News 35 school buses were impacted by this fire.

We're told the Dousman Transportation Company has sufficient buses at another facility to accommodate the children needing transport -- so we're told there should be no disruption in service.

Glenn Schilling, superintendent of the Hartland Lakeside School District told FOX6 News in a statement eight "Arrowhead" school districts are impacted by this fire.

Schilling said the superintendents would be meeting Sunday evening to determine how to proceed and plan for school the next few days.

Schilling said: "We cannot make any immediate decisions until we know the extent of the damage and how this will affect all transportation routes. Currently, I am in contact with Hartland/Lakeside administrative team, and our school board, and we have notified all families of the situation."

An emotional Dousman Transportation Company bus driver spoke with FOX6 News at the scene:




"There are 50 employees -- for some it's their only job. This company is phenomenal. A phenomenal company that takes care of everybody -- very concerned about the students. We have a tremendous safety record that's second to none. The ownership is very kind and involved. The community has tremendous faith and trust in us. This is a tragedy of the highest proportions for this kind of area. You couldn't have picked anything worse with the effect it's going to have on the senior citizens, adults and especially kids who really rely in this company. There are eight terminals under Dousman Transport -- and we have a good relationship with other bus companies. Hopefully we'll be able to cobble together enough buses to get the kids to school," the driver said.

The cause of this fire is under investigation.

FOX6 News has a crew on scene. Monitor FOX6Now.com for updates on this developing story.