"Very upsetting:" Dozens of dead sharks discovered in sand on beach near Mobile, Alabama
WARNING: The video posted below may be upsetting or disturbing for some. Viewer discretion is advised.



MOBILE BAY, Alabama -- Investigators are looking into the deaths of dozens of sharks found on the beach in Alabama. Their carcasses were discovered scattered in the sand near Mobile, Alabama over the weekend -- some with fishing nets still around them.

Sabrina Rios said she was looking forward to the smell of fresh boiled seafood during her vacation to Mobile -- but this weekend, a not-so-savory smell filled the air.

"We kept smelling this awful smell every time a gust of wind would come," Sterling Williams said.

The source of the smell shocked them.

"We check the beach next door and we found it was just lined with sharks," Williams said.

"Just a lot of dead fish gone to waste. It's very upsetting," a witness said.

The witnesses said they counted more than 40 of what appeared to be black tip sharks. At first, they thought they washed ashore, but later noticed this was no accident.

"We came down a little further and we found this. There's probably about 40 more in there. Pretty sure that's what caught them all," Sterling said.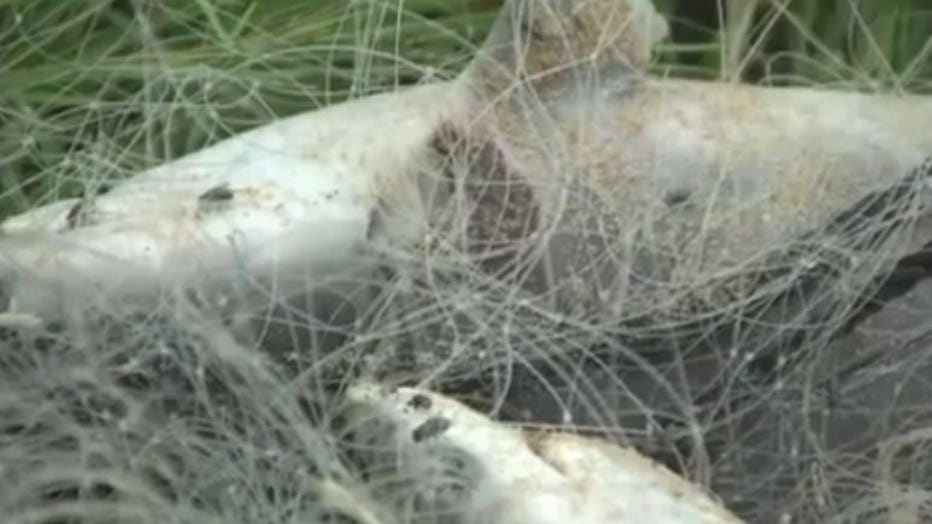 There were close to 100 dead sharks along a small beach in the Bellefountaine area off of Dauphin Island Parkway.

Rios said they noticed a group using a similar net this weekend.

"It definitely caught our attention because I know that that's illegal and you shouldn't be doing that. We just didn't know what to do about," Rios said.

In an attempt to hide the smell, they tried to bury the sharks, but there were just too many.

"And they just left them because it's too hard to get them out," a witness said.

Rios said this incident put a damper on what was, for the most part, a pleasant vacation.

"We're here to enjoy the beauty to go out on the boat to go out on the kayaks and now here we are with a bunch of dead sharks on the beach. It's just really sad," Rios said.

The State Marine Resources Division is investigating the incident, along with the Dauphin Island Sea Lab.