UnitedHealthcare sets up cellphone charging stations for homeless
MILWAUKEE - UnitedHealthcare is behind the creation of two new public cellphone charging stations accessible to homeless and housing insecure individuals amid the coronavirus pandemic. 
The two charging stations are located at the following Milwaukee locations:
Two Wisconsin UnitedHealthcare workers came up with the idea after talking with some of the health plan's homeless members who have always struggled with keeping their cellphones charged.
"If you're living in a tent, or under a shrub someplace where you're camped in, they don't come with an outlet," said Pastor Lynne Hines-Levy with Summerfield United Methodist Church. "They've been looking for a place to charge their phones all along for years, and now, it's much easier because 10 of them can charge at a time." 
Thanks to UnitedHealthcare, it has become that much easier for the area's most vulnerable to get a charge using the two solar-powered charging stations.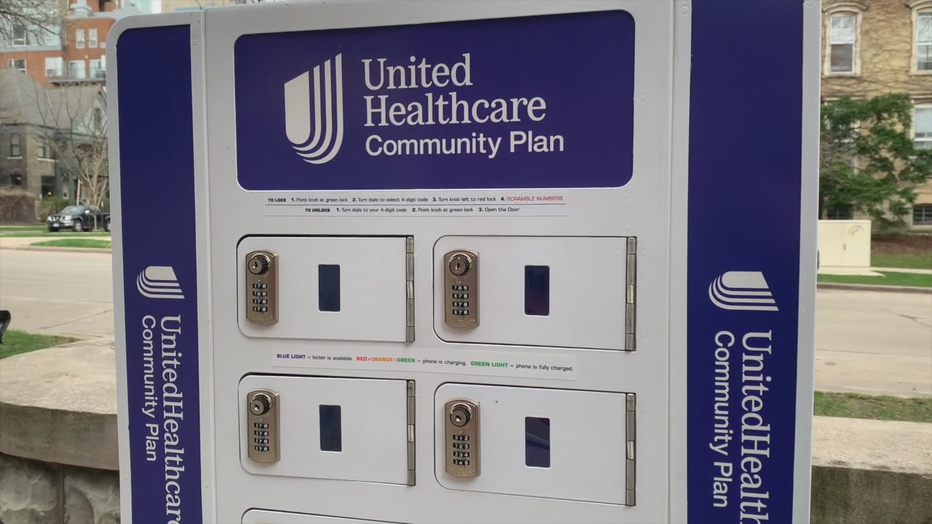 "There are 10 lockers in each unit, and it is solar, so it does not need any electricity, and it can work in our Wisconsin winters," said Renee Ladewig-Lathrop with UnitedHealthcare.
Hines-Levy said for as long as people have had cellphones, they've been asking for a charge. In the past, they used to let people come in and plug into a wall outlet, but the coronavirus pandemic stopped that, too.
"Our homeless population, in the past, had been able to go into the coffee shop or a library or a community meal site and they were able to plug in and charge," said Ladewig-Lathrop. "Now, they've lost those places, and they are unable to go and charge their devices." 
Sometimes the best way to help someone is to make sure they're at 100%.
"Our phone is our lifeline," said Ladewig-Lathrop. "We are connected to it all the time." 
FREE DOWNLOAD: Get breaking news alerts in the FOX6 News app for iOS or Android
UnitedHealthcare partnered with goCharge, a Chicago-based manufacturer of remote cellphone charging stations, to implement charging stations in Milwaukee as well as the Fox Valley.