"Uglifying" the neighborhood? Some not happy with I-94 expansion plan


MILWAUKEE (WITI) -- A group of concerned citizens is trying to put a stop to a proposed expansion of I-94. They're telling lawmakers they'd like to see taxpayer dollars spent elsewhere.

Instead of borrowing money to pay for expensive interstate expansions, some want taxpayer dollars spent on smaller projects.

The three-and-a-half-mile stretch of I-94 between 70th Street and 16th Street in Milwaukee provides a critical link between the Marquette Interchange and the Zoo Interchange. But along that stretch of roadway on Thursday, September 18th, demonstrators voiced their opposition to a proposed expansion project.

"No more highway boondoggles.  No more waste of money," a demonstrator said.

These concerned citizens hope to put the brakes on the $800 million Wisconsin DOT project before it begins.

"This is an extravagant and costly project that is sucking resources out of our communities, diverting them away from the critical needs that we have.  They need to get their priorities straight," Bruce Speight said.

Speight is the director of the WISPIRG Foundation -- a consumer advocacy group. He says the proposed expansion project would add double-decker lanes in one area of the interstate that doesn't need it.

"Traffic counts on this stretch of I-94 have been dropping in recent years," Speight said.

City leaders are even chiming in, with Milwaukee Common Council President Michael Murphy suggesting the money be spent on city roads.

"What we`re asking in the city of Milwaukee is the reallocation of some of those dollars.  I get more complaints about potholes than I do being on the freeway an extra minute or two. Our local roads in our city have seen a significant cut from the state Legislature.  We saw over a $4 million cut that went to local roads," Murphy said.

A spokesperson for the DOT declined a FOX6 News request for an on-camera interview, but said over the phone that the section of I-94 has "hit the end of its functional lifespan."

"They can do that without expanding it the way they plan to.  Double-decking it.  Uglifying the neighborhood," Lee Brady with the Story Hill Neighborhood Association said.

The DOT is still in the middle of its study on I-94, and welcomes feedback.

A public forum is planned for late December or early January.

CLICK HERE to read the WISPIRG Foundation's report on the proposed I-94 expansion.

The WISPIRG Foundation has released the following graphs to FOX6 News. The first shows vehicle miles statewide -- and the second shows the declining traffic counts on the I-94 corridor from 16th to 70th Streets between 2009 and 2012.


Courtesy WISPIRG Foundation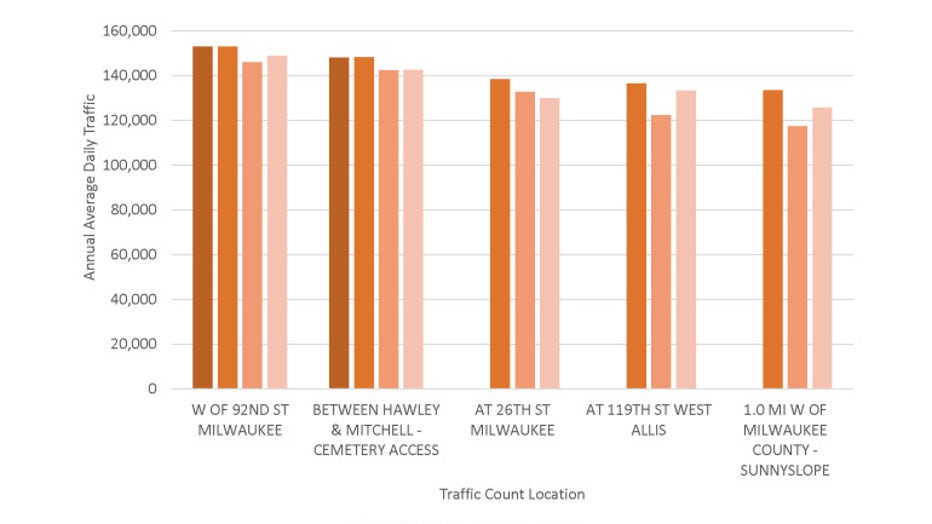 Courtesy WISPIRG Foundation


Related stories: