Two charged with spray painting graffiti on Kettle Moraine H.S.
WAUKESHA CO. -- Michael Rady and Erika Bredlow, both 19 years old, are now charged with two counts each of spray painting graffiti at Kettle Moraine High School, as well as on a farm silo.

Police say the graffiti was painted on the side of Kettle Moraine High School on the evening of Thursday, March 1st. It was discovered Friday morning and immediately painted over.

In the criminal complaint, Rady told police, "that after going to a movie, he and his girlfriend, Erika Bredlow, went out looking to 'tag a train.'  When they could not find a train, they decided to paint graffiti on the silo on the Wern Valley property. They then decided to go back to Erika's old school and tag the side of the building. When they pulled into the lot, they saw the video camera when they exited the car, so they left the area and returned a short time later, this time parking on the opposite side of the building. They then walked around to the backside of the building and painted graffiti on the exterior wall of the school.  They both were painting graffiti and trading different color cans of paint back and forth."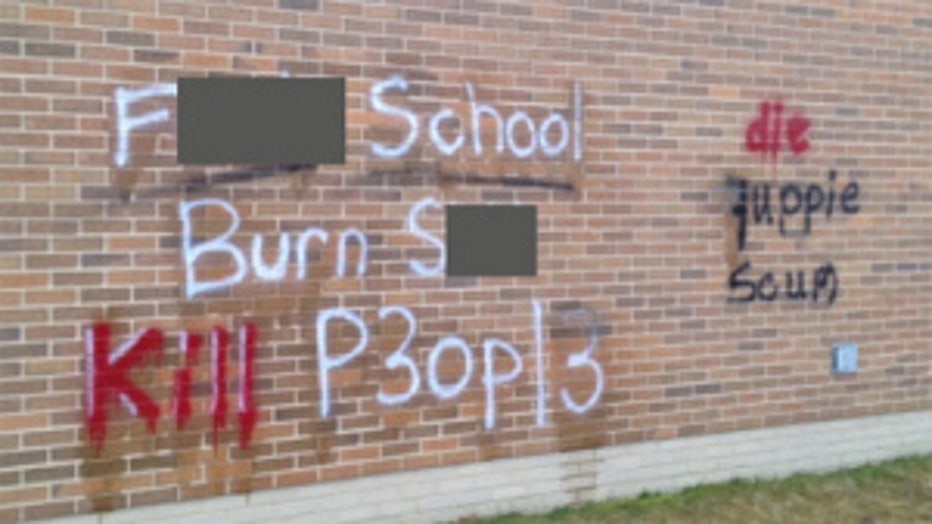 Rady also told police in his statement that neither he nor Bredlow had any intention of scaring or threatening anyone. He said "the words were lyrics taken from a rap song."

Rady then admitted the paint cans were still in the back seat of his vehicle.

About half of the student body at Kettle Moraine H.S. left classes early the day the graffiti was found. Parents were also emailed about the graffiti situation.

In a news release issued by school district officials, parents were told, "The investigation has determined that the incident was a vandalism matter. While the language painted on the outside school wall was vulgar, there was no threat of violence intended by the suspects to any student or staff member of Kettle Moraine High School."

If convicted, Rady and Bredlow each face up to nine months in prison and $10,000 in fines.