Twins serving overseas surprise Kenosha parents on Fourth


KENOSHA (WITI) -- Independence Day 2013 is one a Kenosha family won't soon forget. Nick and Jeanine Mayor got a surprise message from their twin sons who are both serving the country in Afghanistan.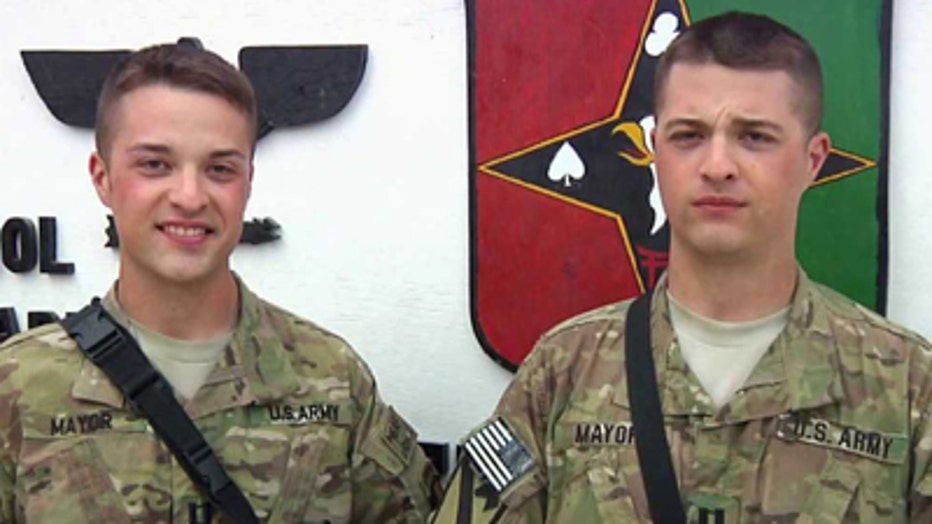 Matthew and Mark Mayor are from Kenosha. Mark is stationed with an Army unit out of Texas, while Matthew is based out of Kentucky. However, this holiday, the two were together in Afghanistan.

The brothers are both Army captains on their second tour of duty.

"They are stationed in Afghanistan and serving in support of (Operation) Enduring Freedom," Nick Mayor said.

Finding themselves together for the first time in years, the twins recorded a message for their family members -- wishing them a Happy Fourth of July.

"They didn`t plan to meet in Afghanistan in a combat zone - but when they did, they were naturally very excited," Nick Mayor said.

The brothers' parents say seeing them brings them comfort. They say they are happy to know the brothers have the rare opportunity to lean on one another through the hardships of war.

"We've got to think of them and keep them in our prayers," Jeanine Mayor said.

The brothers' parents are both active in military support groups in Kenosha. They're told it is extremely rare to have twins serving together overseas.