Fredonia DPW worker trench rescue, flown to hospital
FREDONIA, Wis. - A Fredonia DPW worker was flown to the hospital with "crush-related injuries" after being rescued from a trench in the village Wednesday, Aug. 25. 
The man was identified by the Ozaukee County Sheriff's Office as Brandon Heinen, 24, of Port Washington. Work was being done to install pipes when the sidewall of the trench collapsed on top of the man, leaving him buried chest high.
Heinen was conscious and breathing before being removed from the trench in the work area near Marie Krause Field on Wenzel Avenue.
"We had oxygen on him right away. He was breathing the whole time," said Fredonia Fire Assistant Chief Chris Kunstmann.
Kunstmann said, thankfully, time was on their side. While Heinen was trapped up to his chest, he was able to breathe.
With a helicopter on hand, help from 10 different agencies started arriving down the gravel road, along with area municipalities' public works trucks, like vacuum trucks and fire department technical rescue teams from Sheboygan and Milwaukee counties.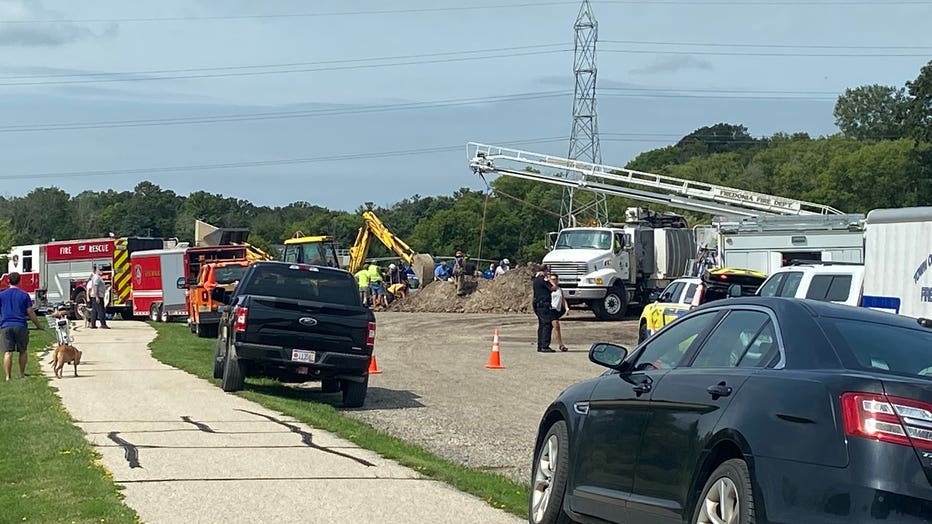 Once on scene, crews quickly worked to start removing dirt and mud from around Heinen.
"From my perspective and the knowledge that I have, basically let others run the show, the guys that knew what they were doing, have the training and it was just incredible how well this worked," said Kunstmann.
SIGN UP TODAY: Get daily headlines, breaking news emails from FOX6 News
Roughly two hours after the trench collapsed, Heinen was freed and whisked to the awaiting helicopter to be airlifted to the hospital with what the Ozaukee County Sheriff's Office said were "crush-related" injuries.
In all, Kunstmann said this was a good ending.
"Turned out very well. It really did, and like I said, with all the help we got from so many different organizations," said Kunstmann. "I really truly appreciate it. It was pretty amazing."
FOX6 News calls and emails sent to the Fredonia Public Works director and village president were not returned Wednesday. It's unclear if workers were using a device, called a trench box, to shore up the hole when the collapse happened.
The Ozaukee County Sheriff's Office said OSHA would be contacted about the incident.
FREE DOWNLOAD: Get breaking news alerts in the FOX6 News app for iOS or Android.