Town of Brookfield police officer suffers heart attack, dies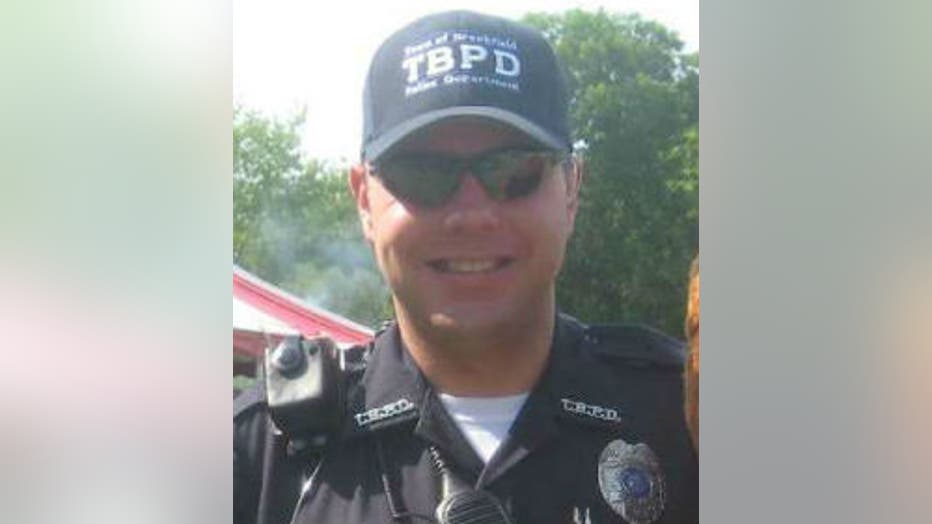 TOWN OF BROOKFIELD (WITI) --  It was a somber Saturday in the Town of Brookfield as the police department mourns the loss of one of their own. An officer died while on duty.

A trail of skid marks leads to a light and bush that were plowed over by a squad car. The car which Officer Don Bishop was driving ended up in Kristi Berry's yard. "He was unconscious right away and I think that's why he went into the yard. I think he was out somehow," said Berry.

Police said Bishop was responding to a burglary call when he suffered an apparent heart attack , drove his car off the road and crashed near Jaclyn and Sierra drive shortly after eleven Friday night.

Berry said other responding officers did their best to help save him, "The officer was very concerned. She tried to help him in any way she could. There were lots of officers on the scene very quickly helping him. They got him out of the car and started cpr and all of that."

Bishop was later pronounced dead at the hospital. He was only 32 years old.  The loss has rocked the police department. "He will be missed by his brother and sister officers here at the town of Brookfield," said Chief Chris Perket.

Standing in front of a shrouded squad car along with the Town Chariman and Administrator, Chief Perket choked up as read a statement. He said, "It was an honor to work with Don here at the Town of Brookfield. Residents of every municipality where he worked were fortunate to have him serve."

The flag now flies at half staff in remembrance. Town Chairman Keith Henderson added, "It's a sad day in the town of Brookfield. As a town we'd like to offer our prayers to Officer Bishop's family and friends."

Authorities are waiting for the autopsy to determine the official cause of death and the Waukesha County Sheriff's department is conducting the investigation.

Officer Bishop was hired as a full-time police officer with the Town of Brookfield in August 2011. He also worked as a part-time officer with the Village of Eagle Police Department.

Prior to becoming a police officer with the Town of Brookfield Officer Bishop worked as a dispatcher with the Waukesha County Communications Center and the City of Oconomowoc Communication Center and as a reserve officer with the Village of Mukwonago Police Department. Officer Bishop also worked for more than 10 years as a Firefighter and Emergency Medical Technician with the Village of North Prairie Fire Department.

Officer Bishop graduated from Mukwonago High School and from Waukesha Technical College where he had received his training in Law Enforcement, Firefighting, and as an Emergency Medical Technician.

Those who knew him say Officer Bishop was a very dedicated police officer and public safety professional serving the citizens of the Town of Brookfield and the residents of Waukesha County for more than 10 years.



Monitor FOX6 News and FOX6Now.com for updates on this developing story.