"This was actually a first:" Story of speeding driver and trooper who tore up ticket going viral


LAKE COUNTY, Indiana -- The story of a speeding driver and a police officer's decision to tear up a traffic ticket has gone viral online.

Indiana Trooper Aron Weller has written at least 6,600 tickets in his eight-year career, but he'd never changed his mind, and he'd never torn one up until last Sunday, August 30th.

"This was actually a first," Weller said.

The first-time event happened when Trooper Weller stopped Dwayne Bryant on a toll road for speeding.

On Friday, the two shook hands as they met, but last Sunday, Bryant was sitting in his car waiting for the trooper thinking...

"Every black male and female that has been killed in some level of custody of the law, yes it did. It came to mind," Bryant said.

As Weller approached Bryant's vehicle, he was thinking...

"Being a police officer, the first thing that goes through my mind -- 'is this the guy that's going to kill me today?'" Weller said.

Both were on guard, but Bryant followed the rules he gives the young black males he mentors.

"You respect authority no matter what. You don't have to like authority. I don't even have to agree with authority -- but you respect them," Bryant said.

(Bryant) did everything perfect," Weller said.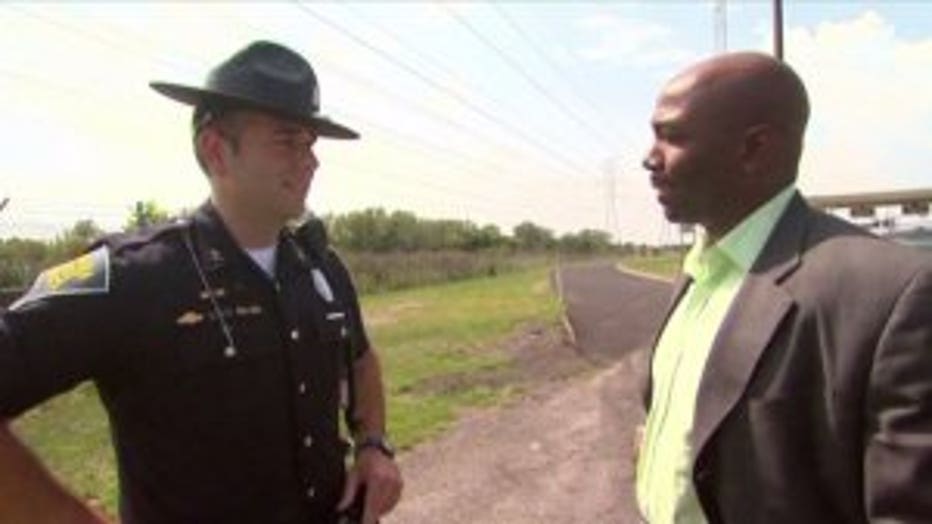 Indiana Trooper Aron Weller and Dwayne Bryant


Bryant had been traveling at 85 miles-per-hour in a 65 mph zone.

Weller could have given him a $500 ticket, but instead, gave him a $150 ticket.

"I'm like 'thank you Lord,'" Bryant said.

Bryant took a picture at the time, and later posted it to Facebook -- describing his joy at getting a lower fine. He wrote that when he told the trooper he would share his positive experience with his students, Weller tore up the ticket and instead gave him a warning.

"I'm like, 'he gets it,'" Weller said. "What he does and how he talks to kids and tells them to do what the police say, I think that's exceptional."

"To take my offense and to rip it up and to give me grace and to give me mercy, I was thankful," Bryant said.