'This is unbelievable:' Life-threatening injuries for driver of SUV that struck pharmacy



MILWAUKEE -- A 25-year-old man suffered life-threatening injuries when his vehicle struck a building near 20th Street and North Avenue Saturday night, Dec. 14.

It happened shortly before 8 p.m. Witnesses told Milwaukee police that the driver was driving fast before losing control of the SUV, crashing into the building. The driver was taken to the hospital and was the sole occupant of the vehicle.




FOX6's cameras on scene captured a Chevy Tahoe that took out the front left corner of the Shafi Plaza building that houses a pharmacy and medical center.

The crash set off the alarms in the building.




"It was bad, obviously, and the police won't let me go close enough because they were trying to get this guy out who was inside," said Mohammad Shafi, owner of the building. "Apparently they found him under the car. I think that's because he was trying to get out and there was no room on the left side, the driver's side. He couldn't open the door on the right side. Probably was trying to crawl out and passed out, and that's where they found him."

The building was so badly damaged, Shafi said Hayat Pharmacy officials would be using the North Avenue entrance, with the building boarded up.

"Biggest damage is the elevator," said Shafi. "The truck was stopped by the elevator, and the elevator shaft, the elevator frame, and doors were pushed into the cavity about two feet. You can see if you go through the glass. Both sides of the window, 16 feet tall, that window is gone, and both sides are gone. We will need some brick repair, some stone repair, glass, and the biggest repair is going to be the elevator."

Shafi said there was another crash a few months ago when a driver crashed into the 20th Street side of the building.

"He just banged into the wall, and had to do some repair on the bricks, but it wasn't bad -- but this is unbelievable," said Shafi. "If there was somebody in the lobby, he would've been dead. Oh, unbelievable. There would be no way anybody could survive if they were in the lobby of the building."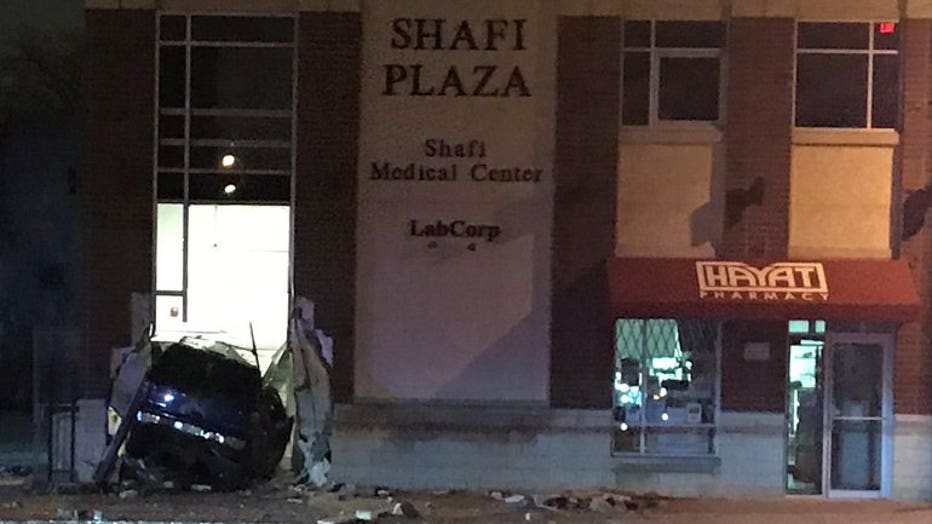 Crash near 20th and North