"This is not OK:" Contractor fails to show for hearing over photo of armed contractors, hate symbols
MILWAUKEE -- A company tied to a pair of controversial photos at Milwaukee job sites remains in hot water with city officials.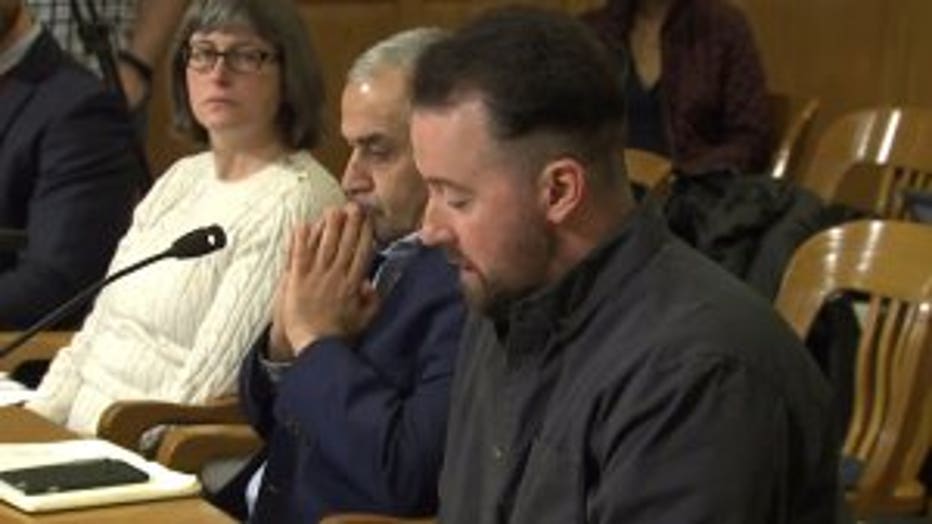 Project Manager Dan McLendon
The owner of American Sewer Services was scheduled to go before members of the Common Council's Steering and Rules Committee on Monday morning, December 18th. However, Dennis Biondich did not show up, citing a medical issue. Instead, Biondich sent an employee to address the members of the council. Project Manager Dan McLendon said he would read the owner's prepared statement but could not answer questions. Those questions revolve around a pair of pictures -- one showing three armed workers at a city job site near 19th and Meinecke, and the other showed an employee's lunchbox that had stickers of the Confederate flag and the Ku Klux Klan near 25th and Wells.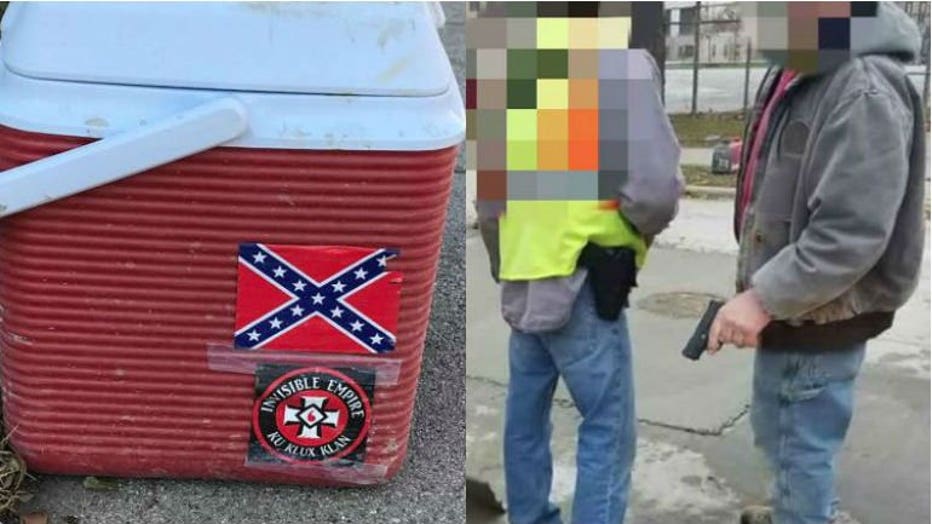 The owner's statement made clear there has been discipline for the workers involved. The company's owner told city officials he fired one of the workers in the gun photo, and laid off two others. The statement added the employee with the offensive lunchbox display had also been fired. "I want to assure you the offending employee has been dismissed because his inappropriate actions. As a result of this incident, we are updating our internal policies so that we may stop any reoccurrence," McLendon said.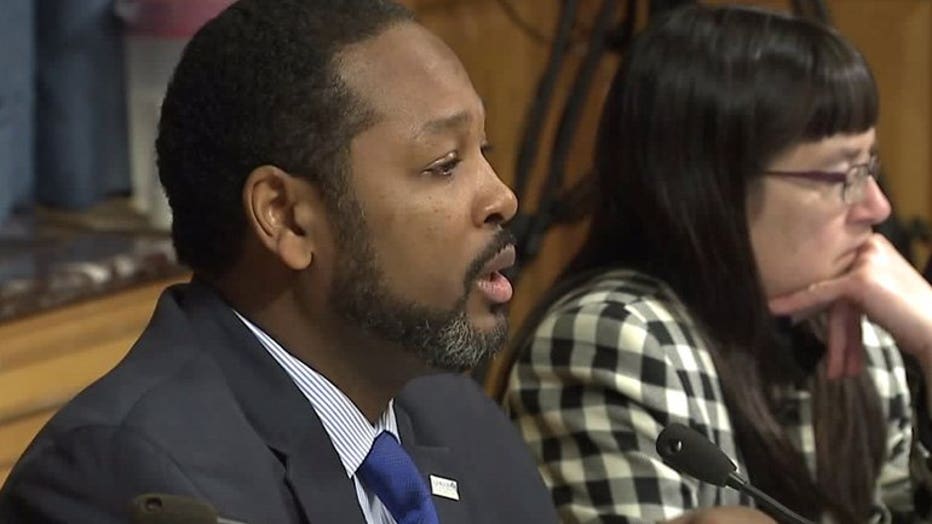 Common Council President Ashanti Hamilton
But aldermen said someone higher up in the company should have been there -- someone who can answer questions. "For the business to not be able to show up or not have someone from the company who can answer questions is ridiculous," said Ald. Milele Coggs.
"I mean, sending in the sacrificial lamb. I mean, send in your lawyer, send in your somebody who's in position to speak to the facts here instead of the estimator and, with all due respect, the guy shuffling the papers back at the office," said Ald. Bob Bauman. Common Council President Hamilton said he has directly spoken with the Biondich and still wants him to testify before the council. "I think he should find it important enough to show up and answer those questions," Hamilton said. In the meantime, Hamilton noted several aldermen want to cancel the 11 current city contracts with American Sewer Services. Hamilton said the company has gotten about $50 million worth of contracts with the City of Milwaukee over the last five years. Unintended consequences? Among the responses aldermen are considering to the incidents is a study of whether it'd be fiscally feasible to bring more public works projects in-house, having them done by city workers instead of contractors. Pam Fendt from the Milwaukee Area Labor Council warned the backlash from such a move could cost city residents from being hired onto projects outside Milwaukee. "When you think about the opportunities coming up with Foxconn, it wouldn't be good if Racine officials started saying 'this is only work for Racine folks,'" Fendt said. "We've got intentions of trying to get Milwaukee folks and figure out solutions for how to get down there." Public Works Commissioner Ghassan Korban asked aldermen to hold off on taking any action regarding American Sewer until after they can meet with Biondich. Korban said the company has a relationship with the city that dates back 30 years. "My plea is to just have a conversation with him and make a decision," Korban said. Culture Shock Ald. Nik Kovak expressed skepticism that the photos were a reflection of just four misguided workers. He said a company that employs between 20-40 people would likely know if these actions were taking place before hitting social media. "That's 20 percent of their permanent workforce and 10 percent of their peak season workforce so it's not a huge company and it's hard to believe there's not a culture of at least condoning this behavior," Kovac said. In an emotional moment, Coggs recalled explaining the history of the KKK to her nine-year-old daughter and then having the daughter ask over the weekend if the lunchbox sticker was for the same group responsible for past lynchings. "(This is a) very real issue that exists beyond American Sewer, beyond this cooler, it's something I would hope she won't have to have a conversation about with her children someday," Coggs said. Hamilton issued this statement after the hearing:
"Guns, offensive symbols and disrespect will NOT be tolerated at any city workplace or location, and that includes contractor worksites. That strong and clear message was delivered many times during today's productive – and at times intense – special meeting of the Steering and Rules Committee at City Hall focused on recent very troubling incidents at American Sewer Services' worksites in the City of Milwaukee. For the record, American Sewer Services submitted a letter outlining their immediate response to these incidents. However I'm still expecting the company's owner to appear before us to address community concerns. Importantly, the Council will be taking action starting (Tuesday) to make sure these types of problems do not happen again. During its regular meeting (Tuesday) the Council will consider these related and relevant resolutions for immediate adoption:

A resolution examining the city's workplace rules and procedures for contractors. This file will look at an array of issues including dress/apparel, weapons, violence, training and several other items.
A resolution examining closely the city's outsourcing of work, and whether the city has been outsourcing that work at an appropriate rate or level.
A resolution examining what types of currently outsourced city work could be brought back "in house" and performed by city workers."
---
A statement by the owner of American Sewer Services, Dennis Biondich, was read aloud during the special hearing. The below revised statement was later sent to FOX6 News:
"President Hamilton and members of the Steering and Rules Committee I appreciate this opportunity to appear before you to discuss the recent incidents involving employees of American Sewer Services. First and foremost, I want you to know that I share your outrage over the disturbing display of hate speech that was exhibited by one of my employees. His actions and beliefs in no way represent the feelings of American Sewer Services nor our diverse group of employees. I want to assure you that the offending employee has been dismissed because of his inappropriate actions. As a result of this incident we are in the process of updating our internal policies so that we may stop any re-occurrence. We understand that the Milwaukee Labor Council has developed a Code of Conduct waiver that has been used on other city jobs. We urge the committee to adopt that for all DPW contractors. We would also be happy to work with the appropriate city staff or area community organizations so that in the future our employees show the appropriate respect for the neighborhoods in which we work. American Sewer Services' union workforce has worked in every neighborhood in the city for over 30 years. In that time, we have never had a similar incident nor have we had any problems with city residents that weren't able to be resolved through a simple conversation. That's why these latest occurrences have been such a shock to us and why we acted quickly and forcefully to rectify any underlying issues. I also want to publicly condemn the type of hateful and racist rhetoric that's been circulating on social media and has been leveled against respected members of this committee. There is simply no place in civilized society for such attacks. Please rest assured that no one affiliated with me or American Sewer Services is responsible for any of those posts or attacks. By the same token, I ask that you not judge me, my company nor my employees by the inflammatory things being said about us by people who don't know us or have never done business with us. There has also been a recent incident with employees of American Sewer Services, Inc. legally carrying handguns on a city job site. Regardless of whether this was prohibited in our contract or not, we are aware of the negative message this sends to the general public, especially when a photo of our employee brandishing a weapon is posted for the world to see. Disciplinary action has been taken against the three employees involved, with the employee who brandished his weapon being terminated. We are aware that the city is considering a policy in which firearms will be prohibited on city job sites. We have every intention to comply with that policy. In the meantime, I have informed all my employees that carrying weapons is prohibited on any City of Milwaukee work sites. It is important to note that my employees who choose to carry a sidearm do not do so just in the City of Milwaukee or in certain neighborhoods. Those employees who choose to legally conceal carry on the job do so regardless of what neighborhood or community they are working in, whether it's Milwaukee or the suburbs. American Sewer Services looks forward to being involved in any discussions that occur in which the safety of city field employees and contractors is discussed. We understand that the city recently has taken actions to protect your employees in the aftermath of the tragic death of a city worker in the field. We would like to learn from your experience so that our employees may feel safe in any neighborhood to which we are assigned. Like you, the safety of my employees is my number one concern. American Sewer Services. Inc. has diligently complied with the city's hiring policies, including RPP, by regularly working with the unions who represent our employees, Laborers Local 113 and Operating Engineers 139, to help diversify our work force. Those two unions are represented here today as well as the Milwaukee Labor Council, to show their support for our company and hiring practices. The RPP legislation and our work with the unions has helped us diversify our work force and find employees who live in the City of Milwaukee who will work in the City of Milwaukee. That's a good thing for the city and a good thing for our company. Several of my employees who live in the city and their families have joined me here today. Of our workforce of 22 people, nearly half live in the city of Milwaukee. We've had city residents and minority employees who have worked with our company for years and have happily retired from American Sewer Services. While we are here to discuss and condemn the actions of a few employees, it's important to remember there are dozens of other working union families that have done nothing wrong who fear the loss of their jobs because of some of the things that have been suggested. Many of these are city families that work hard every day, pay their taxes and shop in city neighborhoods. I hope we can all agree that it would be unfair to paint them all with the same brush. Again, I want to thank you for inviting me here today to engage in this important discussion. I understand that after this hearing there will continue to be work that needs to be done to restore your trust in us. I am committed to continuing that work with your direction and the help of city staff and leadership."
A letter to Common Council President Ashanti Hamilton cites "medical concerns" as the reason why the owner wasn't present at the hearing Monday. The full letter is below:
"Dear President Hamilton; It is with regret that I must inform you that I cannot attend the hearing of the Steering and Rules Committee scheduled for 10:00 AM on December the 18th, 2017 because of medical Concerns. I want to thank you for re-scheduling this meeting once before in order to accommodate my medical procedures. At the time, I thought I might be able to appear before the committee at a later date. Unfortunately, it has become clear to me and my doctors that I will not be able to attend at all. I've attached the testimony I had planned to give at the meeting so that you may understand how seriously I take this matter. One of my employees will appear on my behalf to read this statement as a show of my respect for you, your colleagues and the process. Unfortunately, this employee will not be able to answer questions from the committee nor offer any real meaningful input. I apologize for that inconvenience. I plan to reach out to all the members of this committee over the coming weeks so that I may meet with them individually to discuss these matters in depth and to hear any suggestions they may have. I hope any thoughts of punitive action will wait until after those meetings so I might better understand what more is expected of me beyond the swift and decisive action of firing the offending employees and the adoption of new company policies that will help eliminate any recurrence of these incidences. I very much appreciate you taking the time to meet with me over the weekend face-to-face to discuss these incidents as well as broaching the broader issue of minority hiring by city contractors. I think you can also appreciate that my experience on the ground over the past 30 years can contribute to future discussions regarding increasing the number of minority residents working on city contracts. While these past few weeks have been trying on my personal health, I've been encouraged by all the people who've expressed their support for me and our company - from area labor leaders to the people in the Washington Park neighborhood who remembered how we assisted them with their community celebration. It's a true blessing to have the people who know you best volunteer to come out in support during your time of need. I want to thank you again for your understanding of my health concerns and for taking the time to meet with me. I look forward to meeting again in the coming weeks to follow up on any questions, concerns or suggestions the committee may have."