"This is false:" Radio host accuses Mukwonago High School teachers of teaching white privilege


MUKWONAGO -- A Milwaukee radio talk show host is accusing Mukwonago High School of teaching students that they have so-called "white privilege." School officials are firing back, and so are students.

"Our school needs to be represented in a positive way," Emily Diderrich, Mukwonago High School senior said.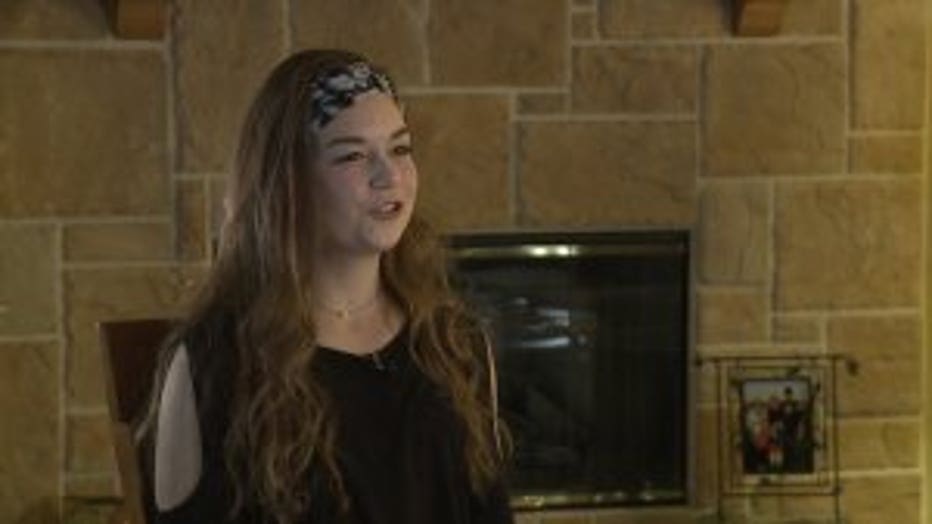 Diderrich takes pride in her school. She is class president and a student representative to the Mukwonago Area School District School Board, so when she found out her school was being targeted in a negative light, she decided to speak out.

"I was just really confused," Diderrich said.

Vicki McKenna, WISN Radio talk show host accused the AP psychology teachers at the school of teaching students that they have white privilege. She said it was brought to her attention by a parent of the student in the class.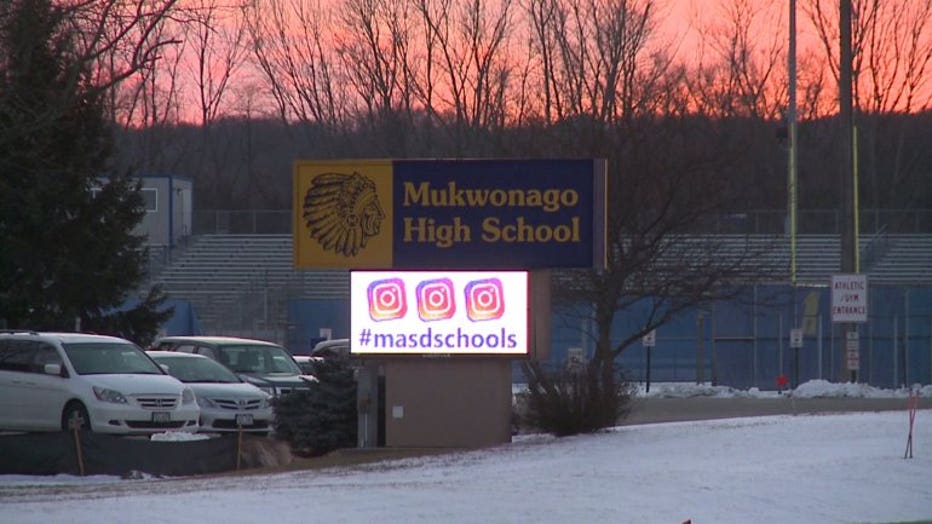 "Only white people can be automatically prejudiced and implicitly biased because only white people have white privilege and that's what the class is teaching," McKenna said.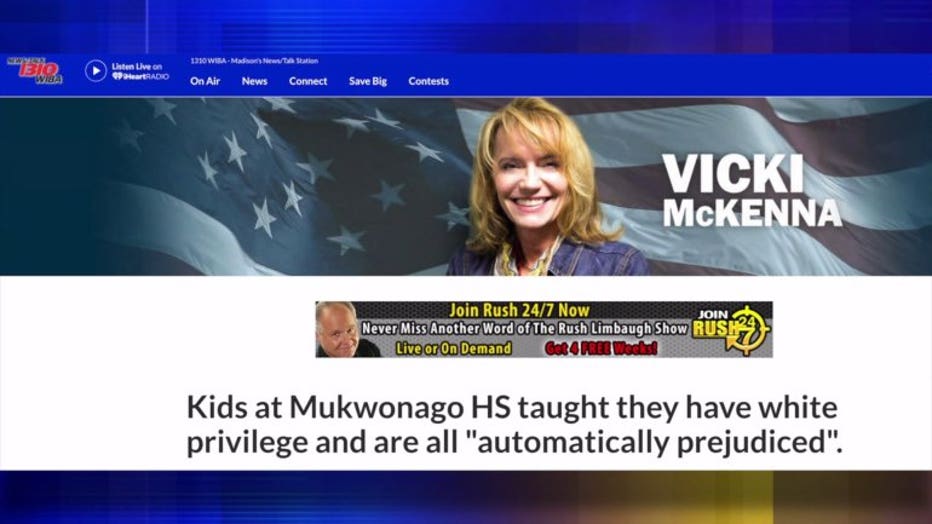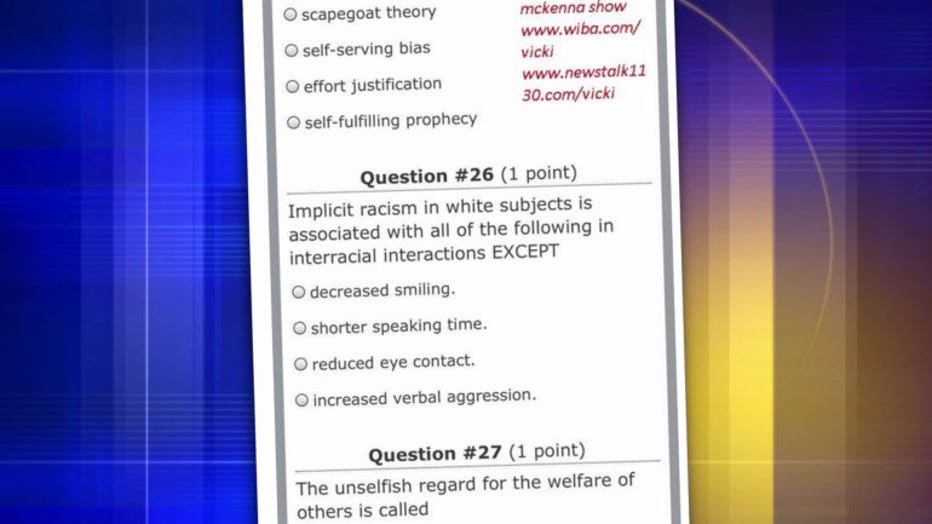 On her blog, McKenna posted a practice exam question.

"It was taken grossly out of context," Diderrich said.

Diderrich explained, nowhere in the curriculum was white privilege ever mentioned.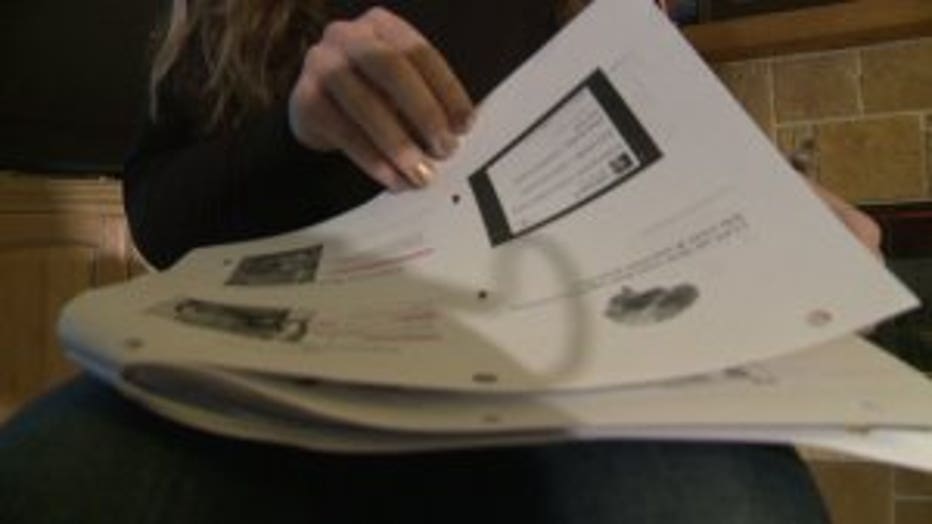 "I invite you to look for it, because it`s not in here. I know that was never even taught," Diderrich said.

Instead, Diderrich said it was a lesson on implicit tendencies -- people's habits and behaviors, no matter your race.

Mukwonago Area School District Superintendent Shawn McNulty is also standing by the class -- issuing this statement to FOX6 News:

"On Monday, January 30, 2017, the Mukwonago Area School District administration was informed that a local radio station talk show had identified snapshots of classroom materials as being from a Mukwonago High School course test. The radio host raised concerns about Mukwonago High School allegedly teaching "white privilege" to our students.

This is false. At no time did our instructors teach the concept of "white privilege."

The course in question is an Advanced Placement Psychology class. As an AP course, the official curriculum for that class is created and certified by the AP College Board. The materials photographed by the high school student were not from any unit or final exam created by Mukwonago High School. The questions were, in fact, practice questions from an accredited psychology textbook resource aligned to the AP College Board curriculum. Students nationwide have the option to use that resource while preparing for the College Board AP Psychology exam.

A tweet also referenced by the radio station was neither from any official AP-sponsored test nor was it from any Mukwonago High School graded exam. The tweet was used as a lesson artifact to bring awareness to students about the different ways society might interpret a complex social issue. Students are expected to know, discuss, and analyze social psychology issues for the AP Psychology course and exam.

The AP Psychology course is one of Mukwonago High School's most popular classes and is taught by two highly respected instructors. During the 2015-16 school year, 155 students took the AP Psychology course. 94% passed the AP exam with an average score of 4.45, a score well above state and national averages. Such high AP test scores allowed our students to earn collectively a significant number of college credits, saving their families thousands of dollars in tuition. Additionally, numerous graduates have praised the class as being instrumental in preparing them for classes and careers beyond high school.

For more information about the national College Board AP Psychology curriculum and course description, CLICK HERE.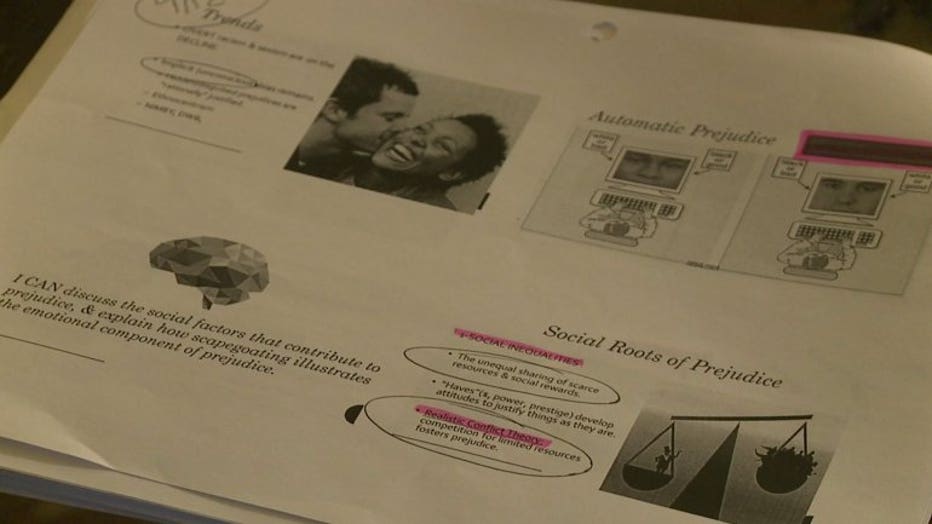 McNulty said the curriculum for the class was created by the AP College Board.

"We`re all supporting these teachers and we`re all supporting what they do," Diderrich said.