"There's smoke pouring out of the dishwasher!" Contact 6 looks at the hidden dangers in your home


WEST ALLIS/FRANKLIN — Look around your home. How many appliances do you have? Do you know if any of them have been recalled? Turns out, what you don't know could hurt you.

A West Allis family encountered a scary situation with their dishwasher.

"When it initially happened, this part of the dishwasher was hot to the touch. It's just a little melted," Chris Hyke said as he pointed at part of his dishwasher.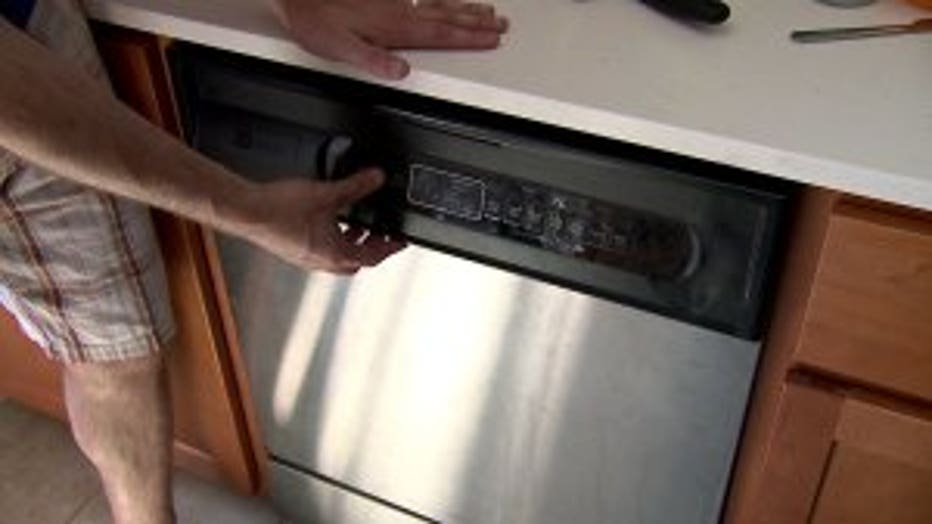 Chris Hyke shows portion of his melted dishwasher after a malfunction.


Hyke is a FOX6 photojournalist who wasn't thinking about getting out his camera when his wife called for help.

"I came around the corner and she's like, 'Chris, there's smoke pouring out of the dishwasher.' There was a steady stream of black smoke coming out. So I ran back downstairs — turned the breaker off," Hyke recalled.

Lieutenant Steven Kaltenbrun with the West Allis Fire Department went over to Hyke's home to check out the damage and see if the dishwasher was still dangerous.

"I brought an ABC Extinguisher here. Just being fully aware of what could or may happen. We're just gonna be prepared," Lt. Kaltenbrun said.

Hyke attempted to turn the power back on the dishwasher, but it was fried.

"We find that a lot of the fires in these dishwashers are in the control panel. So what happens is the seal becomes faulty -- allowing water in and that can create deposits on the conductors allowing the electricity to arc from one to the other causing a fire," Lt. Kaltenbrun explained.

It turns out, the Hyke's Maytag dishwasher was recalled in 2007 and other manufacturers have had problems too.

GE sent an important safety notice to Gary Lentz in Franklin. The recall gave him the option of a new dishwasher or having it repaired.

Lentz had his dishwasher repaired in 2012, but then this past April he had more issues.

"My wife called me and said, 'Gary, there's a problem here with the dishwasher. It's hot.' And I came in here and this counter top was so hot that I could have cooked an egg on it," Lentz recalled.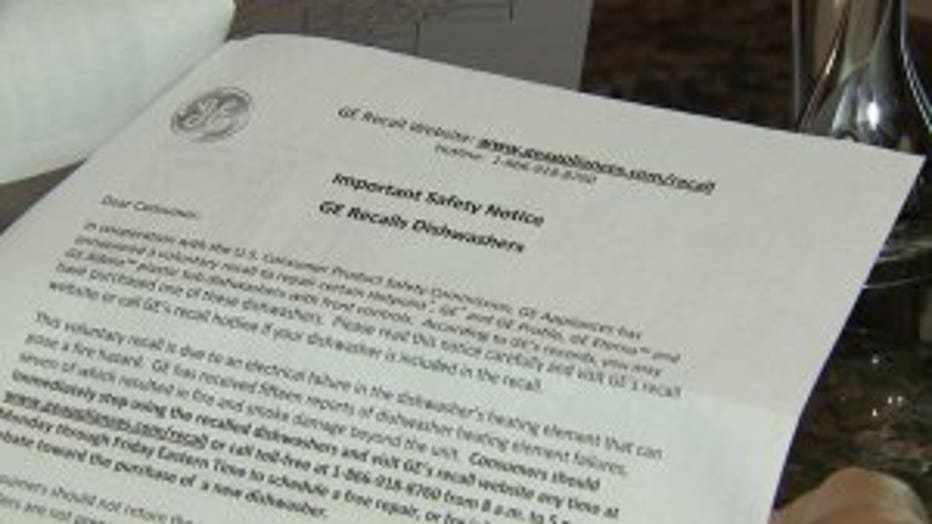 Recall notice sent to Gary Lentz for his GE dishwasher.


The heating element for the drying cycle was on.

"It turned itself on during the night and probably was on a total of 16 hours," Lentz said.

Lentz called GE Customer Service.

"She basically said it's infrequent and there hasn't been a second recall on it. I mentioned to her that this thing could have started our house on fire and she said the dishwasher was designed to melt — the tub is plastic," Lentz said.

Lentz got rid of the dishwasher, but wanted to warn others about what can happen.

"I thought the public should know about this," Lentz said.

The situations Hyke and Lentz experienced are an important reminder to make sure you know about the appliances in your home.

When you get a new appliance, fill out the registration card. They're usually with the appliance and can be mailed back. You can also register the product online. It's the only way for the company to notify you if there's been a recall.

If you're having an issue with an appliance in your home, go to the Consumer Product Safety Commission's website and file a complaint. It's the only way for the government to know if there's a problem and something needs to be done.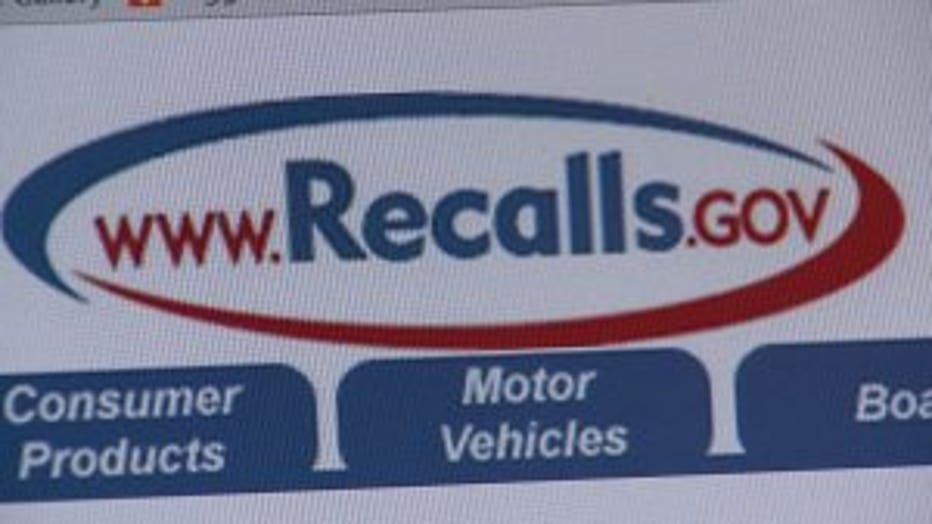 Government website to check recalls.


You may not know what hidden dangers are inside your appliances, especially if they came with the house. The easiest to check if your appliances could be dangerous is to search for them on recalls.gov.

The one stop shop allows you to make sure the products that make you life easier — won't change your life forever.

Maytag says it will replace Hyke's dishwasher.

FOX6's Contact 6 reached out to GE regarding Lentz's concern.

The company sent this statement:

"The consumer's report concerning his dishwasher heating element is not related to a recall, nor does it present a safety issue. While rare, dishwashers can sometimes malfunction resulting in the heating element staying on after the heated dry cycle. The heating elements are designed so they do not get hot enough to ignite plastic items in the dishwasher or the tub. 

 GE dishwashers have been tested in accordance with the voluntary third-party safety standard to ensure their safety. Since the consumer did not contact us to service the heating element in his six-year old dishwasher, we cannot comment on his specific case but we are sorry for any inconvenience he may have experienced."