"The most humbling feeling:" Hillary Clinton hoped to become the nation's first female president


MIDDLETON -- Supporters of Democratic presidential candidate Hillary Clinton gathered at the Madison Marriott West in Middleton Tuesday, November 8th to watch the election results come in.

It was expected to be a long night, as this was expected to be a close race. Democrats in Middleton said they were hoping for a clean sweep in the big races. Supporters were confident -- suggesting both Clinton and Feingold could have a 100,000 vote advantage because of early voting headed into election day.

Clinton led in the polls in Wisconsin by six or seven points.

The latest Marquette University Law School poll, released on November 2nd, showed Clinton leading Republican presidential candidate Donald Trump 46% to 40%.

Clinton did not campaign in Wisconsin during the general election season, the first major party candidate who didn't in 44 years, according to a UW political scientist.

Seeking to become the nation's first female president, Clinton cast her ballot Tuesday at an elementary school near their home in suburban New York before greeting supporters waiting for her outside.

"It is the most humbling feeling," she said of voting for herself for president. "I know how much responsibility goes with this."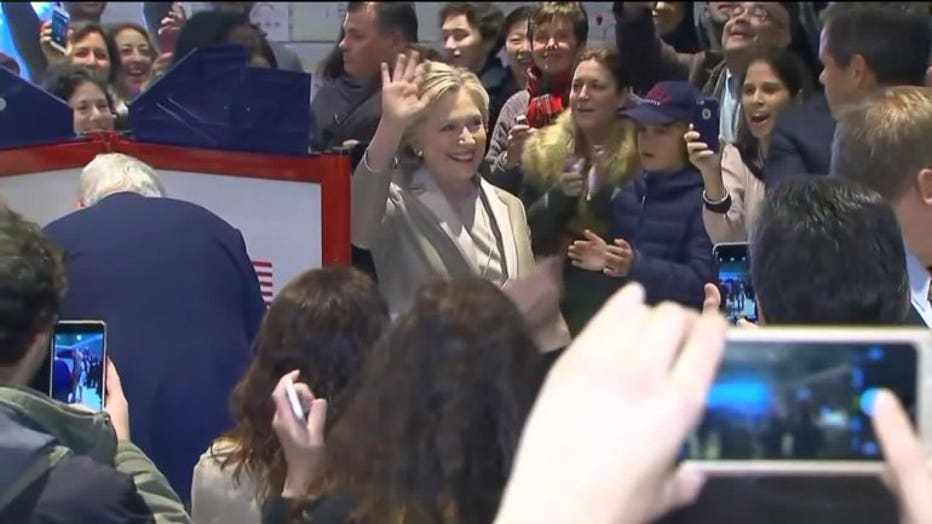 Ahead of the election, Clinton already made history -- becoming the first female presidential candidate for a major political party.

It was a relatively calm moment Tuesday compared with Clinton's hectic final few days day on the campaign trail.

The former secretary of state and New York senator dashed through battleground states, encouraged get-out-the-vote efforts and campaigned with a star-studded cast of celebrity supporters.

It was an election eve punctuated by an emotional rally in Philadelphia with her husband, President Barack Obama and first lady Michelle Obama, as well as performances by Jon Bon Jovi and Bruce Springsteen, and capped by Lady Gaga, who serenaded thousands of supporters before the Clintons took the stage for a 1 a.m. rally in Raleigh, North Carolina.

It ended with cheering fans greeting her at the airport back in New York when she landed in the early hours of Tuesday morning.



After the divisive rhetoric of the campaign against Republican Donald Trump, Clinton sought to offer a positive closing message on Monday.

She told supporters in Pittsburgh they "can vote for a hopeful, inclusive, bighearted America." In a buoyant mood, she also greeted voters who cried out "we love you," smiling back: "I love you all, too ... absolutely."

Some good news boosted Clinton's spirits in the final moments of the campaign.

On Sunday, FBI Director James Comey sent a letter to Congress, informing lawmakers the bureau had found no evidence in its hurried review of newly discovered emails to warrant criminal charges against Clinton.

The late October announcement of a fresh email review rocked the race just as Clinton appeared to be pulling away from Trump in several battleground states.

The update from the FBI may have come too late for some: In the nine days between Comey's initial statement until his "all clear" announcement on Sunday, nearly 24 million people cast early ballots. That's about 18 percent of the expected total votes for president.


Presidential candidates Donald Trump and Hillary Clinton.