'The best option for Zahra:' Orphaned baby gorilla arrives at Columbus Zoo, her new home


MILWAUKEE -- Milwaukee County Zoo officials announced on Wednesday, June 13, orphaned baby gorilla Zahra arrived at her new home -- the Columbus Zoo and Aquarium in Columbus, Ohio.



Zookeepers determined leaving Milwaukee was what's best for Zahra after the deaths of her father, Cassius and mother, Naku in April. Cassius died on April 12, and Naku died on April 28. Cassius and Naku died of gastrointestinal infections -- believed to be secondary to an E. coli possibly associated with the exhibit's water system.

After their deaths, zookeepers were working to raise Zahra, staying with her 24-hours per day, seven days a week.

According to a news release, zoo officials consulted with the "Gorilla SSP (Species Survival Plan) and other zoos that have navigated similar situations on the best course for Zahra's management and long-term welfare. The SSP recommended she be placed at the Columbus Zoo which houses a stable family unit, including a female gorilla to act as a surrogate mother, a tolerant silverback male and other females with offspring of varying ages. The Columbus Zoo has successfully surrogate-raised 15 gorillas.

Currently, the Milwaukee County Zoo does not have a long-term sustainable gorilla unit in which Zahra can be placed.

"This is really the best option for Zahra, and we're excited to see her start a new chapter in her life, and set her up as best we can so she continues to develop into a fully functioning adult gorilla. The Columbus Zoo has an excellent reputation for surrogate-raising gorillas, and will serve as the best, supportive home for Zahra's growth, development and long-term care. Intellectually, Zoo staff who have been caring for Zahra 24/7 know this is the right thing for her, at the right time, but it is bittersweet for many, as zookeepers and animal care staff have invested many hours in her care and her needs, both physical and emotional. We thank our keepers, visiting zoo professionals and the Milwaukee community for their continued support.  The health and well-being of our animals is the first priority, and of the utmost concern, and our motivations and actions are always to that end," said Chuck Wikenhauser, Milwaukee County Zoo director in the release.

In Columbus, Zahra will be under 24/7 care by the Columbus Zoo's human-assisted rearing team until introductions with a potential surrogate mother begin. While the zoo's animal care team will also take cues from Zahra to determine when she's ready to transition into each important phase, the goal is to place her with the surrogate as quickly as possible so she is soon with other gorillas.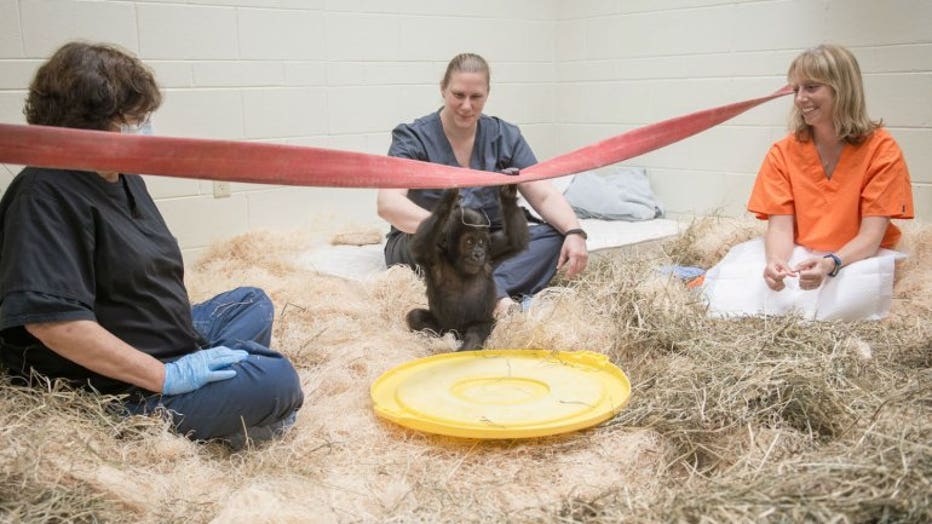 Baby Zahra at Columbus Zoo and Aquarium


According to the release, the Columbus Zoo and Aquarium has been a pioneer of gorilla surrogacy for more than 30 years. The zoo has been recognized internationally for their care of gorillas in social groups, including expanding social groups through the placement of young gorillas with surrogate mothers. Over the years, nine gorillas born at the Columbus Zoo have been raised in the surrogacy program, and, including Zahra, an additional seven have been sent from other zoos. The Columbus Zoo has potential surrogate mothers in mind for Zahra; however the final decision regarding the surrogate mother selection will ultimately depend on the animals' behaviors once Zahra has been introduced.

PHOTO GALLERY



The Milwaukee County Zoo's lead gorilla keeper, who accompanied Zahra, to make the transition as smooth as possible, will continue working with her at the Columbus Zoo for several more days.