That $50 Lowe's Mother's Day coupon on Facebook is a scam
A Facebook scam that has do with Lowe's Home Improvement is making the rounds ... again.

The post being circulated claims that Lowe's is offering $50 off coupons for Mother's Day.

After clicking on the post to claim your coupon, you are taken to what appears to be an official Lowe's survey site (pay close attention to the URL in your browser's address bar). In reality, this page is a fake and the survey is designed to steal your information.

Here's what that survey site looks like: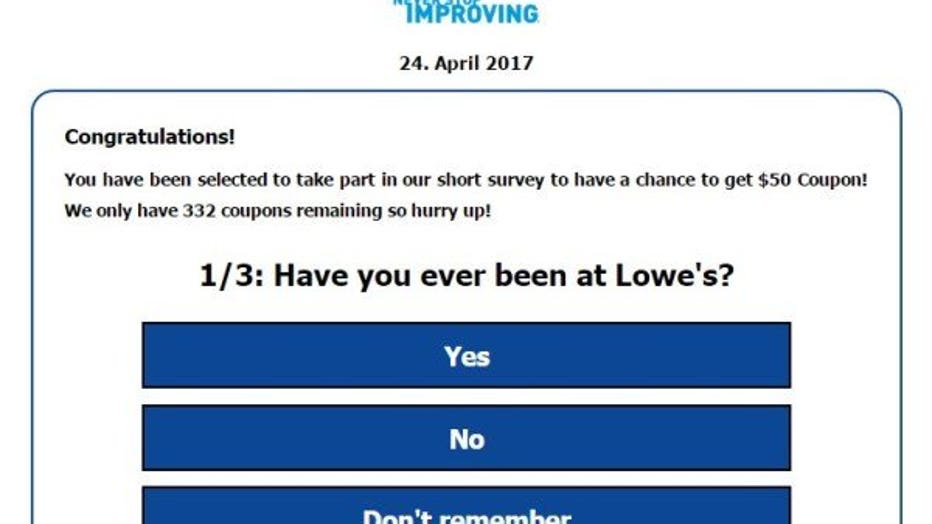 Similar posts have surfaced on Facebook in the past, but all of the offers have two things in common — there is no coupon and the companies mentioned in the posts are not participating in the "promotion."

Customers on Facebook are asking Lowe's if the coupon is legit, and Lowe's has confirmed that the offer is definitely a scam, according to WNEP.

"Please be careful when responding to any pop up ad either online or via social media; as, more often than not, the offer of gift cards or other prizes to customer's in the guise of a specific company are set up to get your personal information for nefarious purposes."

The Better Business Bureau offers these tips for helping you identify a scam on Facebook: