Teams search for survivors after massive blast at Texas plant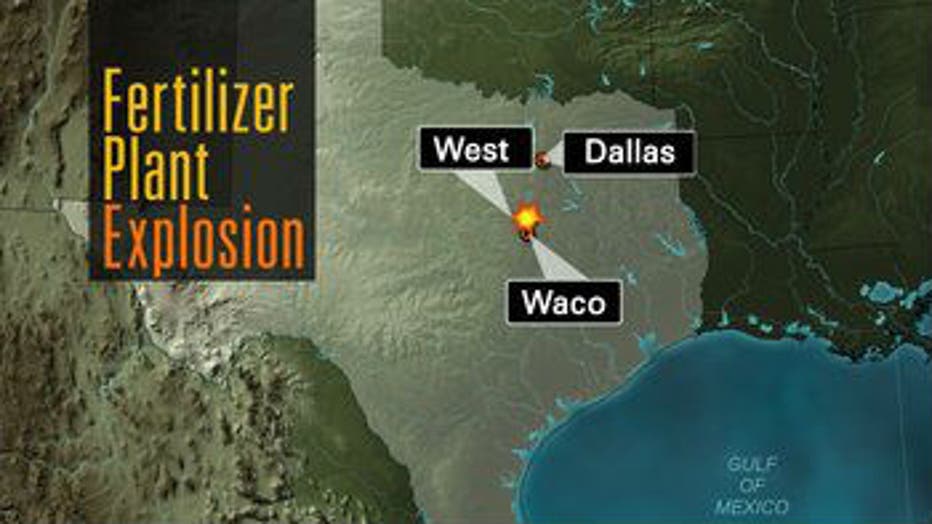 A massive explosion hit a fertilizer plant 18 miles north of Waco, Texas on Wednesday, April 17, 2013.




(CNN) -- Authorities searched through mounds of rubble Thursday in hopes of finding survivors of the huge, deadly explosion at a fertilizer plant that flattened much of a small Texas town.

The blast, which residents described as "massive" and "overwhelming," left shattered homes and wreckage in a wide swath of West, Texas, a town of only 2,800 people.

"It's overwhelming to us," said George Smith, the town's director of emergency services. As he spoke to CNN affiliate KCEN, blood was spattered on his face from injuries he suffered.

"It was like a nuclear bomb went off," said Mayor Tommy Muska.

On Wednesday evening, a fire at the plant suddenly exploded with a huge, deafening bang, throwing people to the ground blocks away. It measured as a 2.1-magnitude seismic event, according to the United States Geological Survey. Even 50 miles away, homes shook.

The blast came minutes after the fire began, so firefighters were already on the scene. Some may be among the dead, but the casualty count is unclear, Waco Police Sgt. William Patrick Swanton said, estimating that overall, five to 15 people may have lost their lives. Smith said the death toll could spike to 60 or 70. More than 160 people were injured.

"We have two EMS personnel that are dead for sure, and there may be three firefighters that are dead," Smith said.

About half the town was evacuated, including a nursing home with 133 residents. A middle school is also near the plant.

'Roof came in on me'

The explosion tore through the roof of West Fertilizer Co., charring much of the structure and sending massive flames into the air, followed by a plume of smoke bigger than the plant itself. A deafening boom echoed for miles.

It was "massive -- just like Iraq, just like the Murrah (Federal) Building in Oklahoma City," said D.L. Wilson of the Texas public safety department, referring to a bombing that took place 18 years ago Friday.

The blast stripped a nearby apartment complex, with 50 units, of its walls and windows. "It was just a skeleton standing up," Wilson said.

"The windows came in on me, the roof came in on me, the ceiling came," Smith said.

The town, he said, has only three ambulances.

Between 50 and 60 homes in a five-block area sustained damage, officials said.

"It, like, picked you up," a woman told CNN affiliate WFAA. "It just took your breath away. And then it dropped you and it exploded everything around you. ... It was like a suction, and then it just blew it all out. You could feel everything. You could feel it on your skin, your hair was being blown. It was crazy."

She managed to cover one of her children, she said, and "grabbed my little one and dove through a door. It was chaos. All my windows blew out, my doors off the hinges. All I had were my keys in my hand, and I just threw the dog, everybody, in the car, and we took off."

Video taken by college student Eric Perez -- from what appeared to be a safe distance away from the fire, past a large field -- shows the moment of the blast. In a split second, the fire over the plant bursts into into widespread destruction, knocking Perez over. Bright flames fill the sky.

Perez and his friends were playing basketball when they noticed the flames at the plant. "Nothing ever happens in our small town, so I recorded," he said. "Then the explosion went off. We were thrown into the bed of my truck."

One of his friends suffered a flash burn to his face and broken ribs. Another was burned on his arm and hit with flying shrapnel. A third had a cut to his face.

Brad Smith lives 50 miles away and felt his house shake.

"We didn't know exactly what it was," he said. "The forecast said a line of thunderstorms was going to come through. My wife and I looked up and wondered, 'Did it get here six hours early?' "

Cause unknown

"Nothing at this point indicates we have had criminal activity, but we are not ruling that out," Swanton said.

A U.S. intelligence official told CNN there is no indication so far that the blast is related to terrorism.

While state authorities are leading the investigation, the federal government is assisting.

The Federal Bureau of Alcohol, Tobacco, Firearms, and Explosives has a team of 20 agents and forensic specialists assisting, a law enforcement source told CNN.

The Texas National Guard has sent 21 troops from a civil support team to monitor air quality near the blast, the Pentagon said Thursday.

The White House said it is monitoring the situation through the Federal Emergency Management Agency, which is in touch with various agencies involved in the investigation.

"A tight-knit community has been shaken, and good, hard-working people have lost their lives," President Obama said in a statement.

Those affected "will have the support of the American people," he said.

Chemical concerns

With help from heavy rains early Thursday, firefighters managed to quell most of the flames in the area, authorities said.

The rain and heavy winds also helped dissipate chemicals that may have been released.

Swanton emphasized that there was no cause for alarm about the air. There was no "chemical escape" that is "out of control," he said.

Anhydrous ammonia, a gas used in making fertilizer, can cause severe burns if it combines with water in the body. Exposure to high concentrations can lead to death.

The West Fertilizer Co. said it had 54,000 pounds of the chemical, The Dallas Morning News reported.

But doctors reported that the injuries they were treating, in general, came from the blast, not chemical exposure. Many people had cuts and puncture wounds. Some were in critical condition.

Small, smoldering fires remained Thursday, but not enough to halt rescue efforts, police said.

There was one early report of possible looting, but no one was arrested, Swanton said.

The Federal Aviation Administration instituted a flight restriction over the town.

Local rail freight service was also being closed to help secure the area, the U.S. Department of Homeland Security said.

Authorities closed schools for the rest of the week and urged everyone to stay away from school property.

So many firefighters and medics descended on the town to help its all-volunteer force that the Texas public safety department said that no more assistance was needed.

"The firefighters and EMS people are coming from hundreds of miles away to help us," said Wilson of the department. "Right now, we are overflowing with help. "

West is about 75 miles south of Dallas and 120 miles north of Austin. The town's chamber of commerce touts it as "the Czech point of central Texas."

Czech immigrants arrived in the town in the 1880s, and the community still maintains strong ties to their Central European roots, with businesses named "Little Czech Bakery" and "The Czech Inn."

Worst-case scenario

In 2006, West Fertilizer had a complaint filed against it for a lingering smell of ammonia, the Texas Commission on Environmental Quality website shows.

Separately, the plant had informed the Environmental Protection Agency that it presented no risk of fire or explosion, according to The Dallas Morning News. It did so in an emergency planning report required of facilities that use toxic or hazardous chemicals.

The plant's report to the EPA said even a worst-case scenario wouldn't be that dire: There would be a 10-minute release of ammonia gas that wouldn't kill or injure anyone, the newspaper reported.

What happened Wednesday night was much worse.