Stopping the stress of being stranded? Contact 6 tests HONK and Urgent.ly apps


MILWAUKEE COUNTY — There are two free roadside assistance apps aimed at stopping the stress of being stranded: HONK and Urgent.ly.

The apps are a free download to your smartphone. They are intended to be an alternative to paid roadside assistance coverage through your insurance or a motor club. The apps use your phone's GPS to dispatch the nearest tow truck for issues like flat tires, lock outs, dead batteries or a tow.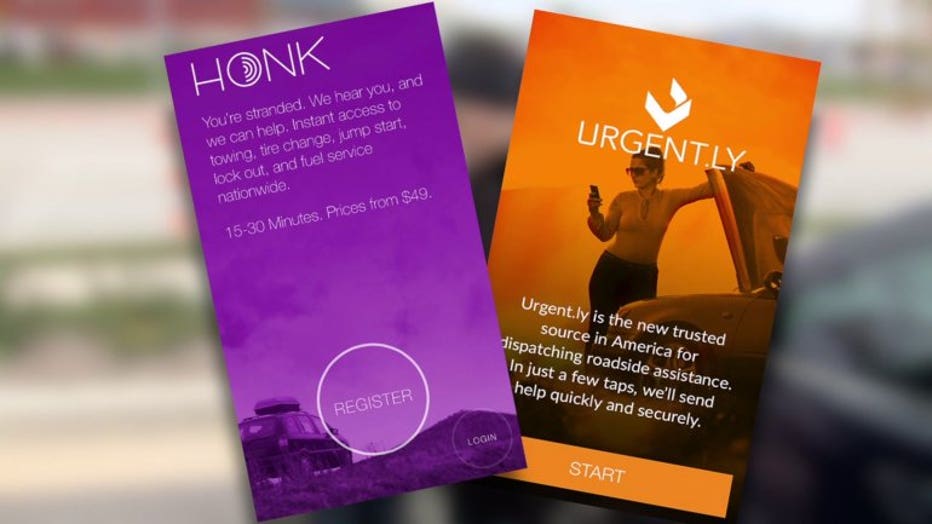 FOX6's Contact 6 tested two free roadside assistance apps: HONK and Urgent.ly.


FOX6's Contact 6 wanted to know how well the apps worked and put each one to the test.

The first app Contact 6 tested was the HONK app.  In order to test HONK, Contact 6's Jenna Sachs along with producer LeeAnn Watson intentionally got a flat tire at the Park & Ride in Wauwatosa.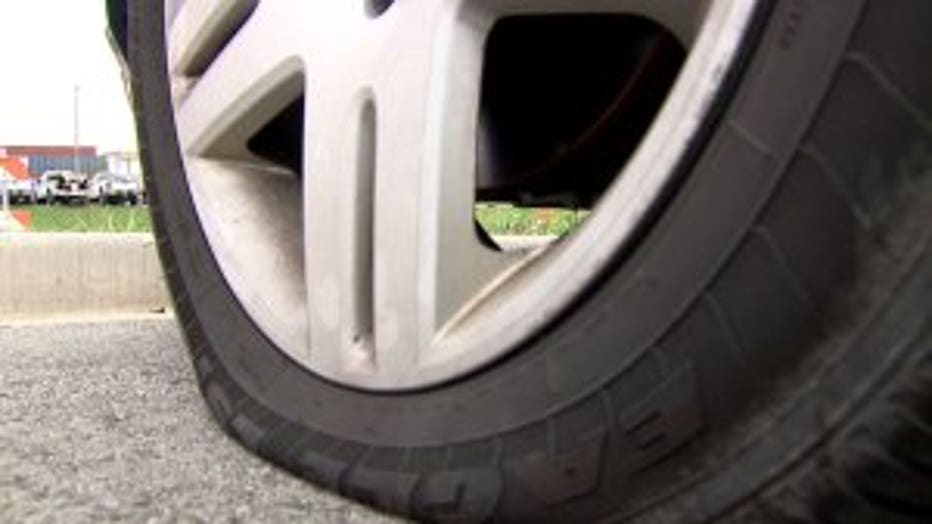 They opened up the HONK app and made the request for flat tire service. HONK wanted to know more about the situation, including what type of vehicle had the issue. After HONK got all the information, Contact 6 was given a guaranteed price of $65 to change the flat tire and the order was officially placed.

Within one minute, Contact 6 got a text message from HONK informing them A1 Auto and Towing would do the flat tire service on their vehicle. After two minutes, an employee from A1 Auto and Towing called to confirm the order and location.

A few minutes after the call from A1 Auto and Towing, an employee from HONK called to confirm that a tow truck would arrive within 20 minutes.

Within that 20-minute window, a rusty unmarked van pulled up next to Contact 6's vehicle. It confused the Contact 6 team, but once they got out of the car, the man confirmed he was with A1 Auto and Towing.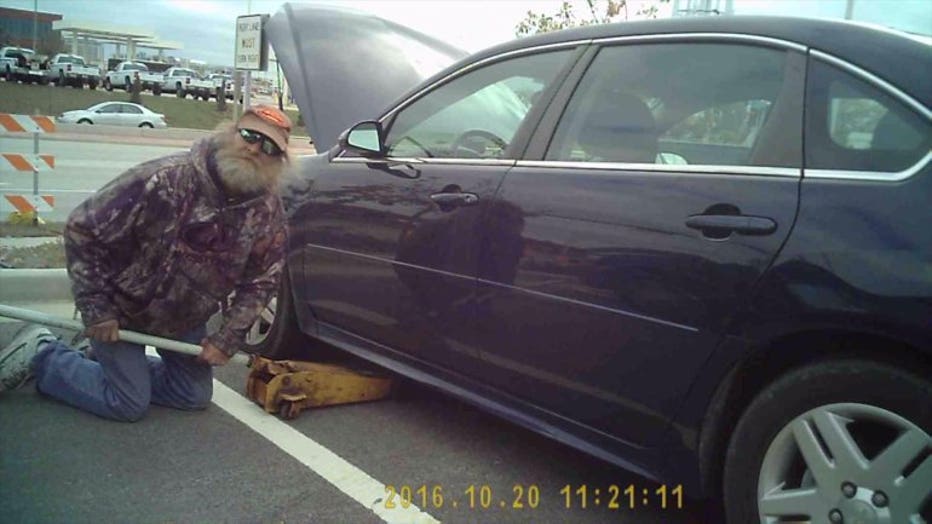 An employee from A1 Auto and Towing changes a flat tire for FOX6's Contact 6 after an order is placed through the HONK app.


The employee was friendly and answered questions Contact 6 asked about how HONK worked. He told Contact 6 that he's only responded to "a couple" of calls from HONK.

Contact 6 also inquired about the unmarked van. The A1 Auto and Towing employee said it was their "beater truck" for easy calls like light services or lock outs.

Within 10 minutes of arriving, Contact 6's spare tire was on and the car was ready to hit the road. A half-hour after the service was complete, HONK called one more to time check-in.

HONK's CEO, Corey Brundage was happy to hear about Contact 6's experience.

"That is great. That is exactly the way it is supposed to work," Brundage said. "It's important that in your moment of need that there's someone that you can speak with and there`s someone that's paying attention."

One week later, Contact 6 got another intentional flat tire at the Park & Ride in Brown Deer to test Urgent.ly.

Urgent.ly requested vehicle information and the service needed for the vehicle. Contact 6 was given the guaranteed price of $65 and the order was placed.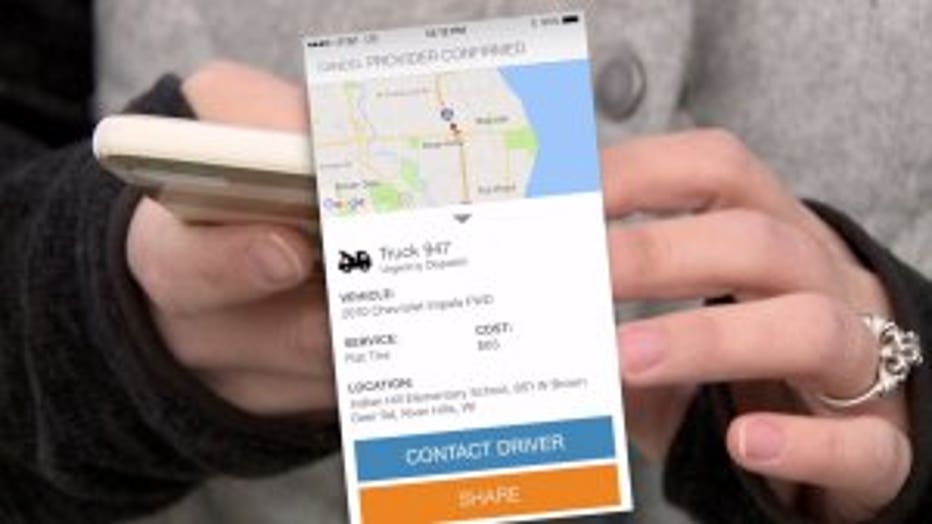 Three minutes after the service was requested, the apps said a truck had been dispatched. However, Contact 6 noticed the GPS location was slightly off. Uregnt.ly has the option of contacting the driver through the app. Contact 6 attempted to call the driver, but it didn't work.

"It doesn't give us the company. It doesn't tell us who's coming," Watson said.

15 minutes after that, the app updated to say Badger Auto would respond. At that point, Contact 6 called Badger Auto through the app to let them know about the location discrepancy and things got more confusing. Badger Auto had never heard of Urgent.ly and they told Contact 6 no one was coming.

One hour after the service was requested, Contact 6 was still waiting. A driver had not been dispatched.

Urgent.ly does have the option of texting with a dispatcher from the app. Contact 6 messaged the dispatcher to figure out what's going on. The dispatcher made another call.

80 minutes after placing the initial request, Brian, the owner of Badger Auto, arrived. Brian was friendly and changed the tire quickly.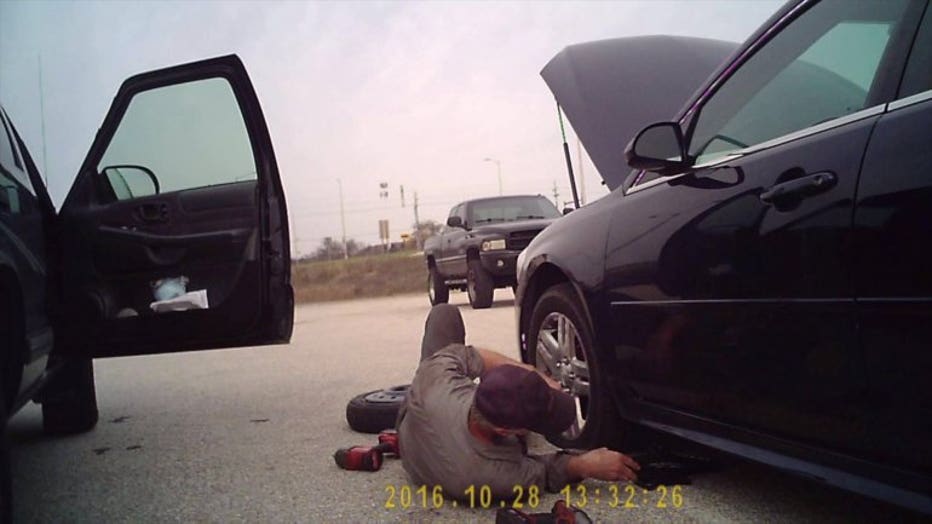 Brian from Badger Auto changes a flat tire for FOX6's Contact 6 after an order is placed through the Urgent.ly app.


Contact 6 asked whether he'd ever heard of Urgent.ly.  Brian told Contact 6 he never heard of the app and this was his first time ever getting a call from Urgent.ly. He said the request confused his staff. Brian said a person would have been there quicker if Contact 6 would have just called his company directly.

Upon hearing about Contact 6's experience, Urgent.ly was surprised and apologetic.

"Our average response times are about 20 minutes," explained Jaivin Karnani, Urgent.ly's director of marketing.

Karnani told Contact 6 the issues with their service came down to human error and a change in training is being made.

"While it's not an ideal situation, what you faced, it's definitely not the norm and something we work towards fixing," Karnani said.

After speaking with Contact 6, Karnani sent an e-mail with this statement:

We're proud of Urgent.ly and the service we provide to our customers every day.  We are reinventing the $10 billion roadside assistance market and we're rapidly building our customer base and expanding our partnerships. 

Urgent.ly delivers the quickest, safest and most innovative roadside assistance experience to drivers at their moment of need – all without a subscription or membership fee.  Our customers can track their service provider's progress and ETA in real-time on their smartphone map.  And Urgent.ly is the only service with accident alert detection technology and FamilyView – a unique feature that provides families and caregivers with peace of mind by allowing them to track the roadside service of a loved one from start to finish. 

We're proud of our record.  Urgently is growing fast and we're handling thousands of service requests per year.  Customer service is our most important metric – and we are committed to providing excellent service to everyone. 

We're different from traditional motor clubs that take yearly payments for a service you may not need.  We don't ask for payment until the service is delivered and the customer is satisfied. 

But we're not perfect – and sometimes we can make mistakes – like what happened to you.  When that happens, we do accept responsibility and make it right.  While the number of complaints for delayed service is small – about one in 1,000 – we are constantly working hard to improve.  We use unfortunate incidents like this one to learn from and deliver better service.

In your case, it took too long for you to receive service – when it should have been much faster.  So, we've done two things:




First, we researched the service request and put in place improved training with our team.


 Second, we have contacted the service provider and discussed the situation with them. 




We want to make sure that this does not happen again in the future and will continue to monitor our services to make sure we provide excellent support to all of our customers. 

Contact 6 did ask each towing company how much they would have charged if they had contacted each business directly. A1 Auto and Towing says it would have charged $45. Badger Auto says it would have cost $25.