Sterling Brown promises legal action as MPD releases body camera video from his January arrest


MILWAUKEE -- The body camera video involving the arrest of Milwaukee Bucks' guard Sterling Brown was released by the Milwaukee Police Department on Wednesday, May 23. The video shows a tense situation that escalated quickly. MPD Chief Alfonso Morales apologized for what it shows, as Sterling Brown said he will be taking legal action.

Watch: Sterling Brown arrest body camera video:




Council President Ashanti Hamilton said situations like this take place in Milwaukee nearly every day.

"I've experienced what Sterling experienced in that parking Lot. I know this is real and I dont want people to sweep these unde the rug and pretend like it was a one off," said Council President Ashanti Hamilton.




Watch: Milwaukee Police Department news conference ahead of body camera video release:




Milwaukee Police Department statement ahead of body camera video release:

"On January 26, 2018, at approximately 2 a.m., members of the Milwaukee Police Department encountered Sterling Brown near the 2700 block of W. National Avenue regarding a parking violation.

During the encounter, Mr. Brown was decentralized, tased and arrested.

The Department conducted an investigation into the incident which revealed members acted inappropriately and those members were recently disciplined.

Criminal charges against Mr. Brown were not pursued.

I am sorry this incident escalated to this level.

Today we are releasing body camera video capturing the interaction. The Milwaukee Police Department's Open Records Division is still working to fulfill all request for this video.

When I took office, I vowed to rebuild trust between the MPD and the community. We are doing that.

I promised that when the Department is involved in events of this nature, we will be honest about them. We are.

I also promised to change the direction of the Department and through meetings with intergovernmental partners, community-based and faith organization, and system partners we have begun that process.

The men and women of the MPD are dedicated to protecting and serving the citizens of Milwaukee. We have hundreds of interactions with citizens each day, and those contacts end positively.

Therefore, we ask residents to work with us in our shared vision of making Milwaukee a safe place to live, work and raise a family."

Sterling Brown statement after body camera video release:

"My experience in January with the Milwaukee Police Department was wrong and shouldn't happen to anybody.""My experience in January with the Milwaukee Police Department was wrong and shouldn't happen to anybody. What should have been a simple parking ticket turned into an attempt at police intimidation, followed by the unlawful use of physical force, including being handcuffed and tased, and then unlawfully booked. This experience with the Milwaukee Police Department has forced me to stand up and tell my story so that I can help prevent these injustices from happening in the future.

Situations like mine and worse happen every day in the black community. Being a voice and a face for people who won't be heard and don't have the same platform as I have is a responsibility I take seriously. I am speaking for Dontre Hamilton of Milwaukee, Laquan McDonald of Chicago, Stephon Clark of Sacramento, Eric Garner of New York, and the list goes on. These people aren't able to speak anymore because of unjust actions by those who are supposed to "serve and protect" the people.

The common denominator in all of these situations has been racism towards the minority community, the abuse of power, and the lack of accountability for officers involved. The lack of repercussions for the police officers involved in so many of these cases is offensive. This is a slap in the face to the victims' families and communities.

Black men shouldn't have to have their guard up and instantly be on the defensive when seeing a police officer, but it's our reality and a real problem. There must be mutual respect and both sides have to figure out how to accomplish this.

There are no easy solutions to this problem, but there are strides that can be made to create change. I will do my part in helping to prevent similar incidents from happening to the minority community in the future.

This is bigger than me. My family, friends, legal team, Priority Sports, Milwaukee Bucks, the black community and the communities of all who stand against injustice plan to continue the fight. Peaceful support to ensure no further damage to our community is the only way to respond. I know many of you will share my anger and frustration, but for our community to progress and grow, we need to build on what we already have and not destroy it. I will take legal action against the Milwaukee Police Department to continue forcing change in our community."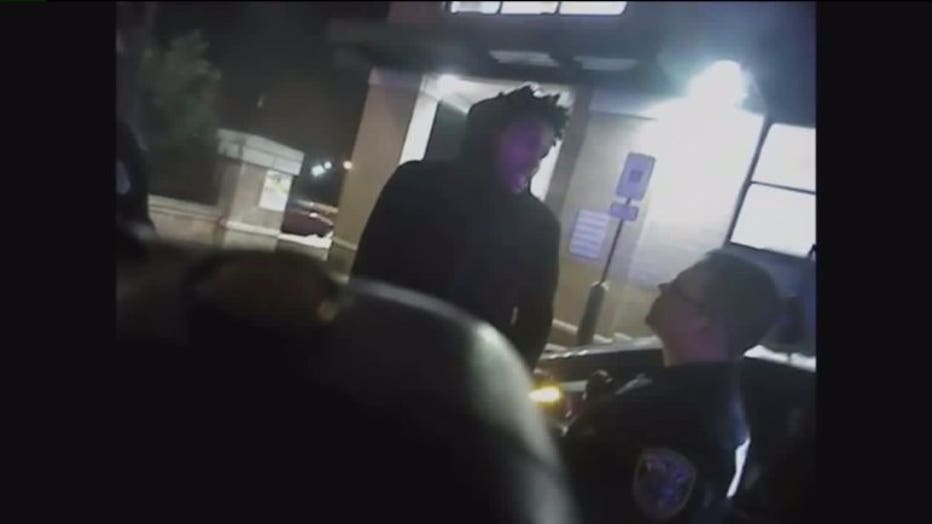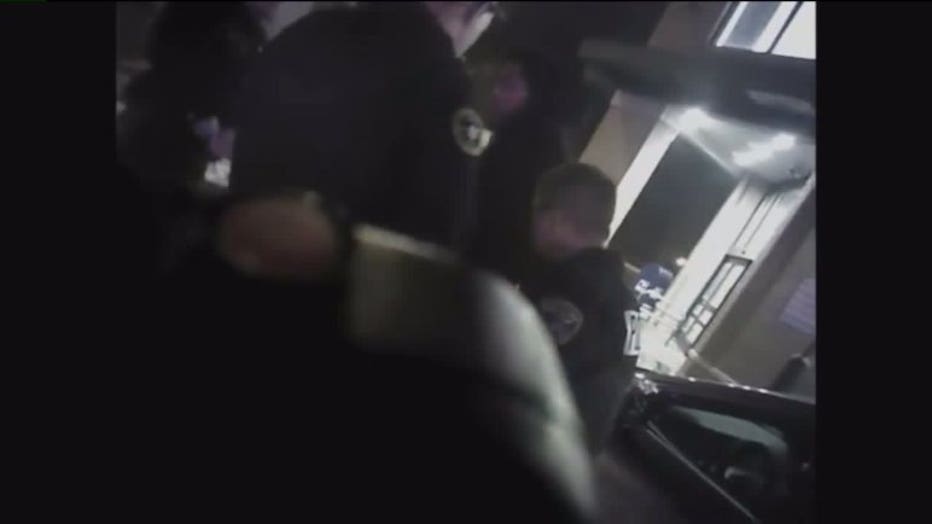 Statement from the Milwaukee Bucks after body camera video release:

"The abuse and intimidation that Sterling experienced at the hands of Milwaukee Police was shameful and inexcusable. Sterling has our full support as he shares his story and takes action to provide accountability.

Unfortunately, this isn't an isolated case. It shouldn't require an incident involving a professional athlete to draw attention to the fact that vulnerable people in our communities have experienced similar, and even worse, treatment.

We are grateful for the service of many good police officers that courageously protect us, our fans and our city, but racial biases and abuses of power must not be ignored.

There needs to be more accountability.

The Milwaukee Police Department and local officials have acknowledged the challenges they are working to address, and we urge them to enact higher standards and more direct accountability. We all want to be able to trust each and every officer serving to protect us.

Incidents like this remind us of the injustices that persist. As an organization, we will support Sterling and build on our work with local leaders and organizations to foster safe neighborhoods and better our community."


Watch: Statement from Milwaukee Mayor Tom Barrett after body camera video release:




The new executive director of the Fire and Police Commission, La Keisha Butler, also weighed in after watching the video:

"My initial reaction is some things probably could have been done differently. However, I'm reluctant to speak about it in specific terms because I do advise the board and members of that board could sit on the disciplinary panel should there be an appeal. I don't want to taint that process for the panel or for the officers who were involved," said Butler.

Watch: African-American Roundtable leaders hold news conference after body camera video released:




Police said this video release would happen after an internal review of the January arrest of Brown. Police and city leaders, including Milwaukee Mayor Tom Barrett worked to prepare the public prior to the video's release.

Officials with the Milwaukee Bucks said Wednesday, ahead of the video's release, they had no comment, but said they support Brown. They later issued the statement posted above.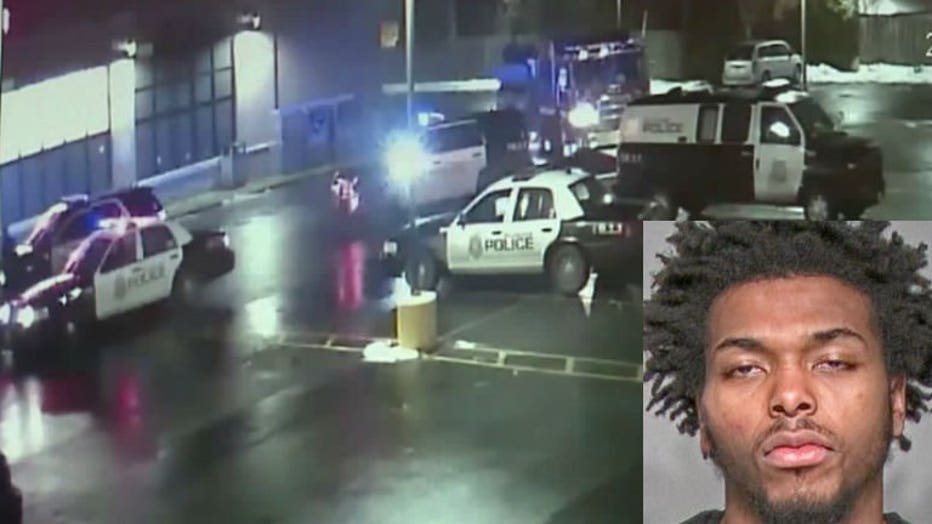 The arrest of Sterling Brown

It happened on Jan. 26. A Taser was used on him after police said around 2 a.m., they encountered a vehicle parked across two disability parking spaces at the Walgreens store near 27th and National. He was never criminally charged, but he was cited.

Sources said officers were writing a parking ticket for Brown when Brown confronted them and became combative. He was arrested on suspicion of resisting arrest. At least six police squads showed up to the store during this incident, which was captured by surveillance cameras at a nearby business.

"I told you to back up," an officer says in the body camera video as he confronts Brown.

"You're trying to get in the car," an officer says."I do what I want. I own this right here."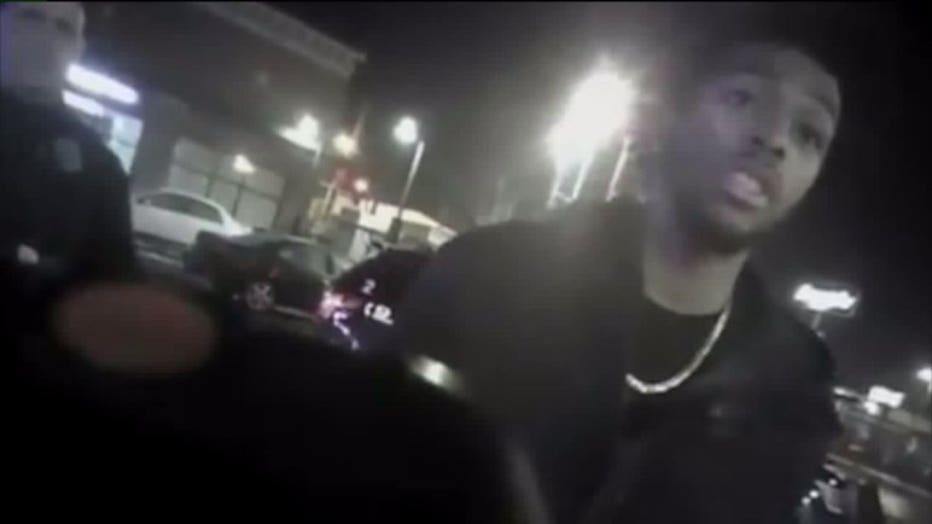 The situation quickly escalated.

"Take your hands out of your pockets now," an officer says in the video.

"I got stuff in my hands," said Brown.

Brown was taken to the ground, and a taser was used. Brown can be heard groaning in the video.

The officer later tried explaining why he did what he did.

"If the guy hadn't been such a (expletive) it would've been -- 'hey, have a nice day,' you know? But then I thought, 'he's being an (expletive). He's trying to hide something,'" the officer said.

"I'm sorry this incident escalated to this level," said Chief Morales as he read from a statement during the news conference. "Our department conducted an investigation into the incident, which revealed members acted inappropriately and those members were recently disciplined."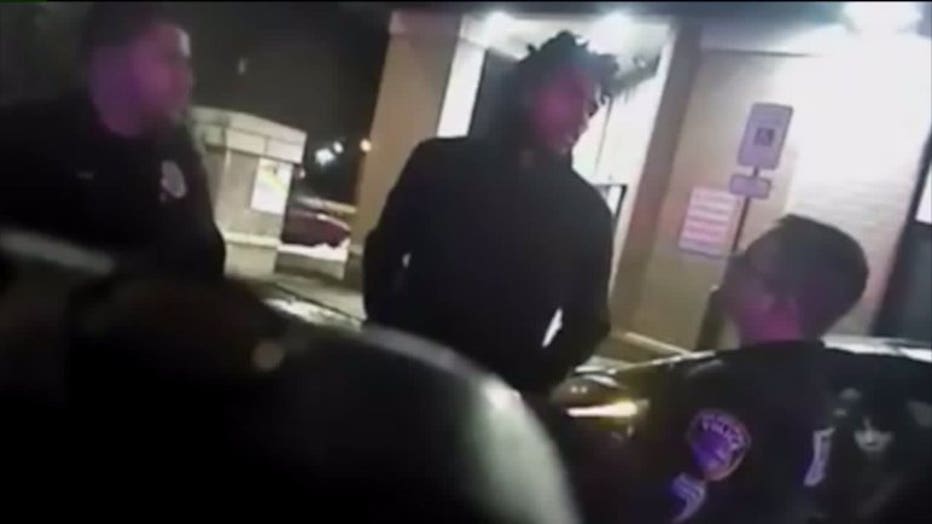 Morales did not explain what actions were inappropriate, or how the officers were disciplined. He abruptly left after reading the statement, and didn't answer questions, as Brown, in his statement, promised legal action.

Police, after the arrest, said an internal review was completed and MPD "determined the case will not be presented to the Milwaukee County District Attorney's Office for charges." According to police, "a command-level review of relevant reports and body camera footage indicate that Mr. Brown's actions and behavior do not merit a criminal charge. Furthermore, the department is reviewing the police response including supervisory oversight. The matter was referred to MPD Internal Affairs for investigation and at the completion of that investigation, police said the findings would be made public and the body worn camera footage would be released.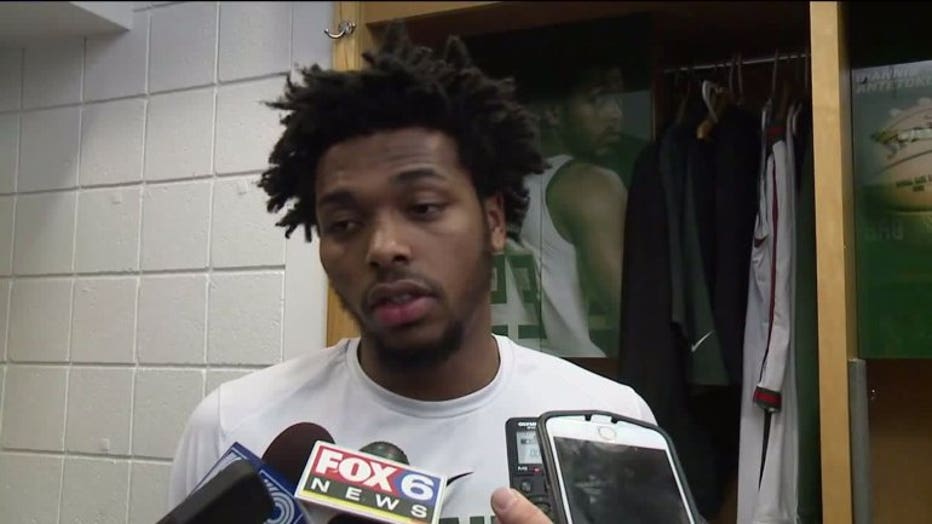 An attorney representing Brown declined to comment Wednesday ahead of the video's release, but all signs indicate Brown is planning to file a civil rights lawsuit against MPD.

City leaders speak out ahead of body camera video's release

Those who watched the video ahead of its release expressed concern about what they saw.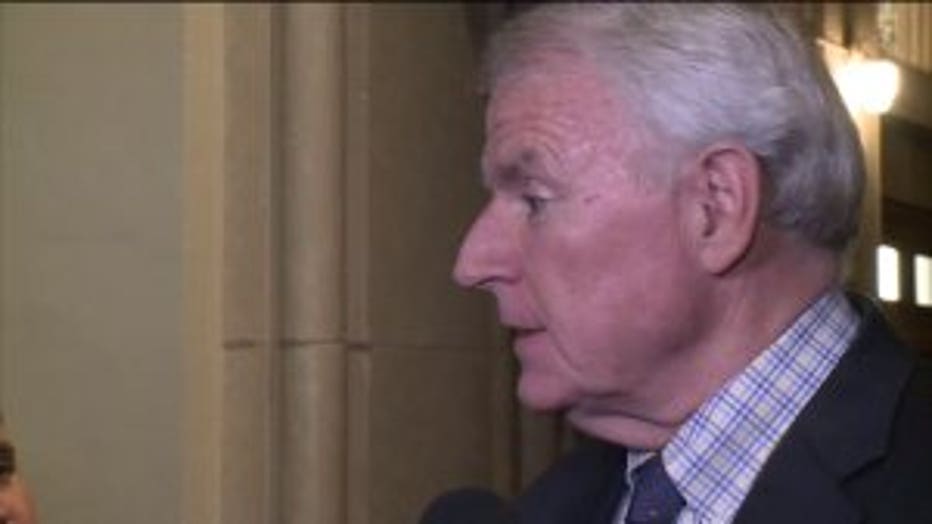 Milwaukee Mayor Tom Barrett


"I'm going to let the release of that speak for itself, but I definitely have concerns after watching that video," said Barrett.

Alderman Jose Perez said Wednesday before the release he hadn't seen the video, but encouraged the public to give the new MPD administration a chance to handle the aftermath of the video's release.

"I am confidant appropriate actions will be taken. We want to give the administration a chance to deal with a situation like this and see the outcome of it and see if it's appropriate or not," said Perez.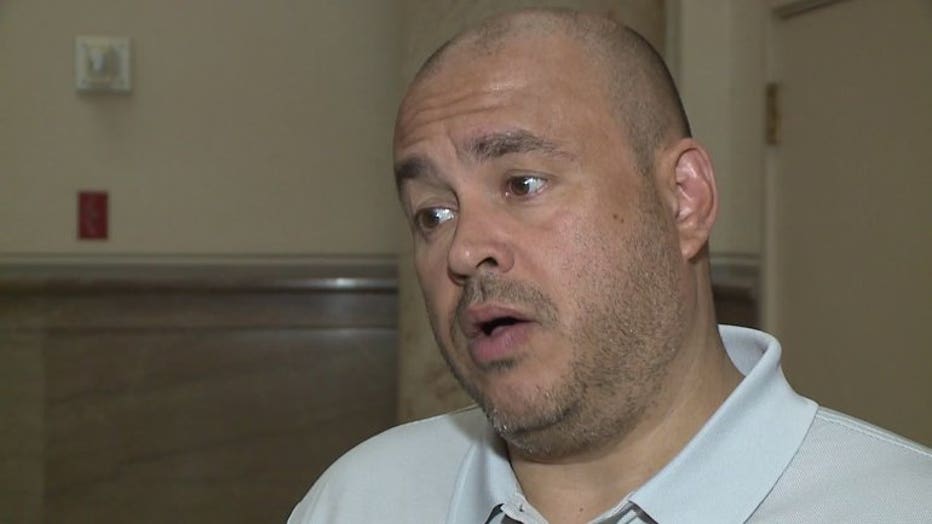 Alderman Mark Borkowski said he's heartbroken, disappointed and felt it was wrong. He would not comment further. Alderman Bob Donovan said he wouldn't comment Wednesday because there may be litigation. Alderman Tony Zielinski said he wouldn't comment until he got all the facts.

Several Milwaukee Common Council members who watched the video prior to its release declined to comment.

Milwaukee Common Council President Ashanti Hamilton said Wednesday he's planning a Thursday news conference in response.

County supervisors did not want to comment.

Milwaukee Police Association statement after body camera video release:

"Use of Force will never look pretty, but it is – unfortunately, a necessary component of policing. The cause or need for force is always dictated by the subject confronting the police officer. A subject must cooperate at the point of arrest/contact; when an argument of the righteousness to the interaction is of issue, the subject may exercise the right to file a complaint.

Inevitably every Use of Force will be scrutinized and often opinion gets in the way of fact. Unfortunately, society and local leaders only take issue when the situation is sensational, or the individual is of prominence. Our officers are routinely injured during Use of Force applications; rarely is there an outcry of support from civic leadership.

City leadership and the former chief truly need to self-examine. Our force is so drastically understaffed that negative outcomes are inevitable!

Force is minimized significantly when situations are properly addressed immediately. However, because officers are frequently mandated to work alone they are at greater risk to be compelled to use higher levels of force. The city may be complicit in the death of subjects, or in the greater use of force in many situations that have occurred. This is due primarily, or solely, because a one-officer squad responded; and/or ill-equipped officers responded. This issue is not only a daily issue on the street but is also of great concern in our city jail – dangerous inability to properly staff the department represents one bad incident away from tragedy.

The city apparently is willing to accept risk absent of their own responsibility; while quick to pass blame and refuse to address the underlying concern.

The inconsistent hiring of replacement officers has caused a void that manifests in poor leadership and improperly mentored new officers.

Our officers are true professionals that do all possible with the finite resources afforded them. Help them perform at the levels you deserve and demand – set them up for success. Mandate of your elected official staffing levels that will support a safer city… levels that will remove the disadvantage that clouds daily performance.

Support our Cops – the safer they are, the greater level of safety they can provide."

Statement from the Wisconsin Professional Police Association Thursday:

"It's clear that there are people that see different things in the video from the Sterling Brown incident.

We've heard from some in law enforcement that see a young man that drew the attention of the police by illegally parking – across two handicapped spaces - outside of a business at 2 a.m., and who was then disrespectful to an officer that had every right to  question him. We've heard from others that have said they would not have handled the situation the same way, that the officer was
also disrespectful, and that the situation likely called for a citation and nothing more. We have also heard the concerns expressed by many in the public that the video of this incident exemplifies the fears, experiences, and perceptions that communities of color confront when interacting with the police.

Regardless of the differing perceptions that may exist, there appears to be no disagreement that this was a bad outcome. What is needed now is a collective commitment to exploring how to avoid this kind of result in the future – something that appears lost thus far in the public expressions of condemnation and calls for action without a plan of action. Those sentiments, whether reasonable or not, don't amount to anything constructive for the patrol officer in the middle of the night.

Likewise, the "two-way street" of respect between the police and the public called for by some, though appropriate, cannot materialize on its own.

More than anything, what is needed now is a genuine communitywide dialogue that includes the perspectives of both law enforcement and the public by those that are just as intent on listening as they are in their desire to be heard.

To do otherwise risks squandering the chance to learn from this incident, recognize the challenges and uncertainties that police officers face, and genuinely address the issues and concerns of those that feel disenfranchised by the entire criminal justice system."

Statement from spokesman for Gov. Scott Walker Thursday:

"Governor Walker agrees and believes this is yet another example of exactly why body cameras are so important to our legal system. They are good for both the public and law enforcement.

Body cameras can provide documentation so a thorough investigation can be completed and individuals can be held accountable, and they also provide validation where law enforcement professionals are doing what they were trained to do under difficult circumstances."

Statement from Senator Lena Taylor (D-Milwaukee) after body camera video release:

"It is inconceivable to me that MPD would allow the behavior and reputation of Sterling Brown to be maligned, while withholding video of his interaction with officers for nearly five months. In the meantime, and at taxpayer expense, they have made their own PR commercial to preempt the release of the Brown video. They have stood in front of an African-American congregation and asked them to stand by the police department through the challenges that lie ahead regarding Brown's treatment...Manipulation of the public.

It stands in stark contrast to the recent response of Alpharetta, Georgia Police Chief John Robison. He promptly released a 17-minute-long traffic stop depicting an Alpharetta police officer aggressively grabbing, swearing and the removal of a 65-year-old woman from her car. Robison released a statement denouncing the actions of his officers and said 'it's just not who we are.'

The Milwaukee Police Department could have easily done the same. Instead, former Chief of Police Ed Flynn, interim Chief Jim Harpole and acting Chief Alfonso Morales each had an opportunity to address the abuse that took place, but instead they chose to protect the reputation of the police department...Manipulation of the truth."

Morales' press conference was a sham. No questions, no video, no spine. And as for the body camera, I believe the sound was being manipulated. Are you seriously telling me that not ONE of the officers present had working audio on their body cam? And if so, why didn't we hear it...Manipulation of body cams.

Let's not omit the Mayor, the City Attorney and potentially the District Attorney. When will we have a mayor whose concern extends to everyone? A city attorney who negotiates officer involved settlements and is willing to say enough is enough? ADA that will prosecute these cases and let a jury decide the verdict?

Morales said he was sorry for Brown's treatment. Was anybody sorry for Derek Williams, Terrill Thomas and countless others? Save the empty apologies. We need police officers capable of doing their jobs in a fair and unbiased way that honors their shiled and respects the community that they serve. That starts with leadership."

Statement from Rep. David Bowen (D-Milwaukee) Thursday:

"On the same day NFL owners barred players from protesting police violence, police violence against a black NBA player provided all the more reason to demand change.

While it may have taken police violence against a high profile victim to once again raise public awareness, these unnecessarily escalated situations have become commonplace and officers continue to face little or no consequences.

This footage is disturbing on many levels. The 'I own this' and 'I get to do what I want' claims of the officer expose an above the law element in the police department that shows exactly why community-police relations are still struggling and it must be eradicated.

It was reported today that the officer who initially confronted Sterling Brown was suspended for two days. That is not sufficient corrective action to make long term changes to ensure the public is safe and that especially people of color can be treated with dignity and respect.

If officers who lack integrity continue being allowed to fail the people they are sworn to serve and protect, it is time for coordinated state and local legislative action to enforce best practices to end police violence."

Statement from Senator Jennifer Shilling (D-La Crosse) Thursday:

"The racial inequities that continue to plague our criminal justice system have devastated families and communities of color for too long. Rather than acknowledging this crisis and working toward solutions, President Trump and Republican leaders here in Wisconsin have ignored the issue of racial profiling and contributed to an escalation in racial tension."

Democrats will continue to confront racial prejudices, identify the causes of racial disparities in our criminal justice system and ensure that our laws are being fairly enforced across the state. We cannot allow the ongoing harassment and unjustified abuse of power to continue unchecked. State leaders have a responsibility to confront these challenges head on, protect the rights of all citizens and restore trust in our criminal judicial system. Given Gov. Walker's refusal to lead on this issue, lawmakers need to step up and put an end to racial profiling."

Statement from Randy Bryce, Congressional candidate in 1st District, after body camera video release:

"What happened to Sterling Brown is inexcusable. He had a parking violation. He should have simply gotten a parking ticket. Instead, a group of Milwaukee police officers slammed him to the ground, tased him, and used offensive and racist language. This is shameful and absolutely unacceptable. Unfortunately, this is not an isolated incident. Young Black men and women across America are being unlawfully stopped, arrested, beaten, and killed-- simply because of their race. It is time politicians stand up and do something before more men and women are traumatized by police brutality."

Statement from Congresswoman Gwen Moore Thursday:

"The video released last night is yet another appalling blow to the public trust and integrity by those who are meant to protect and serve our communities. It is clear that Mr. Brown was not antagonistic or threatening and that the officer's escalation of the situation placed both himself and Mr. Brown in danger. Enough is enough of this culture that tolerates violence by rogue officers and that continues to erode public confidence in our nation's justice system.

On the heels of the $1.9 Milwaukee Police Department (MPD) "stop and frisk" settlement, the shooting of Dontre Hamilton, and this most recent incident, it is long past time for MPD to make immediate reforms. On a federal level, we must redouble our efforts to pass legislation that will work to put an end to our nation's long history of police brutality against Black and brown Americans. In Congress, I am fighting for mandated de-escalation training in police academies across the country. The people who swear an oath to protect our communities must learn to put life first. I challenge the MPD to set the national standard for integrity, accountability, and community-oriented policing to heal the deep divides in our city."

Statement from Alderman Bob Donovan Thursday:

"I join my colleagues and most individuals who have viewed the bodycam video of the arrest of Sterling Brown in noting how disturbing it is. Any use of force incident caught on camera is disturbing to average people.

I wish the entire episode could have been avoided and I believe it could have been had cooler heads prevailed.

That said, I'm disappointed that Mr. Brown has apparently decided to file a lawsuit against the City of Milwaukee over this matter. It is highly ironic that a multi-millionaire player on a team that has been given hundreds of millions in taxpayer dollars to build a Taj Mahal new arena is taking this action. And the team itself is also cooperating and supporting Mr. Brown in this endeavor – suing a city that is flat broke.

Like my colleagues I share concerns about the number of officers who responded to the scene back in January. To me it appears that every officer assigned to patrol my district was there, even though the first officer at the scene requested just one backup. I have serious concerns about officer supervision that night and why so many officers responded.

As I've said before I am pleased those officers were patrolling the area because it has had serious crime problems for years, including drugs and prostitution, overdoses, armed robberies, car thefts and more. I've been asking MPD for increased presence at that location because Walgreens has been hit by numerous armed robberies over the years.

The way Mr. Brown's vehicle was parked could easily have been perceived by cops as a getaway car.

I further join my colleagues and wholeheartedly agree we need to be transparent. And in the interest of transparency I have a few questions:




With so many officers on scene, why did it become necessary to tase Mr. Brown?


We hear that officers were suspended in connection with this incident, and I'd like to know what violations of law or procedure the officers violated?


When an officer issues a lawful order (in this case 'take your hands out of your pockets') what recourse does an officer have when the subject doesn't comply?




I'm not a police officer so I'm honestly asking that question as a civilian.




This may be a touchy subject but – once again in the interest of transparency – what role, if any, did this mystery woman who was in the passenger seat of Mr. Brown's vehicle play in this whole episode?




What steps, if any, has MPD taken to downplay her role or even remove her presence from videos?

In addition, what role, if any, did the woman's presence at the scene play in prolonging this incident? After all, most people are viewing this incident as a parking violation – but was it considered more than that?




With eight or 10 officers present at the scene there MUST be additional bodycam video available. If there is more video available what does it show and why hasn't it been shown to the public?


What steps, if any, were taken to delay the release of this video until after the Bucks' appearance in the NBA playoffs?


Again – in the interest of transparency and full disclosure – what negotiations, if any, may have gone on between the Bucks and MPD regarding this entire matter?




As I've said, there are still many questions that need answers and I am hoping we can get some of those answers sooner rather than later."

Statement from Milwaukee County Supervisor Moore Omokunde Thursday:

"Black folks are reminded daily about the violence that our communities suffer at the hands of the police in America. Because the mayor and the police chief warned us that the video would be "bad," I was prepared for the agony we can hear in Sterling Brown's voice as he bears the pain of being tased by Milwaukee police officers.

What I was not prepared for in the Sterling Brown video was how quickly the officer chose to escalate the situation, compared to the calm way in which Mr. Brown conducted himself.

What I was not prepared for was how the officer repeatedly provoked Mr. Brown, by falsely accusing him of either not complying with the officer's ever changing demands, or of physically challenging him.

Appropriate police recruitment and training yields committed men and women who protect and serve us daily. However, police officers who treat our citizens with this level of disrespect, and subject innocent citizens to this kind of excessive force should be held accountable and not be allowed to go back into the community with a badge and a gun."

Statement from Milwaukee County Supervisor Marcelia Nicholson Thursday:

"The criminalization of Black bodies has to stop, and the police must be held accountable for their abusive treatment towards Sterling Brown, who was attempting to comply with police instructions. In this instance, a parking issue that could have been taken care of with a simple ticket or request to move the vehicle escalated because of an officer's lack of respect for a Black man. A slap on the wrist is an insult to the people of Milwaukee – the officers involved should be relieved of duty. Police officers who have shown an inability to remain calm and respectful when confronting someone over a parking violation should not be entrusted with the power and authority that comes with being a Milwaukee police officer."

Statement from Voces de la Frontera Thursday:

"This latest incident of police brutality is a tragic reminder of the urgency to demand accountability for law enforcement who abuse their power. We must end policies that legalize and justify the use of lethal force that leads to the loss of life, traumatizes victims and their families, and undermines public trust. We support the African-American Roundtable in calling for Chief Morales to take a strong stand for zero tolerance for this behavior in the ranks of MPD, and for the officers who abused Sterling Brown to be fired. Discriminatory, violent behavior like what is shown in this video will never end unless officers face accountability for their actions. This is a reminder that until we address issues of racial profiling and excessive use of force, this could happen to any Black or Brown person, no matter how famous you are or how much money you make."

Background on Sterling Brown and MPD

The Milwaukee Bucks signed the 6-foot-6 guard from Southern Methodist University last summer in a deal with the Philadelphia 76ers.

Brown's arrest and the video of it represent another potential setback for a department that for years has tried to rebuild its image and relationship with Milwaukee's African-American residents after several high-profile cases of police misconduct.

A day before releasing the body-camera footage, Morales posted a video on YouTube to reiterate his commitment to rebuild the public's trust in the department.

"So if there's ever an incident where one of our members makes a mistake, unnecessarily escalating a situation, I'm going to be honest and transparent about it," he said. "In those incidents, where we have made mistakes and are wrong, I'm sorry."




Morales was appointed chief in February, following the retirement of Edward Flynn, who held the position for 10 years.

Last year, Milwaukee paid $2.3 million to settle a lawsuit over the death of Dontre Hamilton, a mentally ill man fatally shot by a police officer after the officer roused him from a park bench downtown. The officer said he shot Hamilton 14 times in self-defense because they got into a struggle when the officer frisked him for weapons.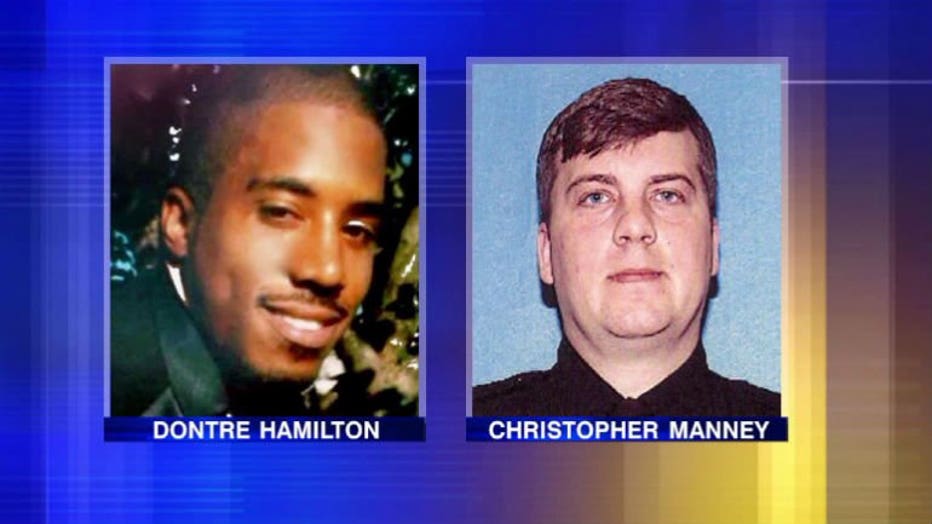 Dontre Hamilton and Christopher Manney


In 2016, the city paid $5 million to settle a lawsuit by 74 African-American residents who said police illegally strip-searched them between 2008 and 2012. Currently, the city is considering settling a lawsuit by the American Civil Liberties Union in Wisconsin, which is representing eight residents who say police targeted them for stops because they were African-American or Latino and because of the high-crime areas where they lived.

In early May, police and prosecutors began investigating four officers who were involved in the violent arrest of a man near 51st and Capitol. Video from a bystander showed a group of officers kicking and punching the man on the ground while he was restrained. Police presented their body-camera footage of the encounter, which showed the man aggressively charging at officers and trying to punch them.