Success! SpaceX launches rocket with Sirius XM satellite onboard
CAPE CANAVERAL, Fla. - A SpaceX Falcon 9 rocket lifted off on Sunday, bringing a Sirius XM satellite into space.
SpaceX originally planned to launch the Falcon 9 rocket on Friday, but just moments before launch, they stopped the clock and decided to try again over the weekend.
Sunday's liftoff was originally planned for 11:22 a.m. with almost a two-hour launch window. However, it was pushed to 12:30 p.m. It successfully launched at that time from Cape Canaveral Space Force Station, bringing an SXM-7 satellite for Sirius XM into space.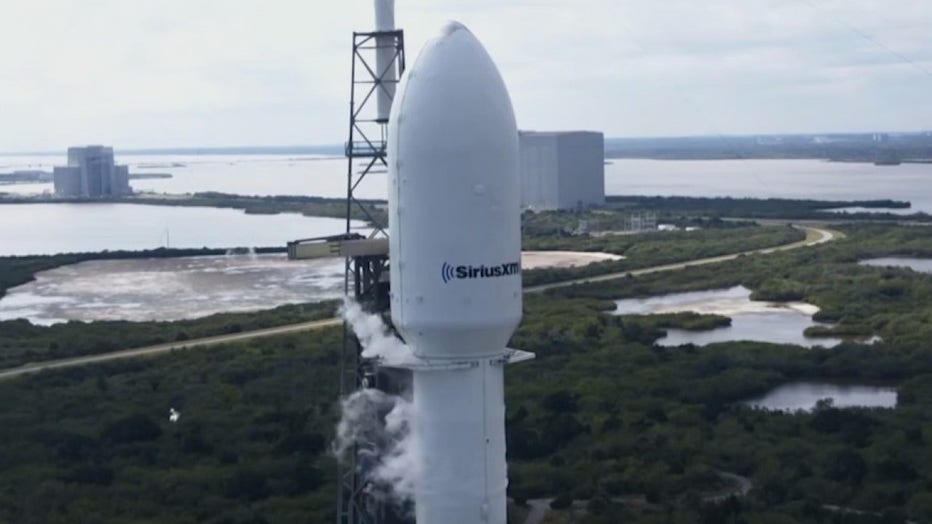 Shortly after launch the Falcon 9's first stage booster rocket successfully landed on the company's Just Read the Instructions droneship floating off the coast of Florida.
MORE NEWS: NASA names 18 astronauts who will train to go the moon
It will replace the XM-3 satellite in Sirius XM's fleet, which provides satellite radio to people across North America.
This new satellite will send more than 8,000 watts of content to the continental US, Canada, Puerto Rico and the Caribbean, which provides users with better signal quality and broader reach," said Kate Tice, a SpaceX engineer.
"The 27-foot-tall SXM-7, built on Maxar's 1300-class platform," she added, "is designed to provide service for more than 15 years. The satellite's unique design also features a large unfurlable S-band reflector to broadcast audio and data signals to users on the ground."
Observers said it could also teach great lessons about technology.
"This is real," said Nancy Ryder. "Our grandkids are down the street, 8 to 13 years old. This is a marvelous experience for them."
This was SpaceX's 25th launch this year. The next liftoff from Cape Canaveral is set for Thursday. A Falcon 9 rocket is set to launch carrying a classified payload for the US National Reconnaissance Office.
When the rocket does lift off, you can watch it live on FOX 35 Orlando.