Smaller group of Dontre Hamilton supporters rally Wednesday evening, this time at the Courthouse


MILWAUKEE (WITI) -- Three days after a grand jury decided there is no probable cause to indict Ferguson Police Officer Darren Wilson in the shooting death of Michael Brown, protests continue in Ferguson and across the country -- including here in Milwaukee. Supporters of Dontre Hamilton gathered again on Wednesday evening, November 26th.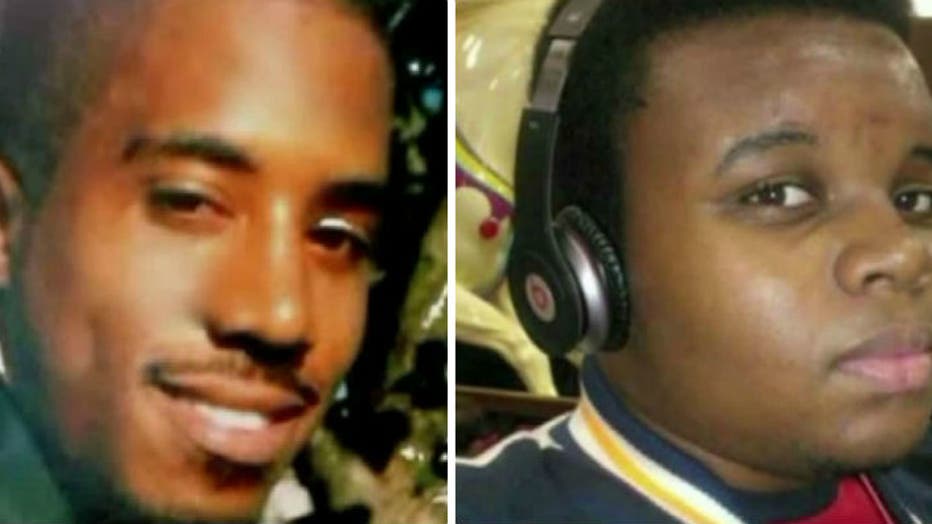 Dontre Hamilton and Michael Brown


The case involving the shooting death of Dontre Hamilton is similar to the case out of Ferguson involving Michael Brown. 31-year-old Hamilton was shot and killed by former Milwaukee police officer Christopher Manney in Red Arrow Park in downtown Milwaukee in April. Christopher Manney was fired from MPD for his handling of Hamilton that day -- a termination he is appealing.

It has been nearly seven months since that shooting, and Dontre Hamilton's family has been waiting for a decision out of the Milwaukee County District Attorney's Office as to whether Manney will face criminal charges in connection with the shooting.

On Tuesday night, November 25th, a large crowd gathered at Red Arrow Park -- and the group then marched down Water Street, heading to the Federal Courthouse before making their way to Grand Avenue Mall. Protesters made their way into the mall, and some store officials shut their doors as the group made its way through.

After leaving the mall, the group headed to the BMO Harris Bradley Center -- where they attempted to enter the facility during the Bucks game. That's where a Milwaukee police sergeant and officer were injured, according to the Milwaukee Police Department. We're told one was hurt when a door was shoved on him, and another was injured when he was hit with a stick.

"Some of the more violent elements of this group decided to rush the Bradley Center and get inside. A couple of these folks had sticks and started hitting the officers with them and one of the officers got injured by a door being shoved on him," Milwaukee Police Chief Ed Flynn said.

Later, a man was detained by police after MPD received a report of a possible weapon at Red Arrow Park. That man was eventually released.

A much smaller group of about 20 people came together on Wednesday -- at the Milwaukee County Courthouse. Dontre Hamilton's family didn't take part in Wednesday's demonstration.

"Enough is enough. You're not going to keep on killing our sons. Black lives matter," one protester said Wednesday at the Courthouse.

"It has been 210 days since Dontre Hamilton died at Red Arrow Park. 210 days and still no decision from the D.A. We're not trying to be violent. We came out here in peace. Us as a city, we need answers, and we need justice," community activist Tory Lowe said.

Again, Dontre Hamilton's family was not at Wednesday evening's demonstration. In fact, the majority of those present Tuesday night were not present Wednesday.

Earlier Wednesday, Milwaukee Police Chief Ed Flynn talked with FOX6 News about what we can expect here in Milwaukee when the District Attorney announces a decision on whether Manney will face charges.

"The family is committed to a peaceful protest. There are elements that have attached themselves to these legitimate concerns who are committed to civil unrest. That's the term they use. That's a potential problem. We have every reason to expect the protests in Milwaukee to remain as they have been -- which as long as people defer to the family's wishes, peaceful. If they're not peaceful it's because people have other agendas. I hope folks remember that whenever there are problems when this decision is made," Chief Flynn said.

Chief Flynn says MPD sent some people down to Ferguson to talk with police about their experience since the August 9th shooting of Michael Brown.

Monitor FOX6 News and FOX6Now.com for updates on this story.

CLICK HERE for further coverage of the Dontre Hamilton case via FOX6Now.com.