Single mother hit in the face by a foul ball at Miller Park needs your help
MILWAUKEE -- The woman hit in the face by a foul ball traveling at 90 miles-per-hour during a Milwaukee Brewers game at Miller Park on July 6th needs your help.

Family members say Laura Turek was enjoying the July 6th Brewers game vs. the Atlanta Braves when she was struck in the face by a foul ball. She will now likely spend the rest of her life recovering.

The impact was so severe, fans in the seats above Turek could hear it.

"It`s hard to see in the pictures, but her head was concaved inwards. It hit her right above her left eye.  Basically on the eyebrow bone," Turek's daughter, Alyssa said.

Turek's daughter Alyssa has set up a fundraiser online to help cover $200,000 in medical bills.

"It was a little more shattered in there then they thought.  There were more fragments than expected.  So they placed two titanium plates in her head," Alyssa Turek said.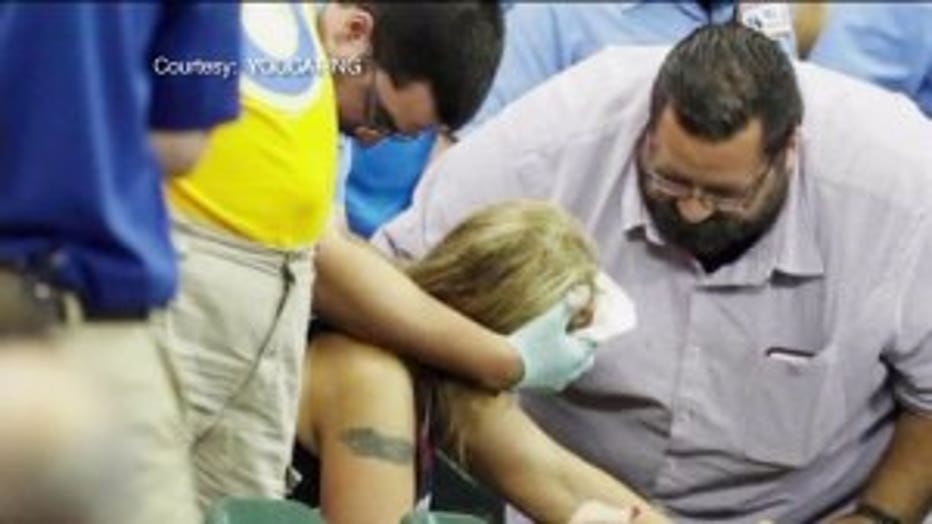 Laura Turek, a single mother, is going to need multiple surgeries and is suffering from skull fractures, nerve damage and vision loss in one eye.

"There were 40,000 people in the Brewers stadium that night. If all of those people donated $5, it would cover her medical expenses completely," Alyssa Turek said.

Family member say Laura Turek knows the Brewers aren't responsible for what happened -- calling the incident a freak accident.

"She went to the game as a fan and left as a fan. They aren`t liable, and she knows that.  She was aware of the risks she took sitting in those seats," Alyssa Turek said.

Turek has been on leave from work, and she isn't expected to return anytime soon. Insurance is only expected to pay a fraction of the more than $200,000 in medical bills.

Brewers officials have been in regular contact with Laura Turek since the accident, and a spokesman tells FOX6 News: "We have been in touch with Laura, but we'll keep the contents of that conversation private."

With doctor visits likely for the rest of her life, Laura Turek and her family members are now hoping strangers will step up to the plate and help out.

Turek was taken to Froedtert Hospital immediately after the accident. We're told she's now recovering at home, but she requires constant care.

CLICK HERE if you'd like to make a donation to help Laura Turek.