Tosa PD: Woman shot by officer wielded post in altercation
WAUWATOSA, Wis. - Multiple law enforcement agencies responded to an officer-involved shooting in the area of Harwood Avenue and Underwood Avenue in Wauwatosa on Thursday night, Dec. 10.
According to the Wauwatosa Police Department, officers responded to the area around 9:15 p.m. after a caller reported witnessing a woman violently attacking another woman. Police say the supposed attacker did not know the victim, and it appears to be a random and unprovoked attack.
When officers responded and located the woman, police say she immediately ran up to the officer's vehicle and began striking the windshield with the wooden post. The woman later approached the officer with the post and did not comply with orders. 
The officer shot the woman, who continued striking the police vehicle multiple times after being shot. Police said several officers took the 35-year-old woman into custody, and she was taken to the hospital where she underwent surgery and is reportedly in stable condition.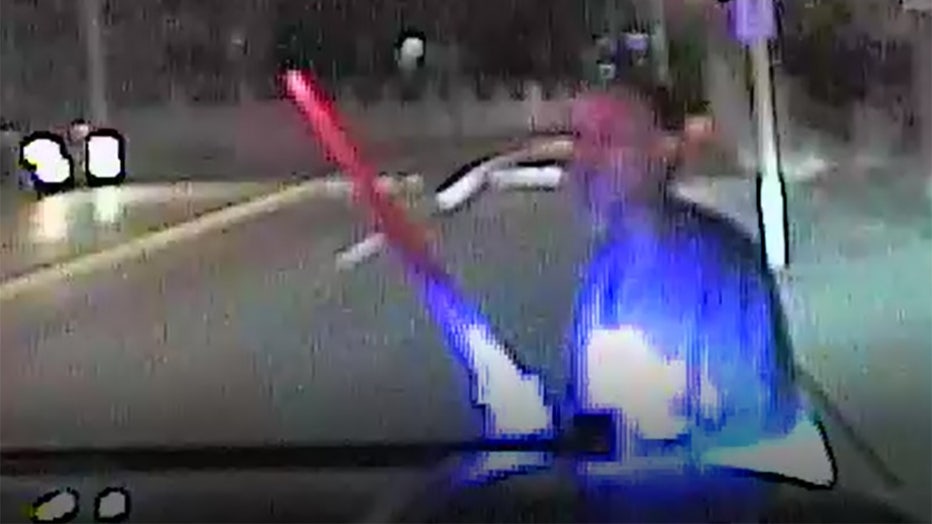 Police dash cam footage of a woman who allegedly struck the police vehicle with a wooden post
While the scene was active Thursday night, a group of roughly two dozen protesters also arrived. Tensions formed between protesters and law enforcement.
Warning: The video below contains profanity and strong language.
Aside from Wauwatosa police, FOX6 News spotted members the West Allis Police Department at the scene initially. Members of the Wisconsin State Patrol, Milwaukee County Sheriff's Office and Brookfield Police Department arrived later. The Wauwatosa Fire Department and Milwaukee Area Investigative Team were also on hand. 
The West Allis Police Department will be leading the investigation moving forward. The officer involved -- who had nine months of experience -- has been placed on paid administrative leave per department policy.
Police are looking for additional witnesses who may be able to provide information about incidents between 5-9:20 p.m. and from Watertown Plank and 94th to the Harmonee and Wauwatosa Avenue.
FREE DOWNLOAD: Get breaking news alerts in the FOX6 News app for iOS or Android.