Shocked community gathers for vigil honoring 26 lives lost in Texas church shooting


SUTHERLAND SPRINGS, Texas -- More than 100 people gathered after dark on a grassy street corner within sight of the church where the shooting occurred for a prayer vigil.

Attendees, including Texas Gov. Greg Abbott, lit candles while some wept and others hugged Sunday night. They could see the church sign lit up and emergency lights flashing.

The vigil across the street from a gas station convenience store where law enforcement officials say the shooter stopped before the attack.



Mike Gonzales, who does not attend the church but lives near says: "The people of this church are wonderful people." Gonzales added, "We're coming together to pray for them and show the world that now, in the midst of darkness, there is light."

Authorities say 26 people were killed and about 20 wounded in the attack.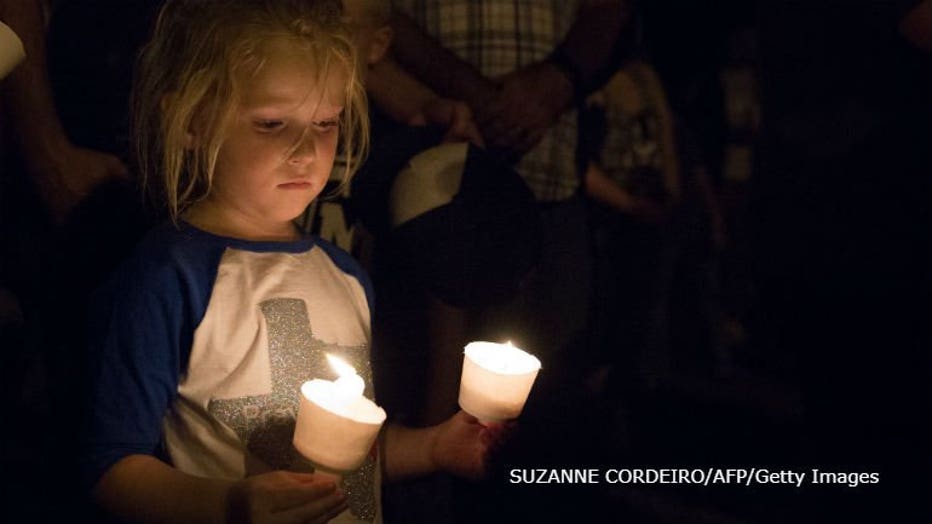 A candlelight vigil is observed on November 5, 2017, following the mass shooting at the First Baptist Church in Sutherland Springs, Texas, that left 26 people dead according to authorities. / AFP PHOTO / SUZANNE CORDEIRO (Photo credit should read SUZ


The Pentagon has confirmed the suspect identified in the mass shooting previously served in the Air Force.

In a brief statement, the Pentagon says Devin Kelley was an airman "at one point," but additional details about his time in the Air Force were not immediately available.

Two sheriff's vans were parked outside and police officers stood at the gate of a cattle fence surrounding the address listed for Kelley, preventing a group of waiting journalists from entering.

Officials from the Comal County Sherriff's Office and the Texas Rangers declined to comment Sunday evening, or to say if they had raided his home. A few minutes later, the gate opened and two Texas Rangers trucks pulled out.

The home is in a wooded area on the rural, western outskirts of New Braunfels, north of San Antonio. It is off a two-lane highway.

PHOTO GALLERY