Sheriff David Clarke flies the country, avoids questions, redacts records in his official schedule


MILWAUKEE -- Milwaukee County Sheriff David Clarke flew into Milwaukee's General Mitchell International Airport in January 2015, returning from a sport shooting show in Las Vegas.

He wouldn't remain in the county for long.

The next day, Clarke was on another flight to start an eight-day, taxpayer-funded trip to Washington, D.C. so he could meet law enforcement officers, testify before a Congressional committee, and do several media interviews. Clarke has made himself a regular at airports across the country, according to the sheriff's calendars provided to FOX6 News in response to an open records request.

After seven months of inaction and two follow-up inquiries from FOX6, the Milwaukee County Sheriff's Office provided Clarke's calendars for 90 of the 640 days, or 14 percent, that FOX6 requested to see from 2015 and 2016. There's no record of Clarke conducting business in Milwaukee County for 68 of the 90 days.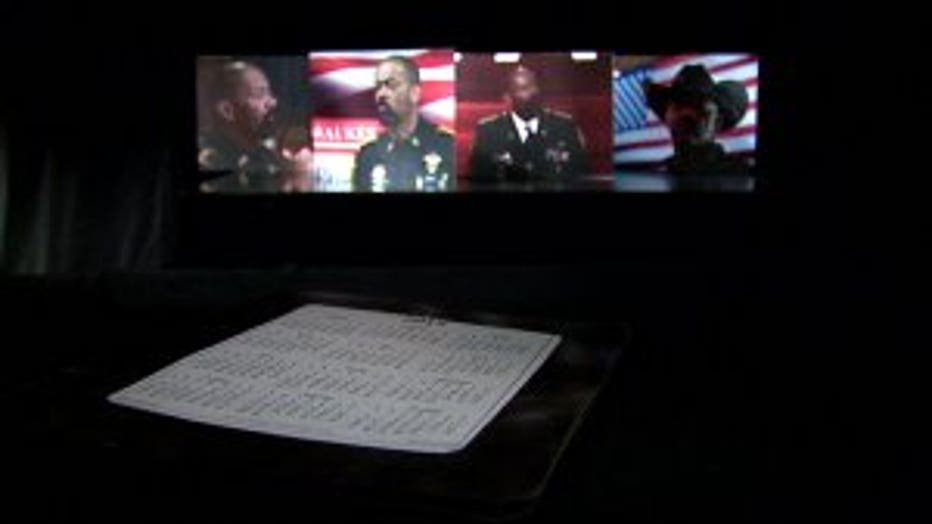 Milwaukee County Sheriff David Clarke


"I think the sheriff's actions show actual contempt, not just for the media, but for the citizens that pay his salary," said Bill Lueders, president of the Wisconsin Freedom of Information Council and an advocate for the state's open records law. "He's essentially saying, 'It is none of your business how I do my job and how I spend your money.'"

Clarke, who expects to resign in June and take a job in President Donald Trump's administration, has repeatedly refused to answer questions for this story.

The request

Amid increasing scrutiny over his job performance, FOX6 on Oct. 3rd, 2016 requested the 640 days of calendars from Clarke's office covering all of 2015 and the first nine months of 2016. Amber Graham, a corrections officer in the open records unit, acknowledged the request the next day but provided no responsive records for the next seven months.

After two follow-up inquires from FOX6, Capt. Catherine Trimboli on May 4th said she would begin providing the calendars in three-month increments each week. Three weeks later, only one such three-month period has been released. The sheriff's office has not yet provided any record in response to a separate request for expenses billed to taxpayers during Clarke's out-of-county trips.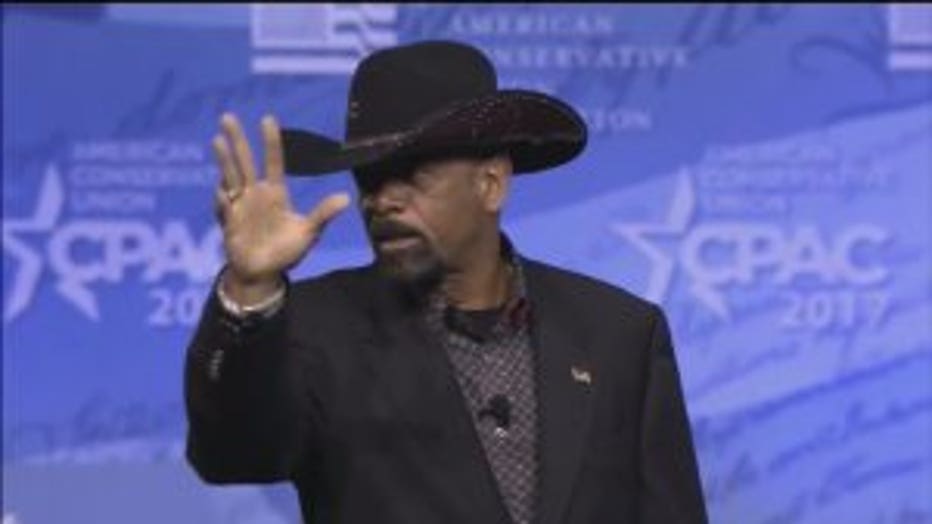 Milwaukee County Sheriff David Clarke


Wisconsin's open records law states that a governmental entity must provide records "as soon as possible and without delay."

The sheriff's staff has said the lengthy response time is reasonable because the Milwaukee County Sheriff's Office gets a lot of requests.

The sheriff's calendars

In the first 90 days of 2015, Clarke's schedule indicates that the sheriff took eight out-of-state trips: two flights to New York and one flight apiece to Nebraska, Nevada, Washington, D.C., Colorado, Maryland and California. On 32 of the 90 days, the only record provided shows that the sheriff was out-of-state or traveling to or from Wisconsin.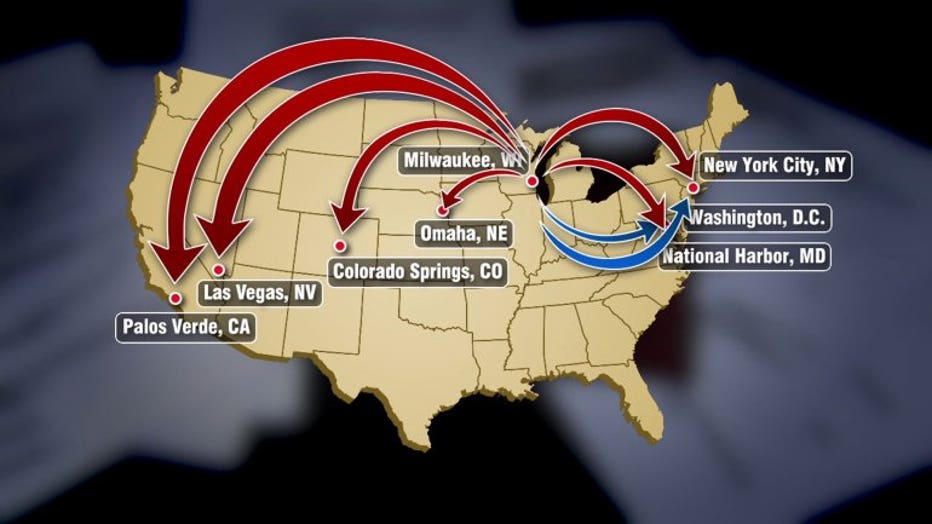 Milwaukee County Sheriff David Clarke


Taxpayers paid at least $2,439.02 for one of the trips to New York and the trip to Washington. The sheriff's Milwaukee County credit card was billed for flights, hotels and meals -- including meals at two New York steakhouses, according to records provided by the Milwaukee County comptroller's office.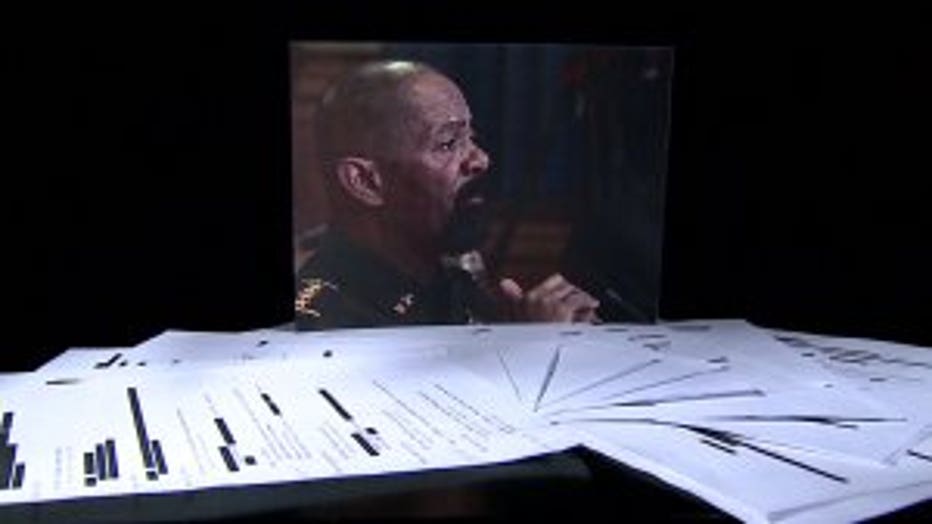 Milwaukee County Sheriff David Clarke


In the taxpayer-funded six-day trip to New York in March 2015, Clarke's schedule shows a 30-minute meeting with then-New York City Police Department Commissioner William Bratton, a dinner with the pro-law enforcement group American Public Safety Council, and four media interviews. Other details are redacted.

Clarke spent parts of eight days in Washington in January 2015, and records indicate he was there for the National Sheriffs' Association winter conference and two other law enforcement meetings. He also did six media interviews and testified before the Senate Judiciary Committee during the hearing for President Barack Obama's nominee for attorney general, Loretta Lynch.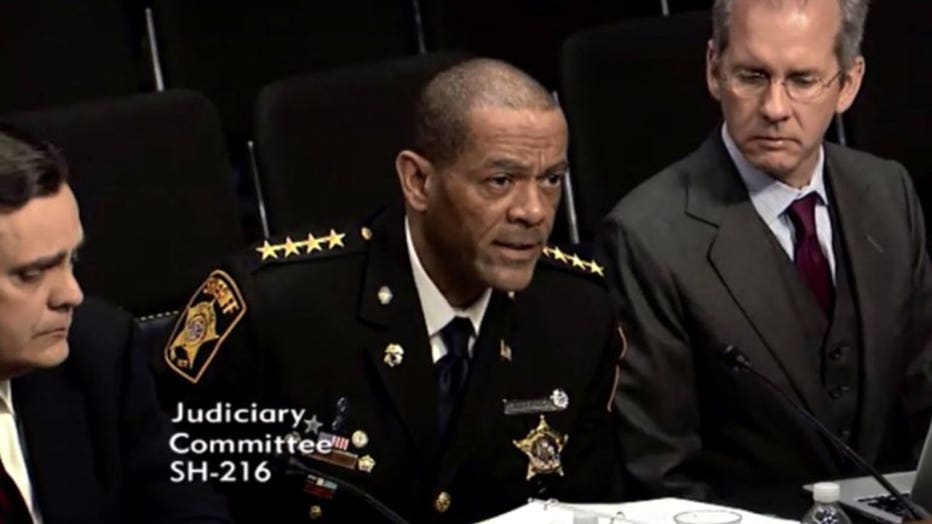 Milwaukee County Sheriff David Clarke


Fran McLaughlin, a spokeswoman for Clarke, did not answer emailed questions about the sheriff's travel.

"The sheriff said he is busy now, and can't talk to you, but you can try back again," McLaughlin said in a reply email on Tuesday, May 23rd.

Outside groups paid $28,603.49 for the other six trips in early 2015, an amount that includes expenses plus speaking fees and gifts to Clarke. The sheriff previously reported these trips on a disclosure form made public in 2016.



For 34 out of the 90 provided days, the sheriff's office either completely redacted the records, didn't provide any, or the records were unclear where Clarke was on those days. That includes 13 straight days in February 2015 that are completely redacted.

For two additional days, the records indicated that Clarke was in Wisconsin but away from Milwaukee County. Clarke could have been doing business in Milwaukee County on any of these days, but the records provided by his office don't show that.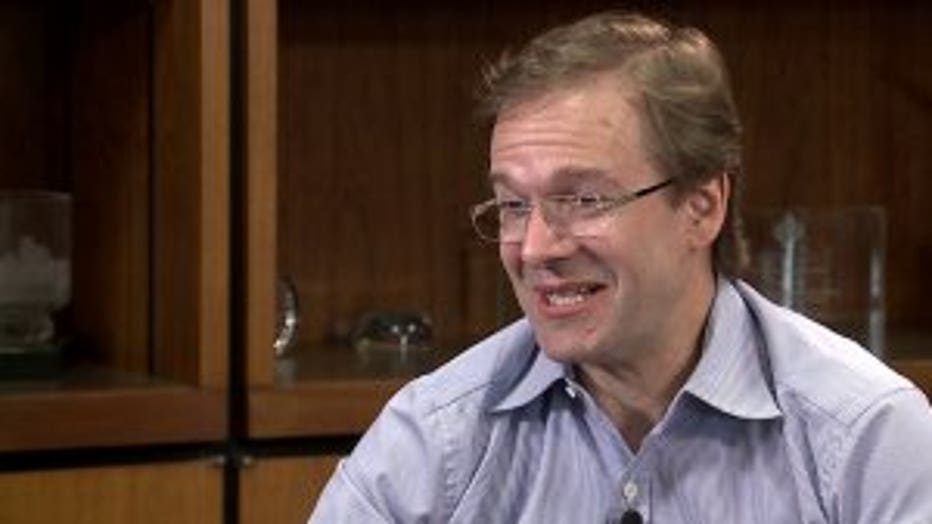 Milwaukee County Executive Chris Abele


County Executive Chris Abele, who has routinely traded insults with Clarke, slammed the sheriff for his attendance record.

"I can't tell you where he's been, all the time he's not been in the county, but I can tell you the county's not well served by it," Abele said in an interview.

Key card usage

Clarke's usage of his electronic key card -- used to access exterior doors and some interior doors of county buildings -- stands in contrast to the card usage of his two top inspectors.

There is no record of Clarke using his key card over a 13-month period from February 2016 through early March 2017, according to records provided by the county's Facilities Management department.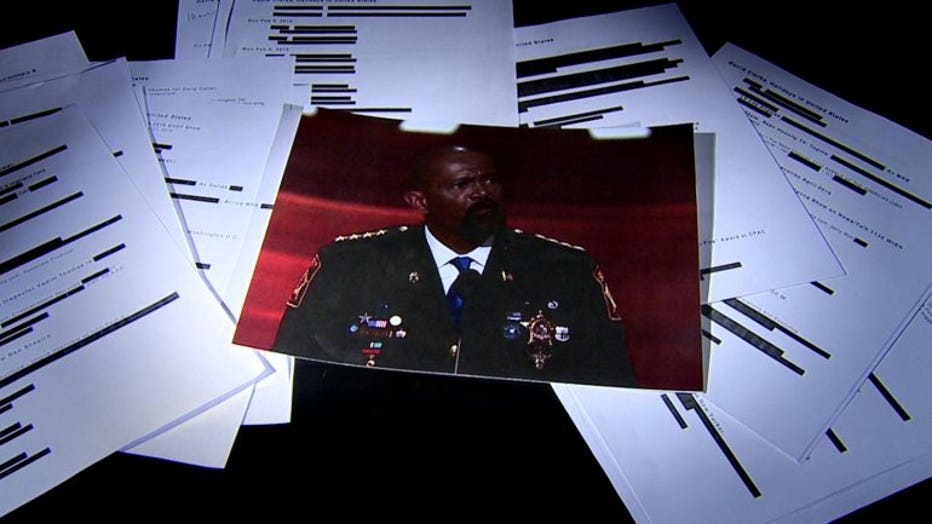 Milwaukee County Sheriff David Clarke


Inspector Richard Schmidt used his key card 688 times over the same time period, records indicate. Inspector Edward Bailey, who has since retired, used his card 565 times.



McLaughlin, the sheriff's spokeswoman, did not answer an emailed question seeking Clarke's explanation for the discrepancy.

County facilities staff confirmed that Clarke has access to a garage at the Milwaukee County Courthouse, though the county doesn't keep a log of the usage of that garage.

Physically blocked

Surrounded by a five-member entourage while leaving an event in downtown Milwaukee on May 10, a member of Clarke's security detail blocked FOX6 political reporter Theo Keith from the sheriff, first using his hip and later his arm to push Keith away.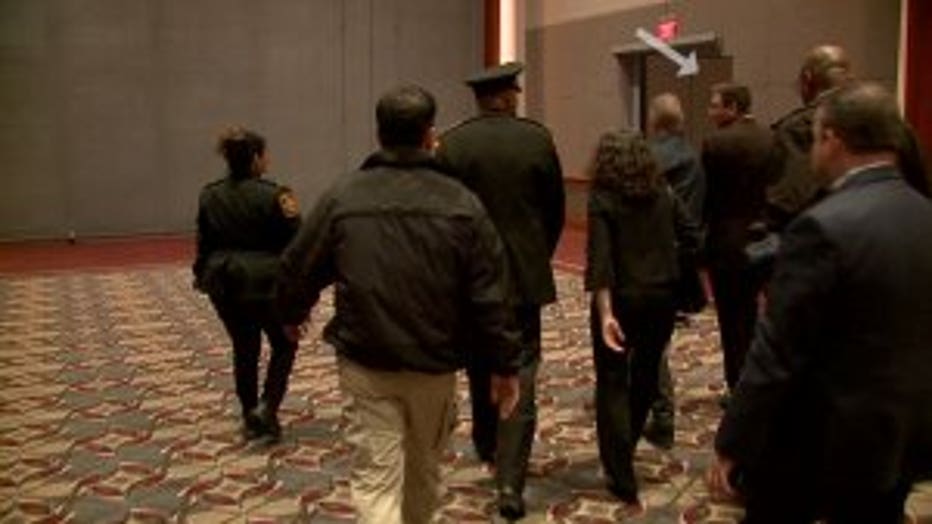 FOX6's Theo Keith and Sheriff David Clarke


Clarke didn't answer a question from Keith about the lack of transparency in the Milwaukee County Sheriff's Office, then walked through a storage room away from reporters.

Clarke said last week that he's accepted an assistant secretary position within the U.S. Department of Homeland Security, though DHS officials have not confirmed that the job was offered to Clarke.

Clarke has not submitted his letter of resignation to Gov. Scott Walker, Walker said on Wednesday, May 24th.

The sheriff faces multiple investigations into his office and his personal actions. In early May, an inquest jury recommended charges against seven of Clarke's staffers at the Milwaukee County Jail after inmate Terrill Thomas went without water for seven days and died. Clarke was not among the seven, and Milwaukee County District Attorney John Chisholm must decided whether to follow through with charges against any of them.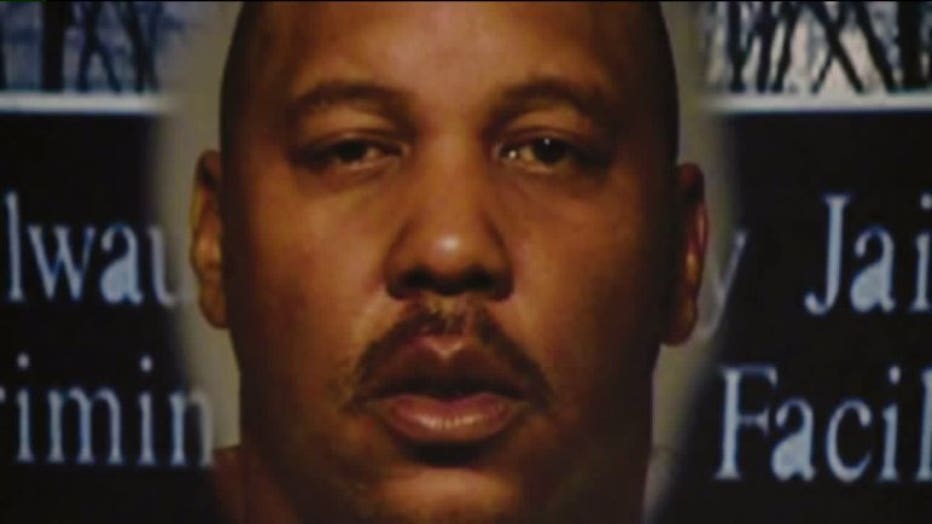 Clarke has not said whether he disciplined any of the staffers or changed jail policies. All seven of the staffers remained active county employees as of last week.

Milwaukee County auditors are investigating four deaths that occurred at the jail in 2016, including the dehydration case ruled a homicide. Auditors are conducting a separate probe into a harassment complaint filed by Milwaukee resident Dan Black after a run-in with Clarke aboard a Milwaukee-bound airplane in January. Clarke has said the auditors' investigation is politically motivated.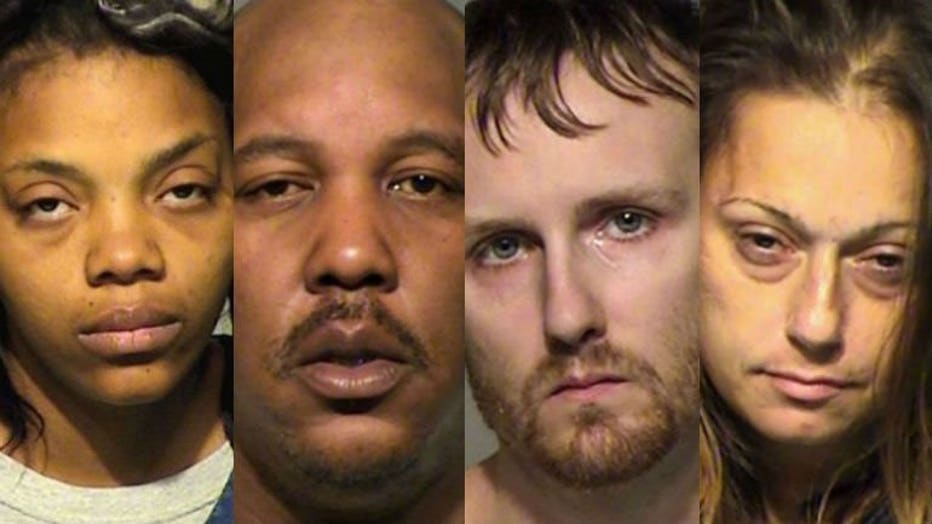 Four deaths at Milwaukee County Jail in six months in 2016


Also in May, the Naval Postgraduate School announced it had launched an academic review of Clarke's 2013 thesis after CNN reported that the sheriff plagiarized significant portions of it. Clarke has called the report a "smear" and said his actions were not plagiarism.

Records access uneven

Records access is not uniform across governmental agencies and elected officeholders in Wisconsin.

Over the past two years, Walker has directed state agencies under his control to speed up response times.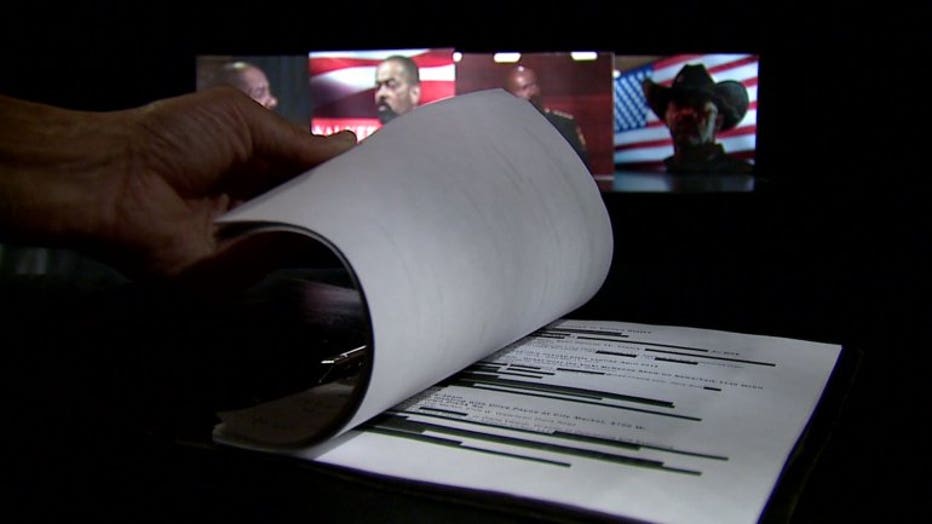 Milwaukee County Sheriff David Clarke


"Some of the best motivation for agencies to improve is not only for me, but if the general public can see where they're at in terms of reaching their goals," said Walker, who has kept an arm's length from Clarke in recent months, declining to say whether he though Clarke was doing a responsible job running the county jail.

Lueders, at the Freedom of Information Council, said access to an elected official's schedule should come easily.

"You just have to take these things seriously," he said. "The law requires that."