"She feared for her safety:" Woman attacked, killed by her husband, wielding a hatchet-type weapon


MOUNT PLEASANT (WITI) -- Mount Pleasant police say a woman has died after she was attacked with a hatchet-type weapon by her husband, Cristian Loga-Negru on Wednesday night, November 19th in Mount Pleasant.

It began at a home on Calvin Lane. Police were dispatched to that home around 8:30 p.m. for a report of a domestic violence related incident.

When police arrived,  a witness indicated they heard screaming and observed a woman being dragged across the front lawn to a vehicle. The suspect then fled in the vehicle with the woman.

CLICK HERE for an update to this story as of Friday, November 21st


"She actually came to Mount Pleasant to try and hide from her husband because she feared for her safety. A very traumatic incident occurred, and as a result a woman lost her life," said Mount Pleasant Police Sergeant, Eric Relich.

Police learned the woman had filed a restraining order against the man in Arlington Heights.

Police learned through a 911 call that the victim was taken to the Super 8 Motel on Oakes Road in Mount Pleasant. A 911 caller said a woman at the hotel was bleeding from the head.

Flight for Life responded to the hotel and transported the victim to the hospital, where she died around 10:00 p.m. Wednesday.

Police were able to take Cristian Loga-Negru into custody at the hotel. He was arrested on charges of first degree intentional homicide while armed, mayhem and kidnapping. Official charges haven't yet been filed.

The name of the victim haven't yet been released.

Cristian Loga-Negru is being held at the Racine County Jail where he awaits charges.

Police in Arlington Heights say they're familiar with the couple -- having responded to the couple's home for domestic abuse calls three times this year.

FOX6 News is learning Loga-Negru has a history of problems with women. Court records show, its been only months since the suspect divorced a different woman in Illinois.

Loga-Negru's former lawyer says the suspect has been married at least twice before this current relationship. The attorney tells FOX6 News Loga-Negru works in finance with his father. An online profile with LinkedIn lists him as the president of a trading service, and a veteran of the Army who spent time overseas in South Korea.

There will be a candle light vigil for the victim directly across the street from the Super 8 Motel on Friday night, November 21st at 5:30 p.m.



FOX6's sister station, WGN in Chicago is following this story due to the fact the suspect and victim are from Arlington Heights. CLICK HERE to access their coverage.

---

Meanwhile, we are learning a dog went missing as this incident was unfolding on Wednesday night.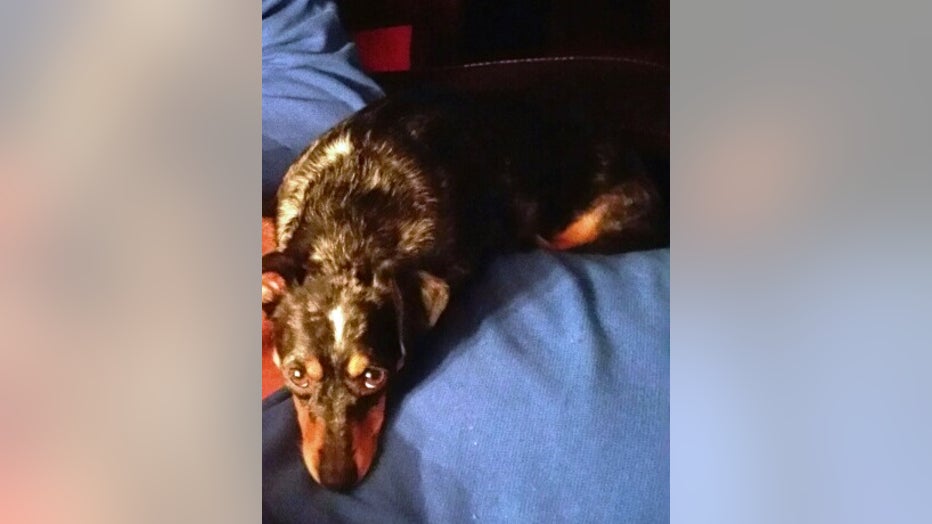 Mount Pleasant missing dog


Mount Pleasant police say the dog belongs to the resident living at the home on Calvin Lane -- a friend of the woman who died following the domestic violence related attack.

Apparently, the female victim had picked up the dog from another location, before returning to the residence on Calvin Lane on Wednesday night.

When the woman was attacked, the dog ran away -- and police say the dog hasn't been located.

The dog's name is Cannoli.

Anyone who has information as to the dog's whereabouts is asked to contact Mount Pleasant police at (262) 886-2300.

---

This case has again brought attention to the issue of domestic violence.

Last April, Governor Scott Walker signed into law three bills that offers new protections for victims of domestic abuse.

The first puts in place a monitoring procedure to force abusers under injunctions to surrender their firearms.

The second puts "stalking" in the definition of domestic abuse.

The third creates better linkages between law enforcement and victim services providers -- which will help officers give victims needed resource information.

---

Milwaukee's Sojourner Family Peace Center helps thousands victims of domestic abuse every year.

The Sojourner Family Peace Center is the largest non-profit provider of domestic violence prevention and intervention services in Wisconsin.

Sojourner provides an array of support aimed at helping families affected by domestic violence to achieve safety, justice and well-being.

On its website, the Sojourner Family Peace Center says its primary goals are to ensure the safety of victims of family violence, and provide a pathway out of violence for victims and abusers through opportunities to make positive and lasting changes for themselves and their children.

CLICK HERE for a Sojourner Family Peace Center brochure
CLICK HERE to visit the Sojourner Family Peace Center's website.
CLICK HERE to learn more about the Milwaukee Women's Center.