Storms down Milwaukee trees, power lines; damage widespread
MILWAUKEE - Strong winds and powerful rain toppled trees and snapped branches across the Milwaukee area on Tuesday night, Aug. 11. The next day, block after block on the city's north side showed signs of the storm.
Resident Richard Lewis captured the aftermath, photographing tree damage near his north side home.
"This is unreal," Lewis said. "All this forest, it's supposed to give us peace where you can go out there and have a picnic and enjoy the grass, and now it's all collapsed."
FREE DOWNLOAD: Get breaking news alerts in the FOX6 News app for iOS or Android
Rain and whipping winds won the battle against old trees during the severe storm. One crashed into a home near 2nd and Randolph. Tree limbs littered sidewalks across town.
"These high winds really did a lot of damage to our street tree population. As of noon (Wednesday), we have 920 calls for service due to tree damage," said Randy Krouse with Milwaukee's forestry section.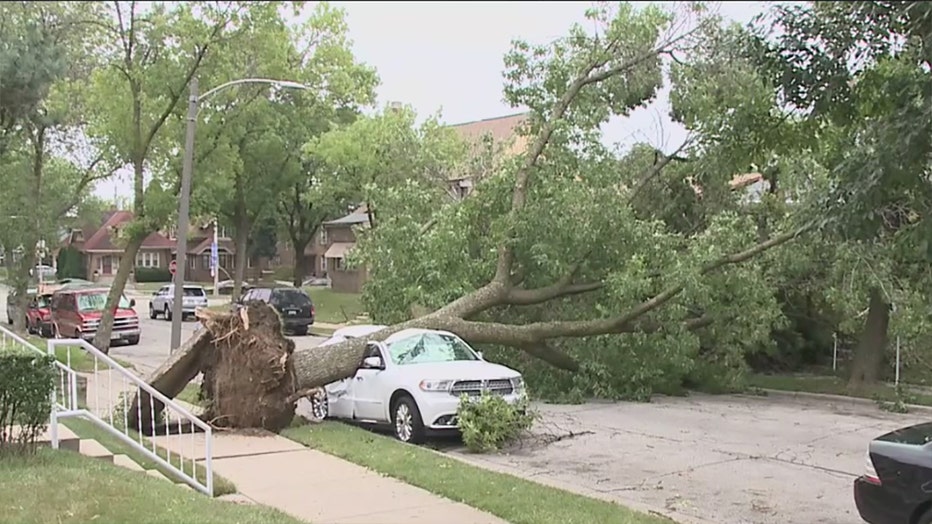 Downed tree near 11th and Capitol
A massive tree near 11th and Capitol stood for decades, but it came down in a matter of seconds. When it came down, it crushed an SUV – smashing the windshield and ripping up the sidewalk.
"I've lived here the past 30 years and I've never seen anything like this," resident Viola Simelton said. "I live around the corner on 10th. We don't have any trees down that I've seen, but we have quite a few limbs down and everyone is without power over there."
Near 14th and Burleigh, a tree came down in the 65-plus mph winds. It appears the front balcony of a home in its path was destroyed.
Storm damage near 14th and Burleigh in Milwaukee
As crews work to restore power and clean up the mess, Nou Vang collected wood for the winter.
"I figured this is the chance to do it, it's free," Vang said. "I'm just glad I haven't heard of anyone hurt yet, which is a blessing."
Neighbors hope the next round of rain doesn't cause more chaos. Power is still out, but crews are working to restore power. The city is not sure when the tree damage will be completely cleaned up.
Milwaukee's south side hit hard
Trees took out light pols, electrical lines and came down on cars and homes in Milwaukee's Walker Square neighborhood near 9th and Greenfield.
"Power lines are all down, phone lines are all down," said Jose Gonzalez, who lives in the neighborhood. "It just came down hard. Like maybe the wind was like 90 miles an hour. Just took everything, just took everything fast."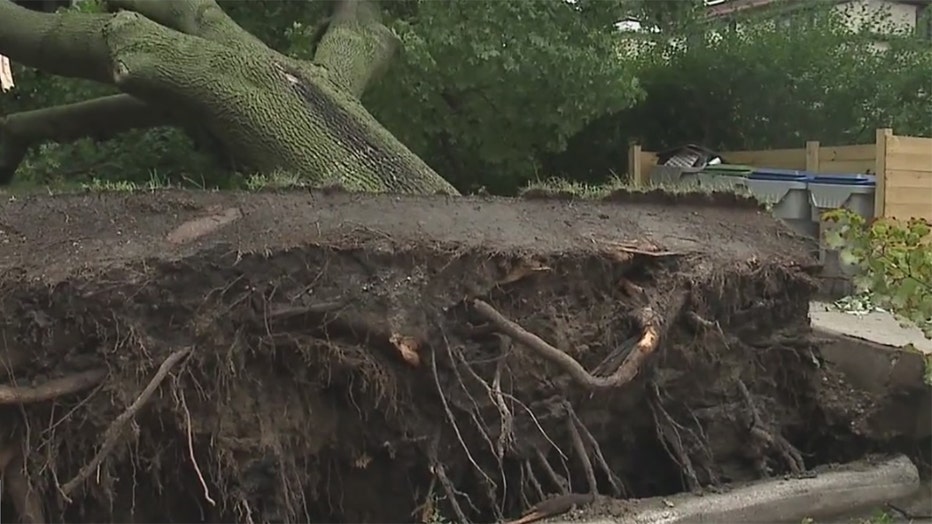 Uprooted tree near 28th and Burnham
The air was dead calm before the front moved in. Further west, along Burnham near 28th, a tree hid a home. One block south of there, a handful of helpers tried to clean up damage at 28th and Rogers.
"If it wasn't for all the help, this would have still been laying across the yards," said resident Marlos Ehlert.
North Shore also hit
In Whitefish Bay – just east of the Bayshore shopping area, FOX6 News crews saw people leaving their homes with coolers to get somewhere safe with power. 
We Energies crews are working to restore power after strong storms and high winds caused extensive damage across Wisconsin. For current outage information, please visit the We Energies outage map.
We Energies strongly urges customers to stay at least 25 feet away from any downed power lines and report the situation to We Energies or a local law enforcement agency immediately.