SCOWIS rules spring election can proceed; SCOTUS blocks extended absentee voting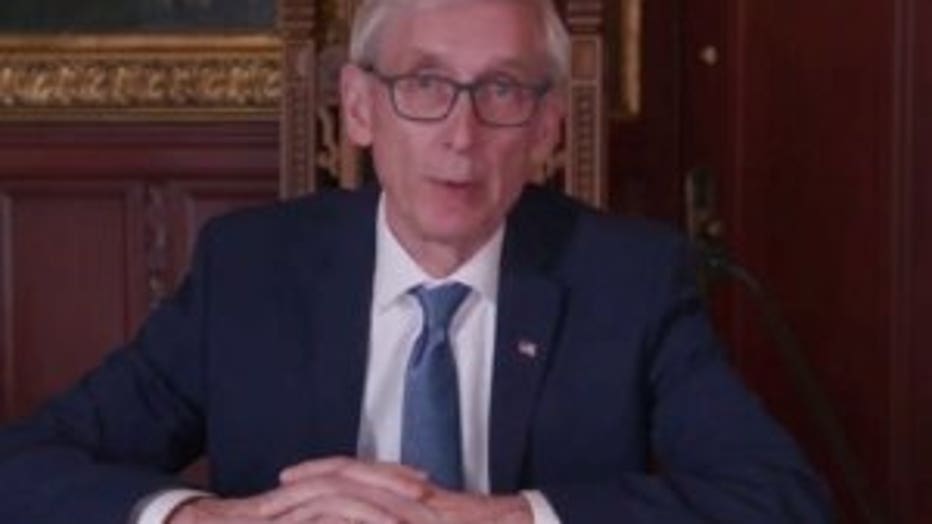 MADISON — Voters in Wisconsin will face a choice Tuesday, April 7 of participating in a presidential primary election or heeding warnings from public health officials to stay away from large crowds during the coronavirus pandemic.

Hours after Democratic Gov. Tony Evers issued an order postponing the election for two months, the conservative-controlled Wisconsin Supreme Court on Monday sided with Republicans who said he didn't have the authority to reschedule the race on his own. Conservative justices on the U.S. Supreme Court quickly followed with a ruling blocking Democratic efforts to extend absentee voting.

The decisions leave Wisconsin as the only state with an election scheduled in April that is proceeding as planned. As other states prepare to vote in May or June, Wisconsin will be closely watched for signs that fears of the coronavirus may depress turnout or cause other problems at the polls.




Evers said he had no other options after the state court ruled against him.

"There's not a Plan B. There's not a Plan C," Evers said earlier Monday.

CLICK HERE for the Wisconsin Elections Commission absentee ballot report.

Voting in Milwaukee Tuesday

In-person voting centers will be available at the following locations:


*Exceptions


Voters are encouraged to confirm their ward number and voting center location at myvote.wi.gov by clicking the "Find My Polling Place" prompt at the top of the screen, or by visiting milwaukee.gov/election and clicking the "Where Do I Vote?" link.

Absentee voters are reminded to return their ballots either by mail or at any of the following City of Milwaukee absentee ballot drop box locations:



Joe Biden already has a commanding delegate lead over Bernie Sanders and the Wisconsin results aren't likely to slow his march to the Democratic presidential nomination. But the tumult in one of the most critical general election battlegrounds was a reminder of how the coronavirus has upended politics during an election year. Beyond the shifts in the primary calendar, Biden and President Donald Trump have not been able to hold in-person campaign events and have moved most of their operations online. Sanders called Tuesday's election "dangerous" and said his campaign will not engage in any traditional get-out-the-vote efforts.

The tension in Wisconsin over whether and how to proceed with the election has been building for weeks. Evers and Republicans initially agreed it was imperative for the election to proceed because thousands of local offices are on the ballot Tuesday for terms that begin in two weeks. There is also a state Supreme Court election.

Assembly Speaker Robin Vos (R-Rochester) and Senate Majority Leader Scott Fitzgerald (R-Juneau) released the following statement Monday:

"We agree with the state Supreme Court's ruling that affirms the separation of powers spelled out in our Constitution. The state's highest court has spoken: the governor can't unilaterally move the date of the election.

"We are proud that Wisconsinites have come together to meet the challenges that this pandemic has created. The safety and health of our citizens have always been our highest concern; that's why we advocated for everyone to vote absentee. Wisconsin has responded in droves. Over a million ballots have been requested for tomorrow's election. We continue to believe that citizens should be able to exercise their right to vote at the polls on Election Day, should they choose to do so.

"We want to thank the hardworking clerks around the state who have been working around the clock to ensure a safe and fair election. We also appreciate the assistance of the National Guard members who have been activated to play an important support role.

"This election will proceed as planned."

Evers himself had questioned whether he had the power to reschedule the election, but said the worsening situation, including an increase in COVID-19 deaths from 56 on Friday to 77 on Monday, made clear there was no way to safely move forward. Evers said he sought the delay because he was motivated by protecting public health, not politics.

"The people of Wisconsin, the majority of them, don't spend all their waking hours thinking about are Republicans or Democrats getting the upper hand here," Evers said earlier Monday. "They're saying they're scared. They're scared of going to the polls."

He was thwarted by conservatives on two courts. The Wisconsin Supreme Court ruled 4-2, with four conservatives in support and two liberals against, that Evers lacked the authority to move the election on his own.

Gov. Evers issued this statement:

"There are few things we hold more sacred and that are more American than the right to vote. People have bled, fought, and died for the right to vote in this country. But tomorrow in Wisconsin, thousands will wake up and have to choose between exercising their right to vote and staying healthy and safe. In this time of historic crisis, it is a shame that two branches of government in this state chose to pass the buck instead of taking responsibility for the health and safety of the people we were elected to serve."


The U.S. Supreme Court split 5-4, with the five Republican-appointed justices siding with the national and state party to overturn a lower court ruling that expanded absentee voting. In an unsigned opinion, the court said absentee ballots must be hand-delivered by Tuesday evening or postmarked by Tuesday, although they can arrive at clerks' offices as late as April 13.

In dissent, Justice Ruth Bader Ginsburg wrote for her liberal colleagues that the lower court acted amid the virus outbreak "to safeguard the availability of absentee voting in Wisconsin's spring election. This Court now intervenes at the eleventh hour to prevent voters who have timely requested absentee ballots from casting their votes."

Ginsburg said the coronavirus outbreak had caused a surge in absentee ballot requests and thousands of voters who requested them will not have received their ballots by Tuesday. "The Court's order, I fear, will result in massive disenfranchisement," she wrote.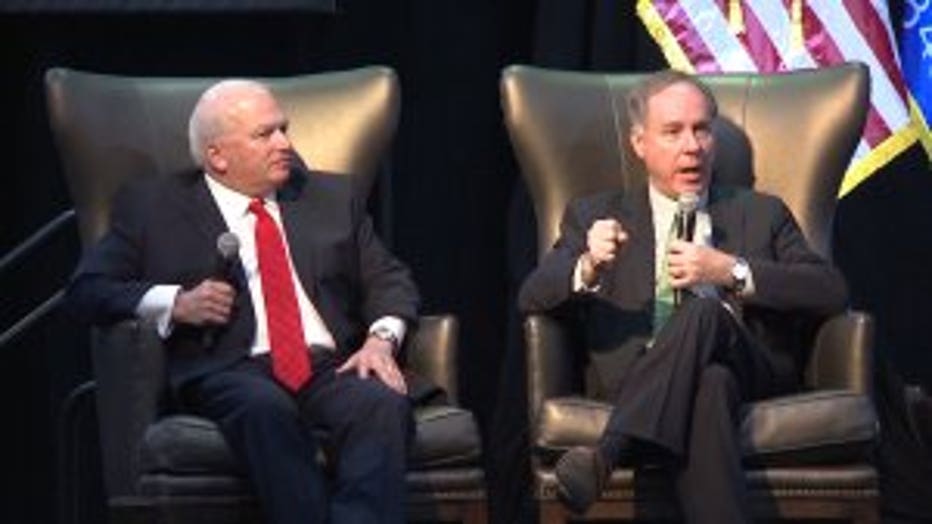 Senate Majority Leader Scott Fitzgerald, Assembly Speaker Robin Vos


As of Monday, nearly 1.3 million absentee ballots had been requested but only about 57% of those had been returned. It's unclear how many of the outstanding 539,000 ballots will be in voters' hands by Tuesday to meet the April 7 postmark deadline.

The conservatives said "the dissent's rhetoric is entirely misplaced and completely overlooks the fact that the deadline for receiving ballots was already extended to accommodate Wisconsin voters, from April 7 to April 13."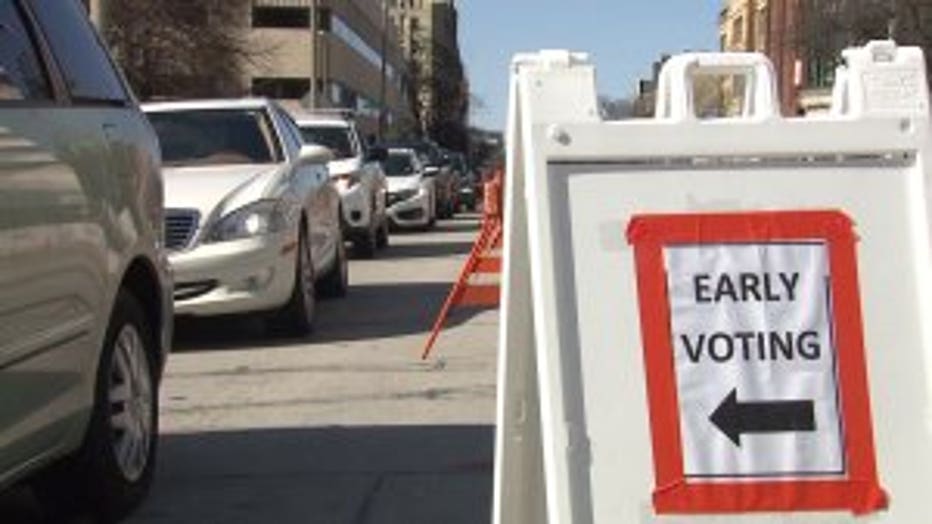 Wisconsin Democratic state Sen. Jon Erpenbach said Republicans fought efforts to delay the election because they want to suppress turnout, particularly in Democrat-heavy Milwaukee, because that will benefit Republicans.

"Democrats have always been good about getting out the vote on the day of," Erpenbach said. "If you're looking at the newspapers, watching TV, you know right now it's dangerous."

Democratic U.S. Rep. Mark Pocan said the U.S. Supreme Court's was "brazenly suppressing thousands of voters in Wisconsin."

"This is NOT how democracy works," Pocan tweeted.

Ohio saw a similar eleventh-hour flurry the day before its primary last month. After the Republican governor and secretary of state failed to persuade a judge to shift the election date, the state health director stepped in and ordered voting shut down. Legislators set a new, almost all-mail primary for April 28, sparking new legal challenges from voting rights groups, but a federal judge on Friday said the election could go forward.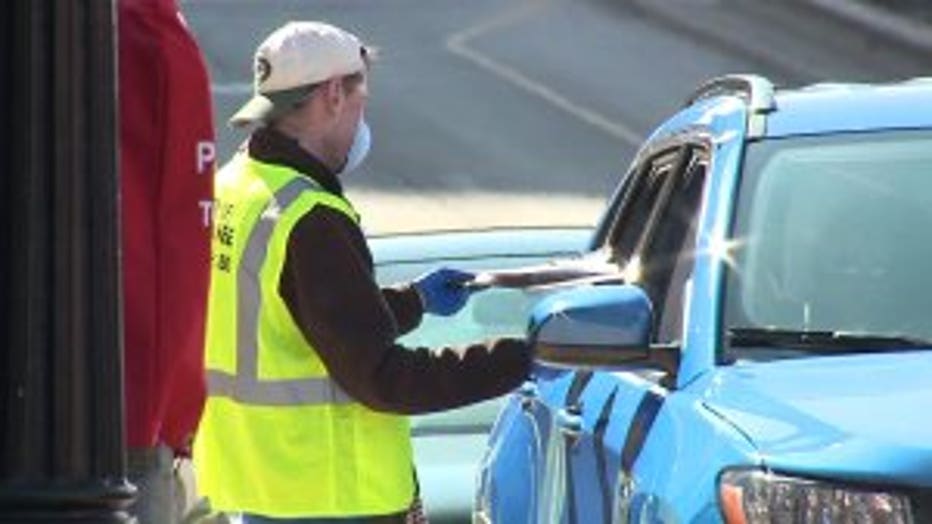 Ahead of the Wisconsin primary, thousands of poll workers said they wouldn't work, leading Milwaukee to reduce its planned number of polling sites from 180 to just five. More than 2,500 National Guard troops were dispatched to staff the polls. They were also distributing supplies, including hand sanitizer, to polling sites across the state. In Madison, city workers were erecting Plexiglas barriers to protect poll workers, and voters were encouraged to bring their own pens to mark the ballots.

George Dunst, 76, of Madison, who has volunteered at his local polling site for nearly every election since he retired, said he's not going Tuesday amid fears of contracting COVID-19.

"No matter what safety precautions you take, there's going to be exposure," he said. "Who knows who comes into the polling place?"

Senator Bernie Sanders issued the following statement:
"It's outrageous that the Republican legislative leaders and the conservative majority on the Supreme Court in Wisconsin are willing to risk the health and safety of many thousands of Wisconsin voters tomorrow for their own political gain. Let's be clear: holding this election amid the coronavirus outbreak is dangerous, disregards the guidance of public health experts, and may very well prove deadly.  For that reason, our campaign will not be engaged in any traditional GOTV efforts."
Statement from Wisconsin Elections Commission:
"Municipal and County Clerk Partners,

The Governor just issued an executive order delaying in-person voting for the April 7, 2020 election until June 9.   While the Governor has called for moving the election, we can be certain there will be very fast moving litigation.  The order is at the link and in the text below.

Therefore, we must continue to making preparation in earnest for tomorrow.  If the election is moved to the 9th we will adjust accordingly, but all we can do today is prepare for tomorrow.  As additional details come to our attention, we will share them with you.

I know too much has already been asked of you, but we ask you to proceed with your Election Day preparations as we do not know the outcome of any possible litigation and we need to be prepared if the election is held tomorrow.

Our state is so incredibly lucky to have each and everyone of you.  Thank you for your continued public service and we will let you know if there are any additional developments."
Republican Party of Wisconsin Chairman Andrew Hitt issued the following statement:
"It is tragic to see such a reckless disregard for the Constitution from Gov. Tony Evers who just days ago admitted he did not have the power to change the election. His admission will weigh heavily on the Wisconsin Supreme Court's decision, so we are left to conclude that the Governor is playing politics with something as precious as our democracy. The Republican Party will continue to fight for the rule of law."
DNC Chair Tom Perez released the following statement:
"Our country is the middle of a public health emergency, but you wouldn't know it by the way the Republican Party in Wisconsin and across the country is acting. Instead of prioritizing the health and safety of the American people -- including communities of color in places like Wisconsin that have been hit especially hard by this pandemic -- the GOP is  trying to stop vote-by-mail and opposing other commonsense ideas to make our election systems more safe and accessible during this time. Trump himself told us why they're doing it: Republicans will never win another election if they let more people vote. That's because their agenda is so far out of step with so many Americans.

A few weeks ago, we sued to extend the voter registration deadline and to extend the vote-by-mail deadline so that, at the least, ballots postmarked on Election Day would be counted. Democrats believe our democracy works best when more people participate, not fewer. Because we won, thousands more Wisconsins' votes will be counted.

Today's decisions and the actions that led up to it lay bare the differences between our two parties. Governor Evers and Wisconsin Democrats are focused on protecting the people of their state and the integrity of our democracy. Republican leaders are focused on political gain, and they will stop at nothing to get it – no matter the consequences to public health and our democracy."
Milwaukee Mayor Tom Barrett released the following statement:                                                                                        
"Governor Evers' action today firmly places him on the right side of public health and the right side of history. Wisconsin citizens can be proud that he is saving lives and bolstering our democracy."
Milwaukee County Executive Chris Abele issued this statement:
"Governor Evers absolutely made the right call to put the health and welfare of every Wisconsinite above politics. Just as the right to free speech is not limitless, the right to vote does not trump the more fundamental rights to life, health and safety. If forced to proceed with in-person voting during the coronavirus pandemic, the right to vote would be elevated above the right to life, health and safety – this idea is contrary to the most basic constitutional principles."
Senator Chris Larson (D-Milwaukee), a candidate for Milwaukee County executive, issued the following statement:
"My priority, first and foremost, is the health of each of our neighbors. We're actively monitoring the quickly-changing situation around the dates and rules surrounding this election. We want to ensure every voter has the opportunity to cast a ballot in a way that is equitable and safe. For weeks, I have championed changes to open up access to the ballot box, including sending an absentee ballot to each registered voter as well as extending the deadline for when those ballots will be accepted.

Given the uncertainty around the election date tomorrow, I encourage voters to take steps to get their absentee ballots in as quickly as possible. We will stay tuned to the latest developments as the situation evolves and will encourage voters to exercise caution as they head to the polls on election day, whether that be April 7 or June 9. I stand ready to serve our county and lead us forward through this crisis as Milwaukee County Executive."
Milwaukee County Director of Emergency Management Christine Westrich issued this statement:
"Today we issued a county-wide order directing all municipal clerks within Milwaukee County to close all in-person polling locations that were scheduled to be open on Election Day. Protecting the health of our neighbors and our community is our top priority right now and allowing for in-person voting would undermine that effort."
Rep. David Bowen (D-Milwaukee) released the following statement:
"Governor Evers was 100% right to delay this election. COVID-19 cases and deaths continue to rise across our state, especially in Milwaukee where the Black and Hmong families of the Northside have been suffering the most. At this point, top public health officials are saying that we are entering a time when it is more important than ever to stay home and stay isolated, and to still expect thousands of Wisconsinites to gather in public to vote would not only be irresponsible, it would be deadly. The divergent examples of Michigan and Ohio have already proven this, and Wisconsin should not become another case study of how not to handle this pandemic. In the face of inaction by Republicans in the Legislature, the Governor did what was necessary to protect the people of this state.

As someone who contracted and gives thanks to God that I have officially recovered from COVID-19, the thought of going to the polls and voting tomorrow was not an easy or comforting one for me with some 5000 people going to the same consolidated polling site. It was bound to happen that someone with the virus was going to be there.  I, along with other Democrats in the Legislature, have spent weeks calling for this election to be postponed, and Republicans had their chance to work with the Governor in good faith to save lives. Instead, they did nothing. By signing this Executive Order, Gov. Evers made the right move for the health of our citizens and our democracy."
Racine Mayor Cory Mason issued this statement:
"I applaud the Governor's decision to side with public health officials from around the state in saying that the best course of action for this election is to delay in-person voting and give municipalities more time to do absentee voting by mail. I want to be clear about this – his decision will save lives. It is my hope that the legislature will convene in Special Session and work with the Governor to allow Clerks to mail ballots proactively to registered voters so that we do everything possible to run a safe election and slow the spread of COVID-19 in our community."
Rep. Greta Neubauer (D-Racine) issued this statement:
"Over the last several weeks, I have heard from many members of our community sharing very real concerns about the risk an in-person election on April 7th poses to the lives and health of the people of Racine. Thank you for fighting so hard to protect our families and neighbors.

I took these concerns to heart and have been working for several weeks to find ways to protect our community's safety and the integrity of our elections. I had hoped to resolve this issue through bipartisan agreement in the legislature. However, in the last week, it became clear that Republican leadership would continue to ignore their responsibility to the people of this state.

I have continued working with local and state leaders to find other avenues to suspend in-person voting on April 7th, and I truly appreciate their efforts in pushing for this resolution. I know this has been difficult for everyone in our community, and I want to express deep gratitude to Governor Tony Evers for acting today.

As elected officials, it is our responsibility to protect the lives of our constituents and the integrity of our democracy. Forcing voters to decide between their health and their right to vote is not free or fair. The choice to delay an election is not easy, but it was necessary in the midst of this unprecedented crisis. I hope that with this delay, the legislature can come together to develop a comprehensive plan to address the impact of COVID-19 throughout our state, including on future elections."
Darryl Morin, Forward Latino president, issued the follow statement:
"On behalf of our Wisconsin members, I wish to thank Wisconsin Governor Tony Evers for taking decisive action to protect the safety of Wisconsin voters and residents. Time and time again, the Governor has attempted to work with the legislative majority only to have his efforts rebuffed. He then called a special session only to have the legislative majority refuse to debate and vote on this very serious issue. This Gubernatorial Executive Order followed the President's remarks warning the of "a great number of deaths" and the U.S. Surgeon General comparing the next two weeks of Coronavirus deaths to "our Pearl Harbor." We look forward to continuing to work with our partners, Governor Evers, the Wisconsin Senate Majority Leader and the Speaker of the Wisconsin State Assembly to ensure that all eligible Wisconsin voters are able to vote in a safe manner."
Chris Ott, executive director of the ACLU of Wisconsin, issued the following statement:
"Delaying in-person voting is the only responsible course of action given the urgent need to protect public health and combat the spread of COVID-19. The ACLU and several allied groups on March 18 called for a variety of measures to safeguard voters' health, as well as to safeguard their right to vote. Since many of these measures have not been put into place, and since the number of polling places has been curtailed so drastically, postponing in-person voting is the safest and best course of action.

However, as this is a very fluid situation that will likely be resolved in the courts, we encourage those voting absentee to make every effort to return their absentee ballots by tomorrow to guarantee their vote is counted. We also ask those planning to vote in-person to check media reports on Tuesday, to confirm whether or not the Governor's order to postpone still stands.

This of course is not Wisconsin's only election this year. The level of chaos and confusion around this election is unacceptable and underscores the need for election officials to immediately develop an emergency response plan that safeguards the voting rights – and health – of all voters in Wisconsin. Any such plan must preserve the opportunity to in-person vote for those who need it, as well as expand access to vote by mail. As this crisis continues, our election officials need to get this right – and we'll be watching to make sure they do."