Schimel, victim advocates back constitutional amendment giving crime victims more rights


MILWAUKEE — Republican lawmakers and crime victim advocates introduced a constitutional amendment Tuesday that would provide crime victims with a host of rights, including the right to have their personal information sealed in police records and allow them to speak out at more court proceedings.

The change, named "Marsy's Law" by supporters for a California woman killed by an ex-boyfriend, has proven controversial in other states that have adopted it.

The Wisconsin Constitution and state law already provide victims with a list of rights, including the right to privacy, the right to be treated with dignity, the right to attend court proceedings, the right to protection from defendants and the opportunity to make a statement during sentencing, restitution and compensation proceedings.


Marsy's Law for Wisconsin


The new amendment, authored by Rep. Todd Novak of Dodgeville and Sen. Van Wanggaard of Racine, largely duplicates existing language but takes it a step further in several areas. In addition to the right to privacy, victims would have the right to have information or records that could be used to locate them or disclose confidential information sealed.

Attorney General Brad Schimel, a Republican, endorsed the measure during an appearance in Milwaukee with victim advocates on Tuesday.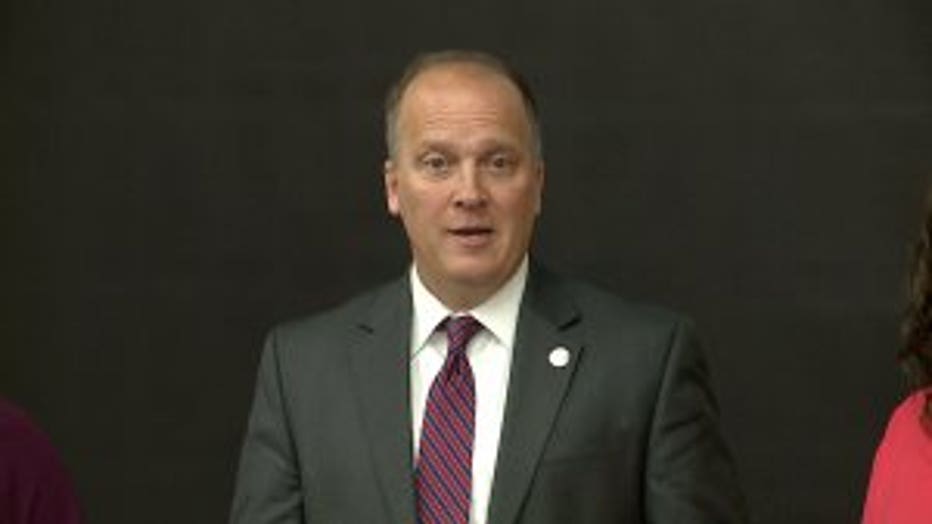 Wisconsin Attorney General Brad Schimel


"By equalizing these rights, we're going to give the judge the ability to take the victims' rights as seriously as the defendants' rights," Schimel told reporters.

The amendment gives victims the right to be heard in plea, parole, revocation, expungement and pardon proceedings in court and allows victims to opt out of direct requests for interviews, depositions or discovery from defense attorneys. Discovery is the process in which one side in a case turns over all of its evidence to the other side.

Current state law allows victims to refuse interviews or depositions with defense attorneys in criminal cases. Prosecutors are automatically required to turn over their evidence to defense attorneys in criminal cases, so there's no need for the defense to demand discovery directly from a victim in a criminal case. The amendment's provision, however, could block criminal defendants from launching lawsuits against victims because victims wouldn't have to give up any information.

John Birdsall, a defense attorney in Milwaukee and a past president of the Wisconsin Association of Criminal Defense Lawyers, called the constitutional amendment "little more than a political publicity stunt."

"One of the most fundamental rights, that of Confrontation, that is the right to actually confront witnesses against you, could be impacted by this proposal," Birdsall said. "The view seems to be, by those that support this, that we need to reduce the ability of a defendant to mount any sort of a defense."

Teri Jendusa Nicolai, the Racine County woman who was beaten and put in a storage locker by her ex-husband in 2004, spoke in favor of the constitutional amendment. Because of her ordeal, Jendusa Nicolai's toes had to be amputated and she lost the baby she was carrying.

Jendusa Nicolai said her ex-husband has tried to get joint custody of their daughters since he went to prison.

"He can continue to do things like that because he has those constitutional rights. And what do I have? I sit back and I worry," she told reporters. "I stress, and I pray to god that no judge will give him those things."

A constitutional amendment in Wisconsin must pass two consecutive legislative sessions and a statewide referendum before it can become part of the document. Spokeswomen for Assembly Speaker Robin Vos and Senate Majority Leader Scott Fitzgerald didn't immediately return an email inquiring about support for the measure.

The backers of Marsy's Law have already hired five lobbyists from two Wisconsin firms to push lawmakers to pass the legislation, according to the state's lobbying registry.

California, Illinois, Montana, North Dakota and South Dakota have adopted similar victim rights constitutional amendments. Oklahoma's House voted unanimously Tuesday to send a similar amendment to voters.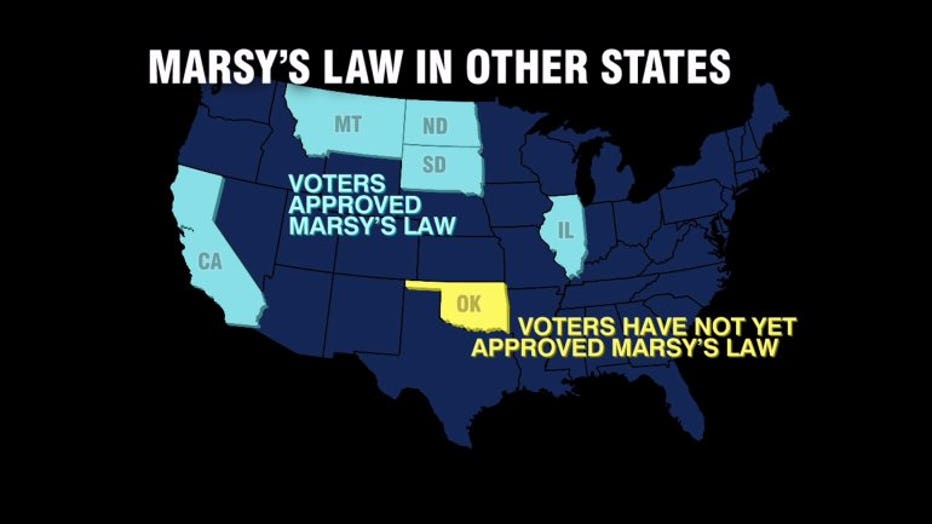 Supporters have dubbed the amendments "Marsy's Law" for California college student Marsalee "Marsy" Nicholas, who was killed by an ex-boyfriend in 1983. Her brother, Henry Nicholas, a retired California technology company executive, has bankrolled an effort to put such amendments in place across the country.

The amendment has caused confusion in North and South Dakota. It has caused some law enforcement agencies to limit public information about crimes, including the locations of crimes and the identity of victimized businesses and the names of car crash victims. South Dakota Attorney General Marty Jackley convened a task force in December to figure out how to interpret the amendment.

Prosecutors in North Dakota have said they think the amendments' provisions are vague and could slow the justice system down because victims have to be notified of all proceedings relating to a defendant's release and sentencing, including bail hearings. Defense attorneys in that state have argued the amendment tramples defendants' rights.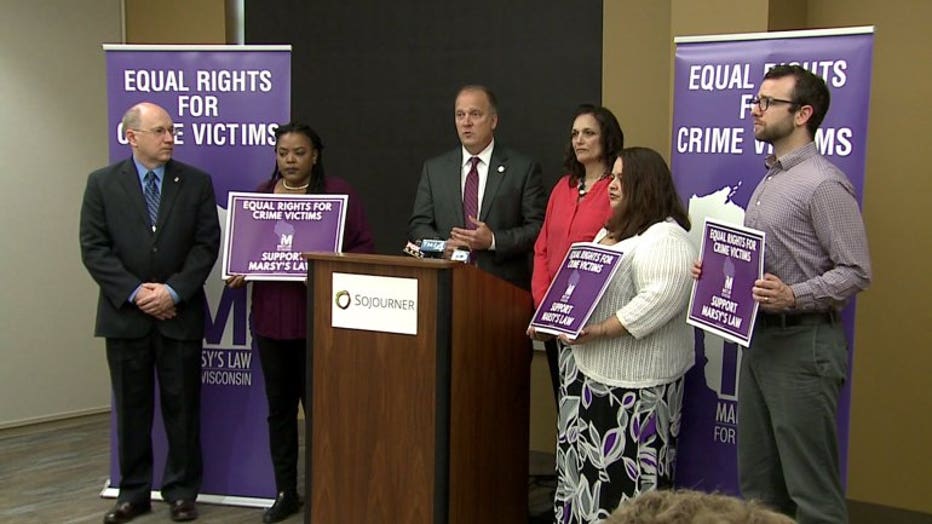 Marsy's Law for Wisconsin


Brian Reisinger, a spokesman for Marsy's Law for Wisconsin, a group promoting the amendment, said Wisconsin will fare better than other states that have adopted it because the state already recognizes victim rights.

"If there are consequences that the criminal justice system has to work a little harder to ensure the rights of victims, that's OK," Schimel said at Tuesday's news conference.