Rube Goldberg competition: Putting on a band-aid has never been this complicated


WAUKESHA -- Putting on a band-aid is a pretty straightforward task. But for dozens of Wisconsin high school students, it was a particularly challenging task -- and they were okay with that.

The students were taking part in the regional Rube Goldberg machine contest at Waukesha County Technical College on Friday, March 3rd. The contest involved 12 teams from schools across the state including Milwaukee Lutheran and Pius XI. The goal is to build a machine that would put a band-aid on in 20 or more steps.

More than 30 professional engineers were on hand to judge the machines and offer feedback.

"Every time you reset it, something can go wrong that hasn't gone wrong before. You know certain steps that sometimes don't work as well as others that are really risky. Because we know our machine so well, we know when we get through this one step, the rest of the machine is going to be fine," said Rachel French, a student from St. Catherine's High School.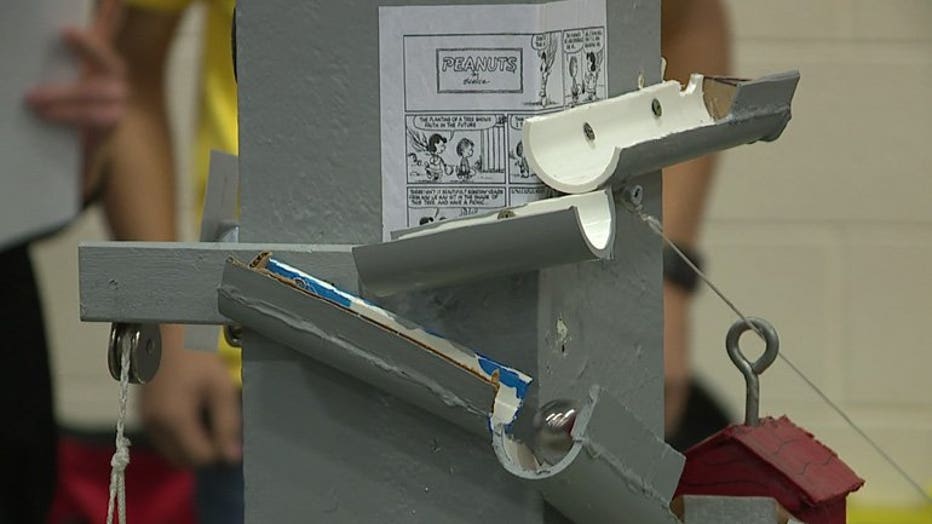 Rube Goldberg competition at WCTC


The machines had to fit within a 250 cubic foot space -- and complete the task in two minutes or less.

The team which takes the first place title will head to the nationals in Columbus, Ohio later this month.