Robert Indiana's LOVE sculpture installed on Wisconsin Avenue in downtown Milwaukee


MILWAUKEE -- LOVE, 1996-1999, a piece from Robert Indiana's recognizable LOVE  sculpture series made its debut on Wisconsin Avenue on Friday, May 25. It is there as part of Sculpture Milwaukee 2018.

The poets will tell you love is patient. Marilou KnoDe couldn't agree more.

"We kind of saved the best for last," said Marilou KnoDe.


LOVE sculpture in downtown Milwaukee


Robert Indiana's famous LOVE sculpture is the final piece to be installed along Wisconsin Avenue. It's art of the annual Sculpture MKE series. The piece and 20 others will be on display through Oct. 21.

"It's really an exquisite piece," said Marilou KnoDe.

Indiana, who passed away earlier this week, will be remembered for his contributions to the art world, as well as to Milwaukee with his groundbreaking design of the old Mecca basketball court.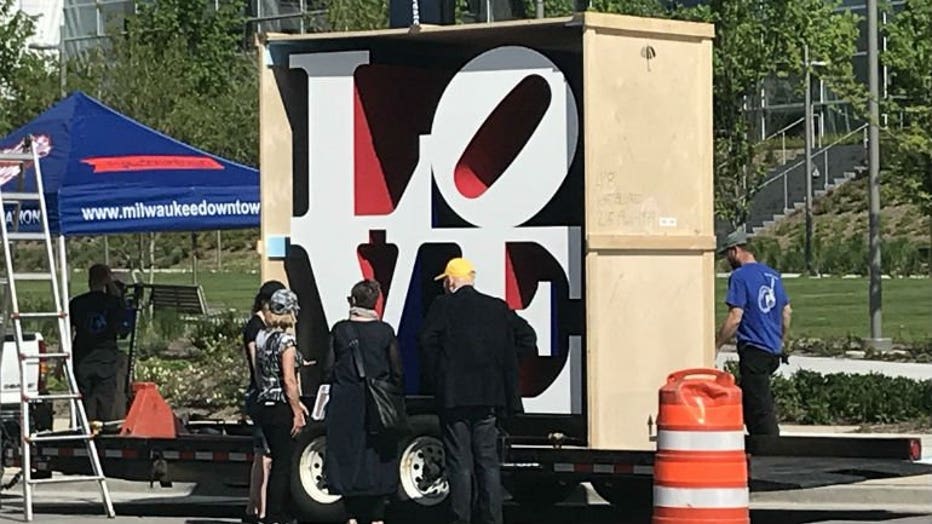 LOVE sculpture in downtown Milwaukee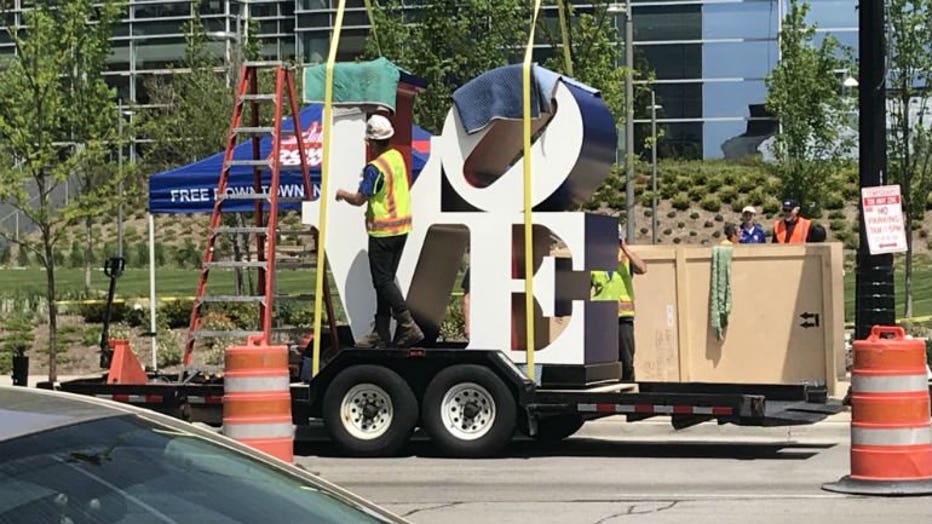 LOVE sculpture in downtown Milwaukee


"In a way, it's a homecoming. He's a return to Robert Indiana to the city. And it's very poignant that it happened right after he passed," said Marilou KnoDe.

Sculpture Milwaukee 2018, an outdoor sculpture experience brought to Wisconsin Avenue will kick off its second year next week. It features 21 sculptures by 22 artists. The installation will line the Avenue from the Lakefront to 6th Street.

Just like love, installing the artwork is complicated. It takes traffic control, a crane, and a specialized team of people like sculpture conservator, Abigail Mack.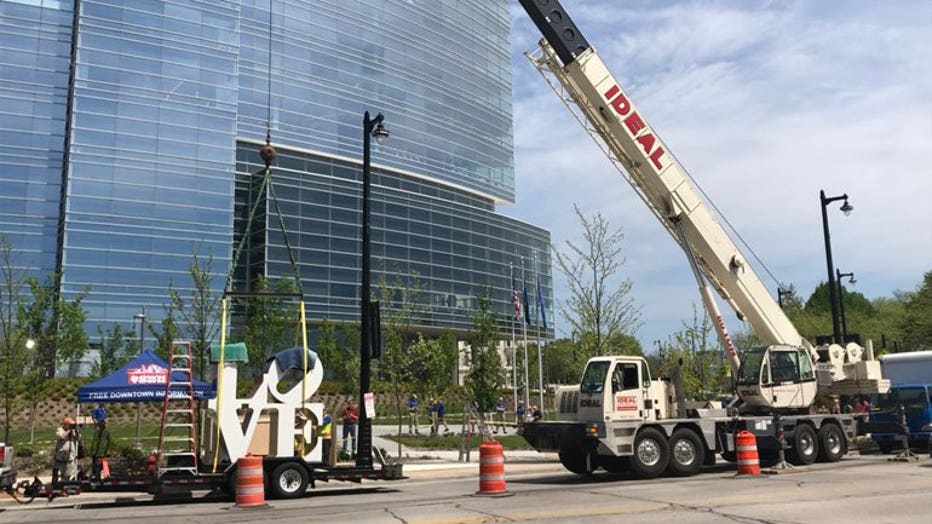 LOVE sculpture in downtown Milwaukee


Mack came all the way from New York to make sure the piece receives tender loving care.

"It looks fantastic and the goal is, at the end of the loan period of time it's on display, it will look the same," said Abigail Mack.

You can see the LOVE sculpture outside the Northwestern Mutual Tower. Organizers want to you get up close and enjoy it, however, they do ask that you don't sit or stand on it.

Sculpture Milwaukee will be on view June 1 – Oct. 21.