Winter storm road conditions, Kenosha DPW focused on salt
KENOSHA, Wis. - Snow, sleet, freezing rain or ice – Kenosha Department of Public Works crews say "bring it on Mother Nature." 
"We are always prepared," said Kenosha DPW Director Brian Cater. "We are always ready for whatever storm is coming our way."
Even during an ice storm, Cater said crews have a plan of attack.
SIGN UP TODAY: Get daily headlines, breaking news emails from FOX6 News
"Essentially, it becomes a salting operation," he said. "We are out on all of our streets right now putting salt down in preparation for the potential ice coming."
The mission of retreating 700 roads in Kenosha began early Wednesday morning. Cater said the salting operation relies on one little thing that makes a big difference.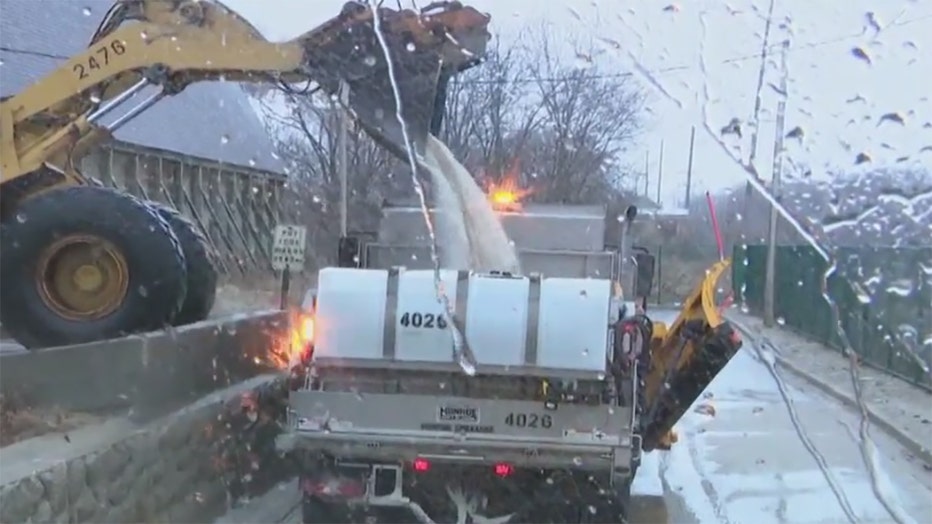 Kenosha Department of Public Works (DPW) prepares for salting operation
"We pre-wet our salt with brine, that's probably the biggest change in the recent past. It's not just pure salt," said Cater. "The brine just helps the salt react faster because salt needs water in order to start the chemical process, and so it helps that process and also when you are putting it on the road."
As crews gear up for long hours and the work ahead, Cater said it's all about completing their mission: "Get the roads ready to handle and make them as safe as we can."
Cater said ice forms more quickly on decks of bridges and overpasses, so crews will continue to apply salt and sand mixtures while focusing on intersections, hills, curves and bridges.