Rebecca Kleefisch enters Wisconsin governor's race
BUTLER, Wis. - Rebecca Kleefisch officially launched her campaign for governor of Wisconsin Thursday, Sept. 9. The Republican accuses Democratic Governor Tony Evers of weak leadership while Wisconsin Democrats are saying she's extreme.
Kleefisch, then lieutenant governor of Wisconsin, and her running mate, Governor Scott Walker, lost their re-election bids in 2018. Now, the Republican is hoping to be on the top of the ticket to face Evers and become the state's first female governor.
"I told you we're about to fire Tony Evers. I today announce I am running for Governor of the great state of Wisconsin," she told supporters at the place her father worked as a salesman, Western States Envelope Company in Butler.
Kleefisch used to work as a Milwaukee TV anchor, then stay-at-home mom and then lieutenant governor who survived recall and cancer.
"I told you I had colon cancer," said Kleefisch. "They literally cut out half my guts. Even with half my guts, I still have twice as much guts as Tony Evers to fight for the great state of Wisconsin."
She's now challenging Evers for governor, criticizing him for his handling of the Kenosha riots, unemployment backlogs, a workforce shortage and the coronavirus pandemic lockdown.
"He may shut down our schools," said Kleefisch. "He may shut down our economy. He may shut down our churches, but today, we begin to shut down Tony Evers." 
She promoted a conservative vision for Wisconsin, opposing government health care mandates, critical race theory and defunding the police.
"We must back the blue," said Kleefisch.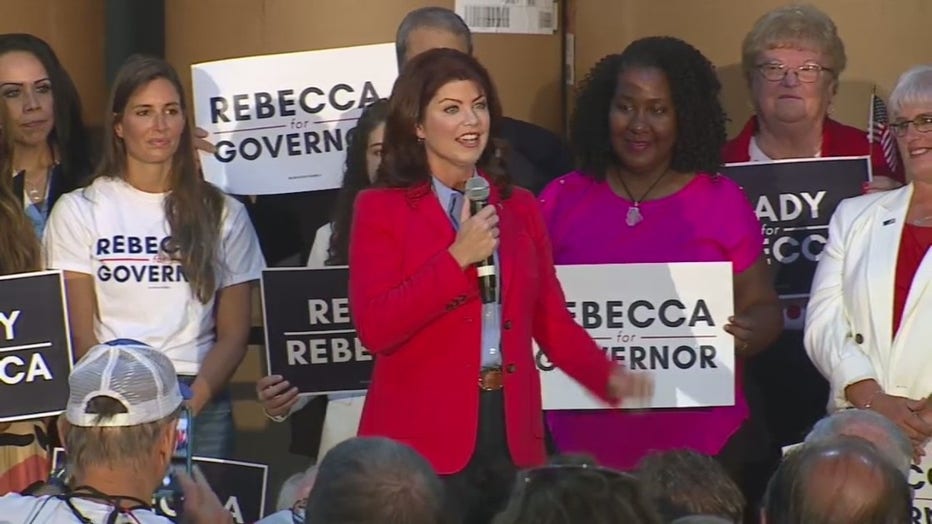 Kleefisch promises to sign election reform bills on day one and to deploy the National Guard to help at the southern border.
"We can't let Rebecca Kleefisch bring her radical agenda to our state and roll back the progress made by Gov. Evers," said Ben Wikler, Democratic Party of Wisconsin chair.
Democrats call her "Radical Rebecca."
"She opposed affordable healthcare expansion," said Wikler. "She supported disastrous cuts to transportation funding. She gutted funding for public education, and she rejected much-needed federal funds for partisan reasons alone."
Kleefisch says it's Evers who is bad for Wisconsin, but acknowledges it's going to be a tough race.
"We are going to need to fight in the same way we won the recall election in 2012. We're gonna need to fight with the same vigor and ruthless grassroots action in the same way we elected Donald J. Trump in 2016."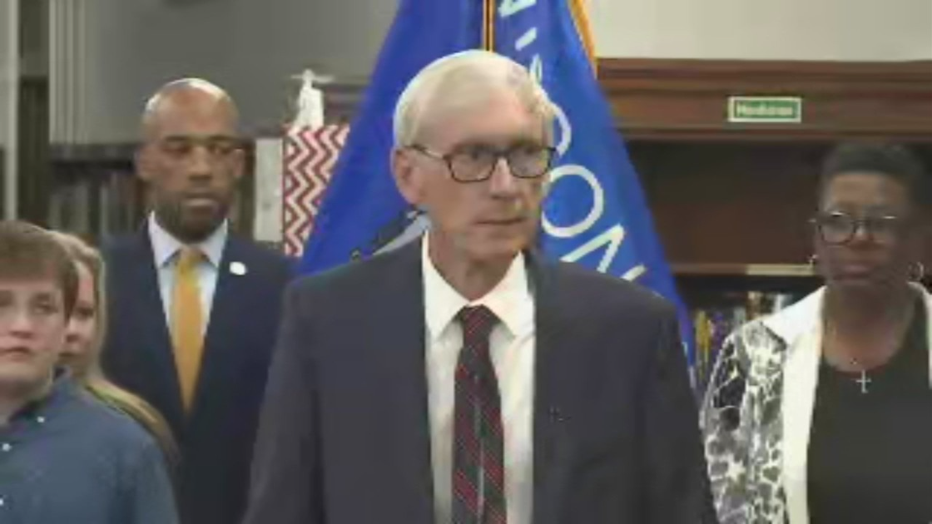 Before Kleefisch can face Evers, she has to win the Republican nomination. There are a few who have already filed paperwork, including Jonathan Wichmann, who former National Security Advisor Michael Flynn endorsed. Others are also eyeing a run.
The GOP primary is set for August 2022.
Official statements
Statement from Rebecca Kleefisch 
"I am running because I have two kids who I want to choose Wisconsin to live their American dreams and one day raise families here. But that is only possible if we start putting the people first. We need safe communities, great education with real choice and real standards, and good-paying jobs."
 "Tony Evers' weak leadership has been disastrous for our state. He failed to stand up to the left-wing mobs while Wisconsin cities burned. Evers tried to raise your taxes during a pandemic, and his administration let the calls of unemployed Wisconsinites go unanswered after he shut our economy down.
 "I'm a mother, a cancer survivor, and as your governor, I'll always put you first and never back down. I have the backbone to get the job done and, together, we can build a stronger Wisconsin." 
Statement from Gov. Evers' campaign
 "Rebecca Kleefisch already left a devastating mark on Wisconsin after eight years of attacking public schools, slashing transportation funding, and supporting massive handouts to corporations. Her record isn't a mystery to anyone and it's unfortunate she would rather divide our state with radical rhetoric than find solutions that make Wisconsin stronger. 
"Governor Evers has taken bold action to not only clean up the mess she left behind, but he's moving Wisconsin forward by making record investments in transportation and broadband expansion, restoring the state's funding commitment to public schools, and supporting small businesses across the state. Because of Governor Evers' steady leadership, Wisconsin is bouncing back stronger than before with a record surplus, low unemployment, and $4 billion in tax relief delivered in his first term. Wisconsinites know that Governor Evers is following through on the promises he made to them, and they're ready to support his re-election and continue moving in the right direction."