Racine Zoo welcomes twin emperor tamarins
RACINE -- The Racine Zoo announced on Thursday morning, April 28th that a breeding pair of emperor tamarins welcomed twins.

The tamarins were born on Monday, April 18th -- and weigh in at approximately 1.4 to 1.7 ounces each. Staff will determine the sex of each infant tamarin once they grow a bit larger in size.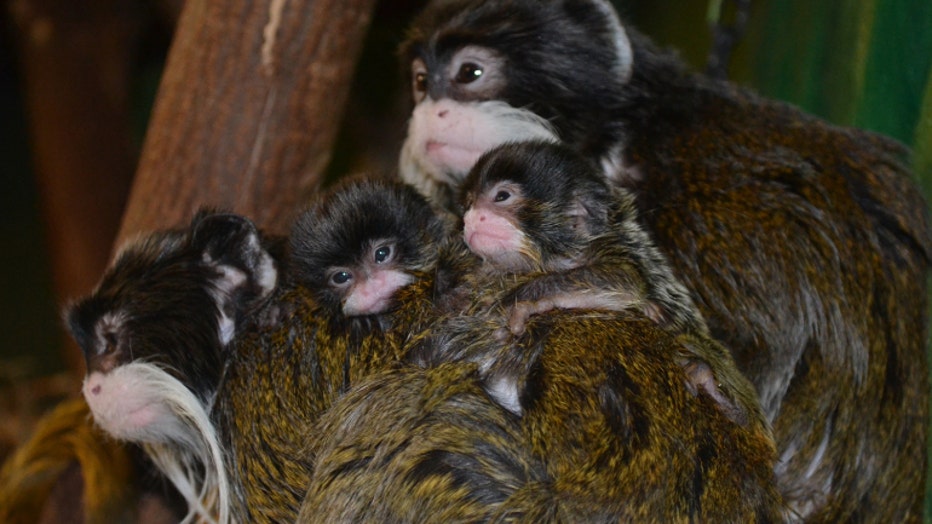 Emperor tamarins (Credit: Racine Zoo)


Emperor tamarins are primates known for their small size and signature long, white mustache.

Elizabeth Heidorn, Executive Director of the Racine Zoo said the following in a news release:

"We couldn't be more excited to welcome these two charismatic little primates to the world. We are proud to be one of two accredited institutions successfully breeding emperor tamarins in partnership with the Species Survival Plan (SSP).  Every little bit we can do to help the species is critical."

Zoo officials say mother, Isabella, acquired from Zoo New England, and father, Marquis acquired from the San Francisco Zoo, have been paired in Racine since summer 2012. Unlike many fathers in the animal world, the male emperor tamarin is the primary care taker. With the exception of nursing, the babies will have a solid grip on him at all times until they are about 70-days-old. Older sister Cadeau, born in December 2014, is trusted to help with the infants for short periods of time, giving dad a much needed break.