Protester sets fire to American flag, District Attorney's Office evaluating this case for charges


MILWAUKEE -- A protester burned an American flag in the street outside the Milwaukee Theatre, as Republican presidential candidates took the stage for the fourth presidential debate on Tuesday, November 10th. It's the way that protester treated the flag, and how Milwaukee police officers responded that was generating a lot of attention after the incident.

On Tuesday night, as Republicans jockeyed for the opportunity to lead our country, hundreds of protesters filled the streets of downtown Milwaukee.

"Forget America. They don't care about us at all," a protester said.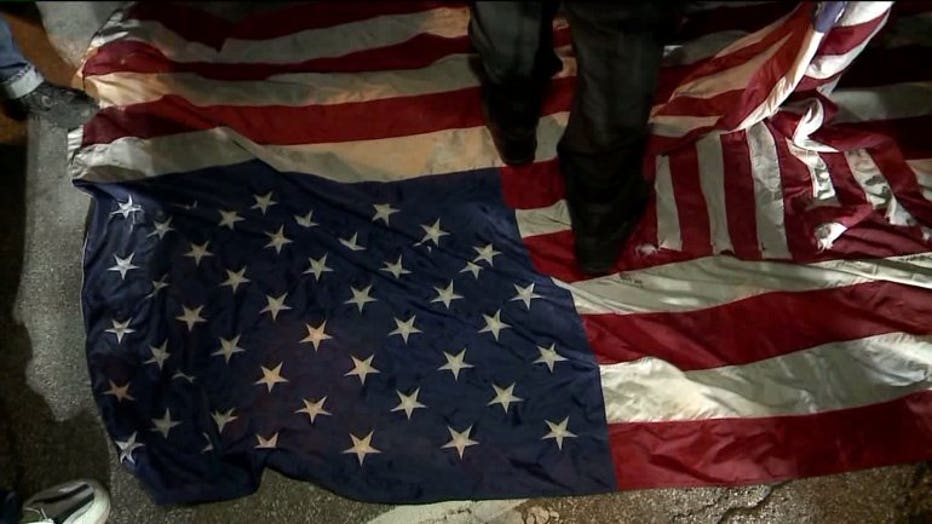 Protester walks on American flag


A pair of protesters walked back and forth over an American flag before one of them lit the flag on fire.

Police rushed in to extinguish the flames.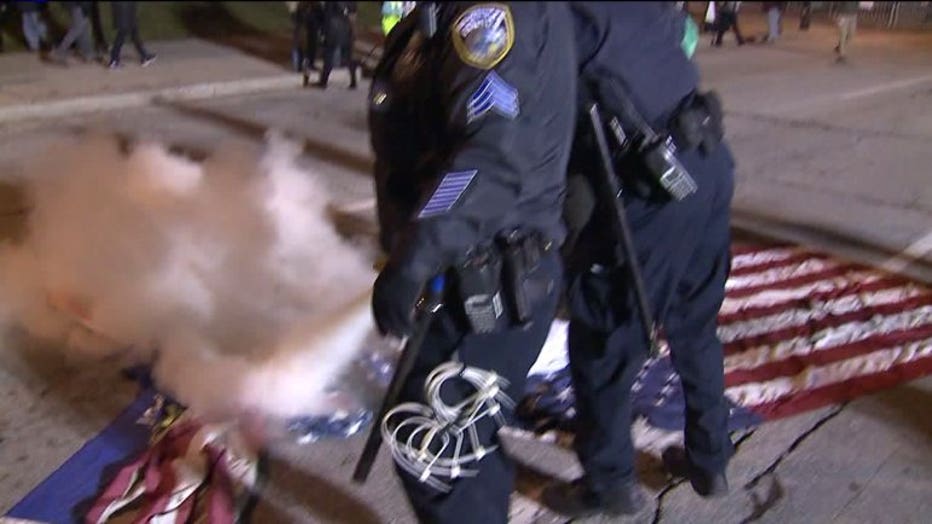 Milwaukee police officers extinguish burning flag


"Setting fire to a flag is protected speech. The challenge is what's the venue in which you choose to do that? I would assert setting fire to something in the middle of a crowd of people is an inherently dangerous act. We will bring those charges forward," Milwaukee Police Chief Ed Flynn said Wednesday.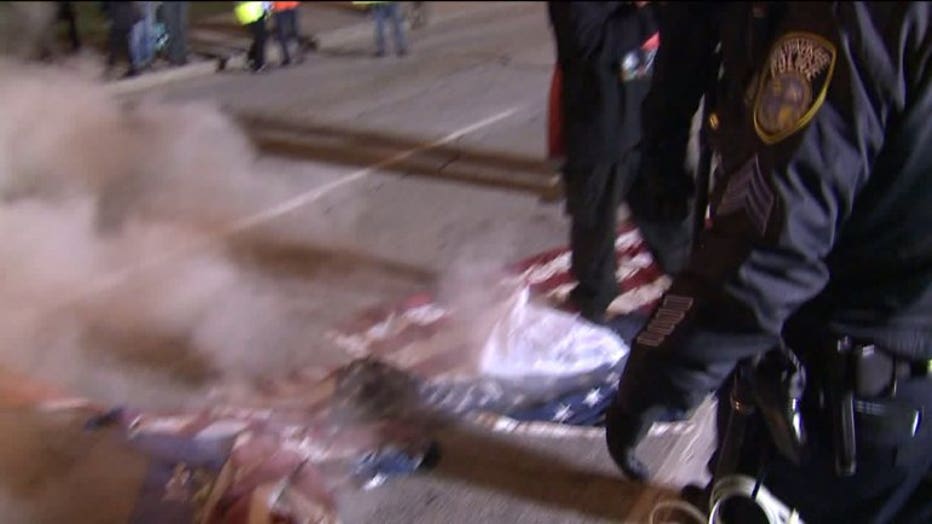 Milwaukee police officers extinguish burning flag


After putting the fire out, officers then respectfully folded the flag, before setting it aside for evidence.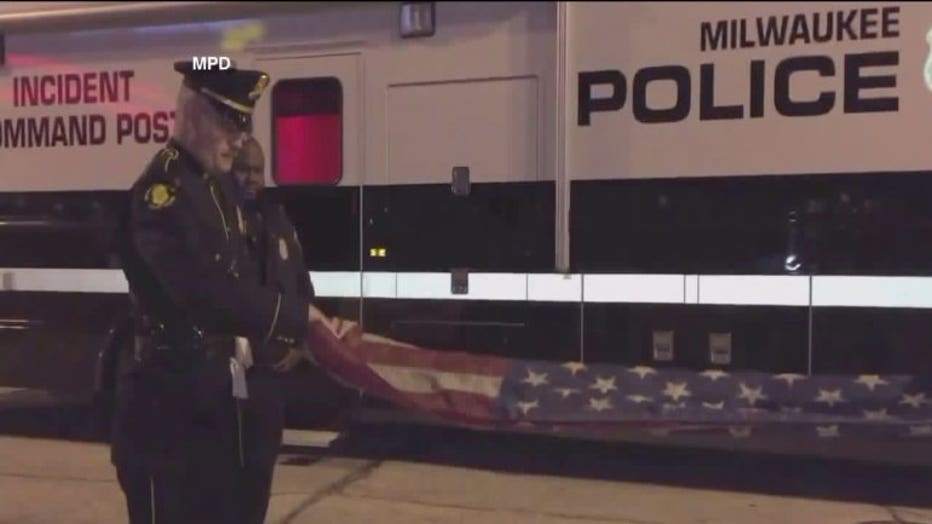 Milwaukee police officers fold burned flag




The incident has gone viral -- and Senator Lena Taylor (D-Milwaukee) found herself wrongly accused of condoning the protesters' behavior.

"It has been completely taken out of context," Senator Taylor said.

Senator Taylor was on her way to the press staging area for an interview on Tuesday night, when she spotted the crowds of protesters.

"I took pictures of all of the different protesters," Senator Taylor said.

She posted several pictures to her Facebook page -- including one of a man standing on the flag. She did not post a caption.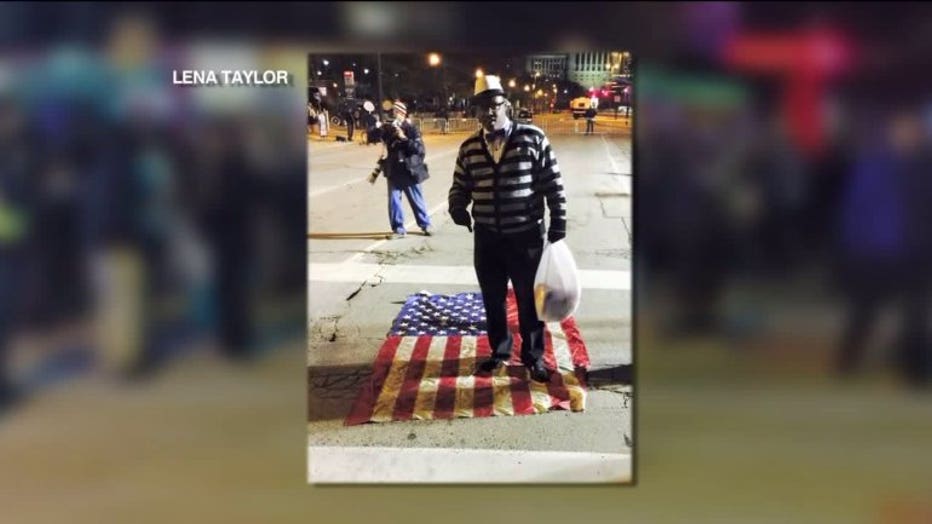 Photo posted by Senator Lena Taylor


"Someone then took a photo and went and hijacked it and suggested that I just posted that and that I was condoning that behavior. That's the furthest thing from the truth. I never condoned the behavior," Senator Taylor said.

She says the burning of the flag happened after she left, and says she didn't learn of it until much later.

"I was not aware of that and I would not do that myself," Senator Taylor said.

Taylor says she tries to regularly post photos from her experiences as a legislator.

On Tuesday night, she also shared pictures from her walk into the building and her interview.

Chief Flynn says the man who lit the flag on fire has been convicted of arson in the past. He says the Milwaukee County District Attorney's Office will be evaluating this case.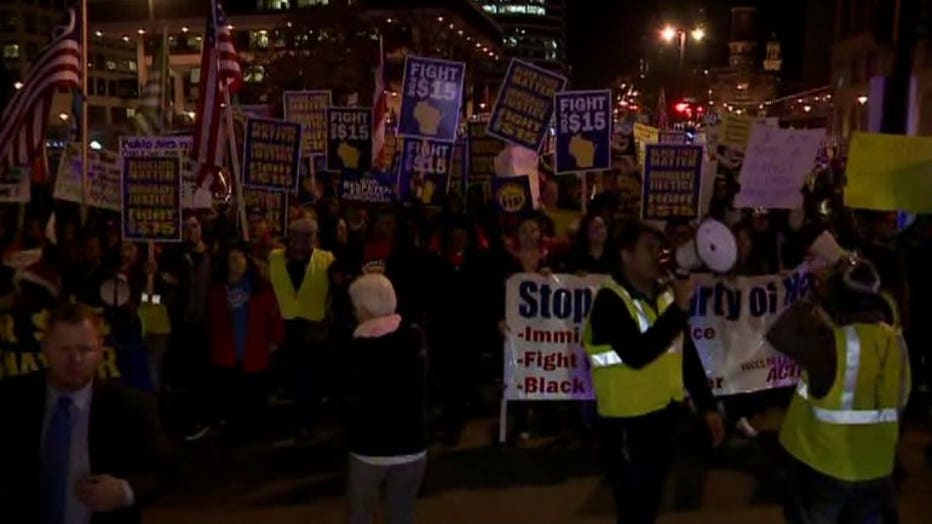 Protests in Milwaukee during GOP debate