Project Clean and Green: Crews will pick up your excess household debris FOR FREE in Milwaukee
MILWAUKEE -- Ready to take care of some spring cleaning? It's time once again for the City of Milwaukee's "Project Clean & Green" program. Crews will begin picking up excess household debris FOR FREE on April 17th.

According to a release from city officials, this program will take place from April 17th through June 5th.

Here's how it works:

If you live in the City of Milwaukee, you are assigned to one of seven Project Clean & Green zones. Pickup for "Zone 1" will take place beginning April 17th. When it's time for your pickup, you're encouraged to set out unwanted items on your regular garbage collection day. That includes things like unwanted furniture, mattresses, household items, up to five tires, and up to two cubic yards of tree trimmings, leaves, yard and garden waste. These items should be placed at your regular garbage collection point -- the curb or alley line.

Things that WILL NOT be picked up include: appliances, TVs and other electronics, construction debris, paint and paint thinner, motor oil and other hazardous waste. These items can be taken to one of two "City Drop Off Centers" for proper disposal.

Normally, pickup of these items costs $50 to $150.

City officials say this program is "designed to foster neighborhood pride through coordinated pickup of excess household debris, street and alley sweeping, nuisance inspections, graffiti removal and other neighborhood beautification activities."

Pickup is assigned as follows: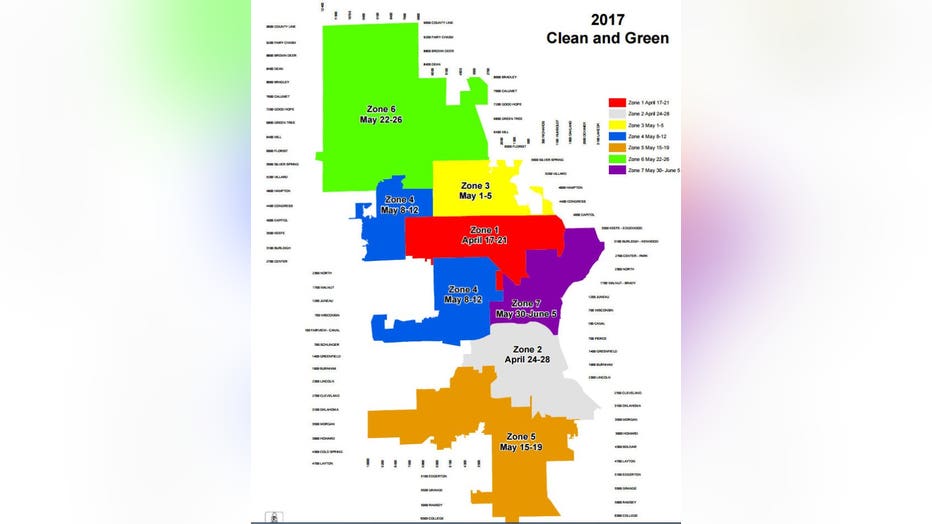 CLICK HERE to learn much more about Project Clean & Green.