Post-tropical cyclone: Matthew no longer a hurricane, but still just as dangerous
CHARLESTON, S.C.  — Matthew, the deadly storm that's spread misery from the Caribbean to the Carolinas, is no longer a hurricane. But even as it heads out to sea, the storm is causing serious problems for the southeastern United States.

North Carolina is feeling the brunt. The eastern part of the state will deal with devastating flooding for several days as rivers top their banks.

One thousand people in North Carolina have been rescued, some in dramatic helicopter operations, and 3,000 people are still living in shelters, authorities said Sunday. More than 700,000 people still lack electricity.

"Hurricane Matthew may be off the map, but it is still with us," North Carolina Pat McCrory said Sunday.

As of 5 p.m. ET Sunday Matthew was about 200 miles east of Cape Hatteras, North Carolina, and heading east at 15 mph.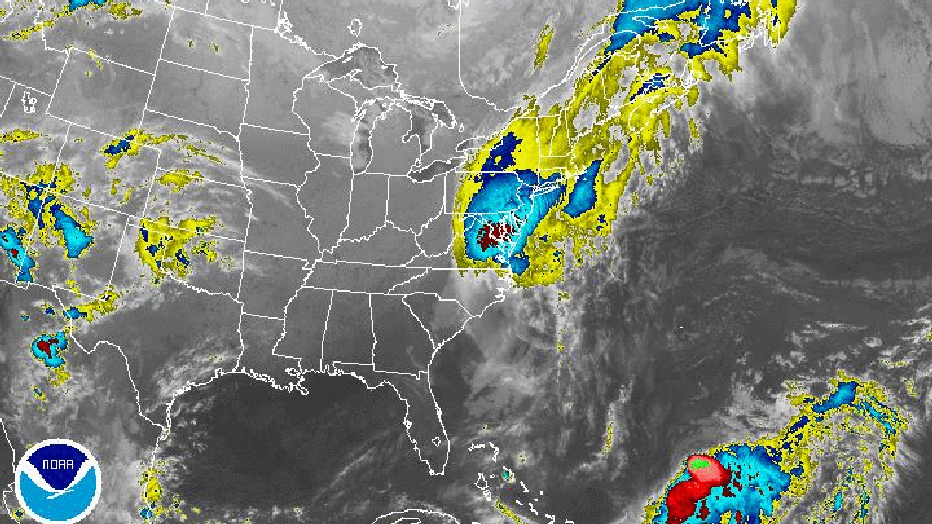 The latest

• The National Hurricane Center says Matthew is no longer a hurricane and is now considered a post-tropical cyclone. Despite its new title, it's still packing maximum sustained winds of 75 mph (120 kph) -- the same as a Category 1 hurricane, forecasters said.

Matthew's only change is in its "core structure," hence the change to a cyclone, CNN meteorologist Allison Chinchar said. However, she warned, the change in name does not mean it's any less dangerous.

"It's still packing the same hurricane-force winds and potential for flooding and is still as deadly as a hurricane," she said.

• Matthew killed at least 17 people in four states -- seven in North Carolina, four in Florida, three in Georgia and three in South Carolina, authorities said.

• Nearly 1,000 people have been rescued in North Carolina after Matthew battered the eastern part of the state. That number includes 701 rescued in Cumberland County alone, authorities said Sunday. The number is expected to rise as people remain trapped in their homes, authorities said. Four people remain missing in Cumberland County.

• City officials in Norfolk and Virginia Beach, Virginia, declared a local state of emergency. Officials in both cities issued statements urging citizens to stay off roads and opened emergency shelters.

• The storm has killed hundreds in the Caribbean, almost entirely in Haiti. More than 330 people died in Haiti, according to the nation's Civil Protection Service.

Others reported much higher deaths. A count by Reuters, based on information from local civil protection officials, puts the death toll in Haiti at well over 800. Four deaths were reported in the Dominican Republic and one in St. Vincent and the Grenadines.

• President Obama, speaking Sunday at an event for an Illinois candidate, said people affected by the storm will receive the aid they need. "There's been a really serious hurricane," the President said. "People were hit. They weren't hit as directly as we had feared but it has left a lot of destruction in its wake."

Out to sea

Although it's slowly moving out into the Atlantic, Matthew will continue to lash eastern North Carolina with heavy rainfall and strong winds Sunday, and as a result massive flooding will continue to plague that part of the state, CNN meteorologist Jennifer Varian said.

But these will likely be the storm's last gasps. Forecasters say Matthew will die out in the Atlantic in about 48 hours, meaning it won't have a chance to loop back and hit land again as previously predicted.

"It's going to die off too quickly," said Chinchar. "It's going to go to the east and die off."

North Carolina

North Carolina's McCrory said the flooding -- aided by wind-driven storm surges of up to six feet -- is the state's big concern right now.

"We have major neighborhoods under water, (there) could be back roads where people were swept away," McCrory said during a news conference Sunday. Some of the rescues included people being pulled off of rooftops and a nurse found clinging to a tree in the flood waters.

McCrory said 400 buildings flooded in Lumberton, and authorities are forecasting 300 buildings in Greenville will flood. More than 1,000 people have been rescued in the state, he said. The Coast Guard deployed a helicopter to pluck eight people from rooftops in the town of Pinetops.

In Edgecombe County, the Tar River is expected to crest at 35.8 feet, more than 15 feet above flood stage. Mandatory evacuation orders were issued for the town of Princeville and for eastern portions of the town of Tarboro because of the flooding.

"It's just like Floyd," said Kim Denny, a county employee, referring to the impacts of Hurricane Floyd in 1999.

The governor said there are reports of a hotel in Southport that had to be abandoned because of a potential wall break, so 70 people were put into a shelter there. He also received a report that a pier at the seaside town of Oak Island had been damaged.

About 770,000 people are without power and 3,000 people are now in shelters, the governor said late Sunday on Twitter. Interstate 95, which traverses eastern North Carolina, is closed in three locations in the state.

One of the cities hardest hit by the flooding has been Fayetteville, where National Guard members waded through chest-high waters to save those stranded. Trees are down throughout the city.

Matthew's heavy rains caused two dams to be breached in North Carolina: the Lake Benson Dam near Raleigh and a dam near Lumberton.

The problems won't ease soon. "This is a prolonged event," North Carolina Emergency Management said on Twitter.

Flooding in Georgia, South Carolina

South Carolina Gov. Nikki Haley said Sunday that evacuation orders had been lifted in Charleston, Dorchester, Berkeley and Colleton counties. But evacuation orders remain in Beaufort, Georgetown, Horry and Jasper counties.

Three people died In South Carolina, David L. Outlaw, 66, was found pinned beneath his wheelchair in standing water at a nursing facility's courtyard. The cause of death was determined to be asphyxiation (drowning), Richland County Coroner Gary Watts said. In Florence County, Deputy Coroner Bo Myers said bodies were found in vehicles in Florence and Pamplico. Autopsies are pending, he said.

Officials in the state are dealing with more than just floodwaters in Matthew's wake. A large fire ripped through several beachfront condos and homes in North Myrtle Beach Saturday night. The area had been evacuated in advance of Hurricane Matthew, so officials believe the buildings were empty when the fire hit, according to CNN affiliate WPDE.

Ordnance disposal teams were sent to Folly Beach, South Carolina, on Sunday morning after a beach walker discovered old military ordnance washed up on the beach, Andrew Gilreath, city director of public safety, told CNN. Officials told CNN affiliate WCSC the ordnance appeared to be Civil War cannonballs.

The storm left more than 2 million utility customers without power Saturday night in South Carolina (833,000), Florida (673,000), North Carolina (457,000) and Georgia (276,000).

In the coastal Georgia city of Savannah, Sue Alice Walker, 85, said she was sleeping in her house when she awoke to find 3 inches of water flowing inside.

"First I saw it in the living room, then in the kitchen, and then last it came in my son's room," she told CNN's Sara Ganim, adding that she spent the rest of the night and much of Saturday morning mopping and shoveling the water into buckets.

Storm surges sent water spilling into Myrtle Beach's streets Saturday before the storm's center arrived, video posted by CNN affiliate WPDE showed.

"I'm going to ask for patience. ... Do not plan to go home," Haley said, asserting that driving conditions weren't safe.

A Tybee Island resident described the moment when the storm hit his home.

"As nightfall hit the winds increased and it was just constant just constant wind," the unidentified man told CNN. "All of our windows got immediately blown out. I lost power. All the fencing around my home went down like matchsticks."

Florida

In Florida, Matthew left a trail of destruction.

Florida Gov. Rick Scott took a tour of some it Sunday, taking an aerial tour around Duval County and surveying damage to a beach near Jacksonville.

Scott said that the damage he saw -- beach erosion and washed out roads -- was "unbelievable," but he was glad Matthew stayed largely off of Florida's shores.

"If it had a direct impact hit, it would have been a lot worse for our families," he told CNN affiliate WJAX.

Scott said about 132,000 homes are without power right now, but the cleanup is proceeding quickly in areas hit by the storm. His goal is to get most schools and businesses open on Monday, he said.

During the storm water rushed through streets, making roadways look more like rivers in parts of Jacksonville, Merritt Island, Fleming Island and other Florida communities.

Florida struggled with the rising water, rain and strong winds as meteorologists said the storm surge was more than 4 feet in some areas.

Jacksonville was not battered as heavily as initially feared. But several communities nearby received extensive damage with water surging down some streets, and massive trees toppled over.

Part of the Jacksonville Beach Pier washed away Friday morning, according to CNN affiliate WFOX/WJAX. The original pier was washed away during Hurricane Floyd and rebuilt a few years later, the station said.