Police say they acted appropriately in releasing Jaren Kuester
WAUKESHA COUNTY (WITI) -- Waukesha police say they acted appropriately in releasing 31-year-old Jaren Kuester on bail shortly before he is accused of driving to Lafayette County and killing three people.

Waukesha police say Kuester was arrested on a warrant after an incident at HAWS -- the Humane Society in Waukesha. They say Kuester dropped off a dead dog, and came back two weeks later looking for it.

When Kuester found out the dog had been cremated, he is accused of threatening workers there.

Police say Kuester was released on bail, and that's when he drove to Lafayette County.

"The officers didn't have a complaint. The officers talked with him, he had mental illness, but again, he was functioning in society with that mental illness. Nothing that was an emergency as far as a threat to himself or others that could be determined at the time they had contact," Waukesha Police Captain Ron Oremus said.

Kuester faces the following charges: three counts of first degree intentional homicide, burglary of a building or dwelling and operating a motor vehicle without the owner's consent.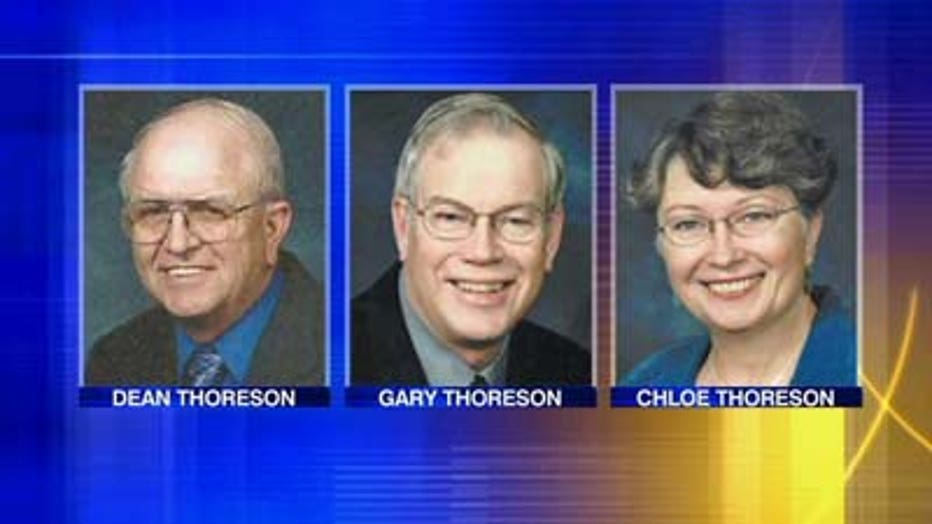 Kuester has been charged in the death of 70-year-old Gary Thoreson, his wife, 66-year-old Chloe Thoreson and his brother, 76-year-old Dean Thoreson. The three were found dead inside a home in the 9000 block of Phillipine Road in Wiota Township in rural South Wayne, Wisconsin.

The criminal complaint indicates officers first arrived at the scene when a neighbor called to report a suspicious vehicle near the Thoreson home. Near the vehicle, neighbors also found a jail bracelet belonging to Kuester. Police were able to confirm the vehicle in question belonged to Kuester.

Later, officials received a 911 call from an Everett Thoreson, who had called to report a deceased person inside the Thoreson home in the Town of Wiota in Lafayette County.

When police entered the home, the criminal complaint indicates they discovered the bodies of Gary and Chloe Thoreson in a downstairs basement bathroom. A third body, identified as Dean Thoreson was found on the main floor of the home at the top of the steps leading from to the main floor of the home, from the basement level.

The criminal complaint in the case indicates police spoke with Dean Thoreson's wife, Rose, who said Dean would check on Gary and Chloe's home when they were out-of-town. Rose said she became concerned when Dean did not return home — and eventually reported him as missing.

Later, the criminal complaint indicates Rose spoke with Everett Thoreson, Gary and Chloe about Dean being missing. Gary and Chloe had apparently just returned from a trip, and were at Everett's home. The criminal complaint in the case says Gary and Chloe indicated they were going to go home and get their ATVs, to see if they could locate Dean.

Kuester was discovered at the Willow Park Apartment complex on Delafield Street in Waukesha on April 28th.

The criminal complaint indicates Kuester had several small cuts and what appeared to be dried blood on the bottoms and sides of his feet.

Officials discovered a truck, registered to the "Thoreson brothers," via the Wisconsin DOT. Rose Thoreson, Dean's wife, reported he had been driving the F150 truck prior to his disappearance.

The criminal complaint indicates police spoke with Kuester's father, who said Kuester was being treated for mental health issues, and was just bailed out of jail by his employer on April 26th.

That employer, James Kuester, reportedly gave Jaren a ride to pick up his vehicle. The criminal complaint says later, Jaren showed up at James Kuester's home, in a confused state — saying he had hurt three people.

A short time later, Jaren Kuester was arrested by Waukesha police.

When interviewed by police, the criminal complaint indicates Jaren told them "his life was crashing and burning." He said he got in his vehicle and just started driving — and had abandoned his car and took off his clothing as he believed he was being followed.

Then, the criminal complaint indicates Kuester told officials he ran through the woods, before arriving at the Thoreson home. Kuester told officials he broke into the home because he was cold and did not believe anyone was home. Inside the home, the complaint indicates Kuester got food and clothing — before searching the house for valuables.

Later, the criminal complaint indicates Kuester told police a man entered the home, and Kuester met him at the top of the stairs, where he killed him with a fireplace poker. This man was later identified as Dean Thoreson.

The complaint indicates Kuester told police he then heard a man and a women enter the home (Gary and Chloe Thoreson). Kuester told police he killed both of them with a fireplace poker and then stabbed the woman. Kuester told police the man hit him before he was killed — according to the complaint.

The complaint says Kuester removed money from the man's wallet, drove their car into the garage and shut the door — before deciding he needed to leave the home. He then decided to take the F150 — and ended up at his father's house. It was there that he was arrested.

The complaint says a doctor reported Dean and Gary Thoreson died of multiple blunt force injuries to the neck and head — while Chloe Thoreson died of multiple blunt force trauma to the head and neck, and multiple stab wounds.