Police: Protester arrested for disorderly conduct as Hamilton supporters fill City Hall


MILWAUKEE (WITI) -- It has been more than seven months since Dontre Hamilton was shot and killed by a Milwaukee police officer in Red Arrow Park in downtown Milwaukee -- and the Milwaukee branch of the NAACP is the latest to call on the Milwaukee County District Attorney's Office to make its decision in the case. This, as Hamilton supporters staged another rally Tuesday evening, December 9th. Milwaukee police say one protester was arrested.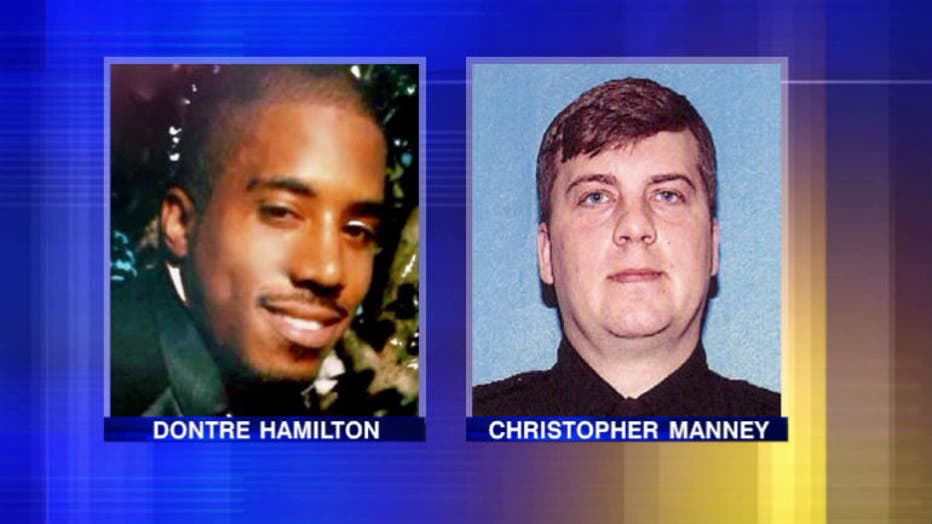 Since the shooting on April 30th, Dontre Hamilton's family members and other supporters have been demonstrating, calling on the Milwaukee County District Attorney's Office to issue criminal charges against former Milwaukee Police Officer Christopher Manney, terminated for his handling of Dontre Hamilton that day. On Monday night, December 8th, the group took their message to District Attorney John Chisholm's home in Bay View. This, as the Milwaukee branch of the NAACP says it's time for the District Attorney's Office to make a decision.

"I don't think it's appropriate for people to go to his home," Mayor Barrett said of Monday night's demonstration.

Those who have been protesting say they're fed up and frustrated with the length of time that has passed since the shooting, and the fact that the District Attorney's Office still hasn't issued a decision as to whether charges should be filed against Christopher Manney. Those feelings of frustration have been heightened by two recent cases -- grand juries in Ferguson, Missouri and New York declined to indict police officers in the deaths of Michael Brown and Eric Garner.

On Tuesday, December 9th, protesters marched from the University of Wisconsin-Milwaukee to Red Arrow Park. College students have joined Dontre Hamilton's family, the African-American community and the Milwaukee branch of the NAACP in calling on the District Attorney's Office to make its decision.

District Attorney John Chisholm has said he'll make a decision only after he receives reports from a local law enforcement expert, a national expert in police shootings and the FBI.

NAACP President-elect Fred Royal says he met with Chisholm on Monday.

"He's stating that he can't hurry the process because it's not within his control," Royal said.

When it comes to deaths involving law enforcement officers, a new law in Wisconsin requires independent investigators provide a report in an "expeditious manner." The state Department of Justice's Division of Criminal Investigation delivered its report to Chisholm three months after the shooting.

"It gives the impression that the District Attorney's Office is prolonging this process for whatever reason, but it doesn't give a good trust amongst the community. It actually heightens the angst and frustration of the community," Royal said.

Since Dontre Hamilton was shot and killed, Manney was terminated from the Milwaukee Police Department, and the two major national cases out of Ferguson and New York sparked a wave of protests across the country over police use of force.

"What has occurred nationally has heightened what's going on locally because of the similarities.  We have another African-American male that is shot down, that is dead because of an interaction with law enforcement," Royal said.

A District Attorney's Office spokesperson told FOX6 News Chisholm wouldn't make a statement Tuesday.

In the past, Chisholm has said he doesn't want to rush the decision, and he doesn't have a timeline as far as when a decision could come.

In 129 years, no police officer in Wisconsin has been found to have been at fault in an officer-involved death.




Dontre Hamilton supporters met on Tuesday at 4:00 p.m. at Red Arrow Park. From there, they marched to City Hall, where they were demanding to speak with Mayor Tom Barrett.



Police officers joined protesters inside City Hall.

"We know that they're here to stop us from going forth. It shows, you know, that they're against us," Dontre Hamilton's brother Nate Hamilton said.

Mayor Barrett's Office issued this statement to FOX6 News:

"Mayor Barrett is not in the building. After an afternoon-long meeting for his infant mortality initiative,  Mayor Barrett went on to his evening commitments.  He has met with those who have gathered at City Hall in the past including members of the Hamilton family."

Protesters who chose to leave City Hall Tuesday night were not allowed to return.

Milwaukee police say one protester, a 29-year-old Milwaukee man was arrested for disorderly conduct Tuesday evening.




A statement to FOX6 News reads: "MPD again demonstrated restraint in its facilitation of the protests."

All of the protesters left City Hall shortly before 9:00 p.m. This, after the Hamilton family was able to speak with Mayor Barrett over the phone. They're working to set up an appointment for Wednesday.

The arrest Tuesday evening comes after 14 protesters were arrested this past weekend after a "Milwaukee Meets Ferguson" demonstration, organized by Occupy the Hood Milwaukee veered onto I-794.

CLICK HERE to learn more about the Dontre Hamilton case via FOX6Now.com.

CLICK HERE to listen to a speech Chief Flynn made to recruits sworn in this week about the challenges Milwaukee police officers face.

Monitor FOX6 News and FOX6Now.com for updates on this story.