Police: 16-year-old student stabbed officer who then shot the student at Oshkosh West HS



OSHKOSH -- An Oshkosh Police Department resource officer shot a 16-year-old student Tuesday, Dec. 3 after the boy stabbed him in the officer's office at Oshkosh West High School. It happened one day after a similar incident at Waukesha South High School in Waukesha.

According to Oshkosh Police Chief Dean Smith, officers responded at 9:14 a.m., approximately two minutes after they were called, and immediately entered the school. Chief Smith said the officer and the student got into an "altercation" in the officer's office, the student stabbed the officer with an edged weapon — Smith declined to elaborate — and the officer opened fire with his 9 mm pistol, hitting the student once. It's unclear how many times the officer may have fired.

"Today's tragic event shows that trained school resource officers can save lives," Oshkosh Superintendent Vickie Cartwright said at a news conference.




Chief Smith said the school was secured by 11:18 a.m.

"This is a tragedy," said Chief Smith. "This is something that no school district, no city, no community wants to face, but together, we're going to come through. We're going to make everybody whole."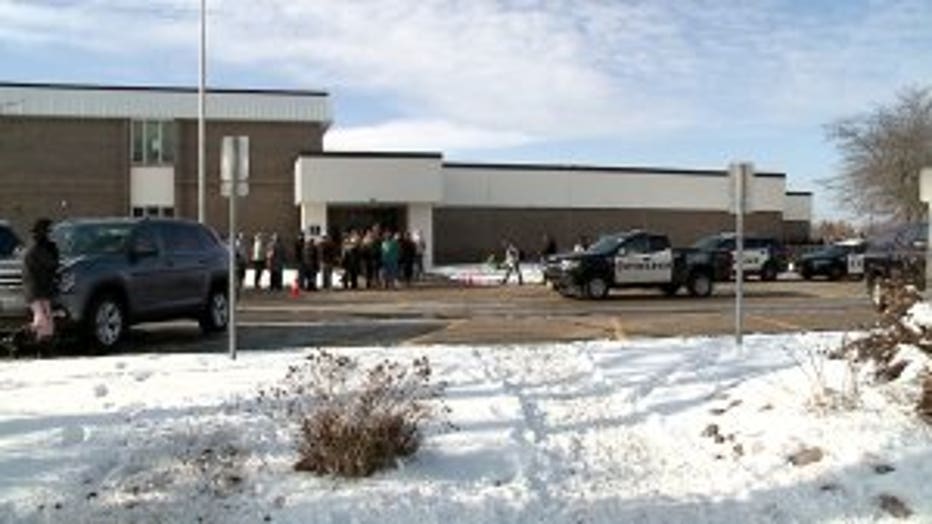 The school was evacuated and students were taken to nearby Perry Tipler Middle School, where they were reunited with their parents.

"It was freaky," said Jorge Ramirez, Oshkosh West student. "I was in English and it was just, it was scary because you didn't know where it was in the school."

Ramirez said he felt some comfort when he was reunited with his sister.

"There was still kids in the school, still locked down, and I messaged them and I was like, 'What's going on?'" said Ramirez. "They were like, 'We heard gunshots,' and it was freaky."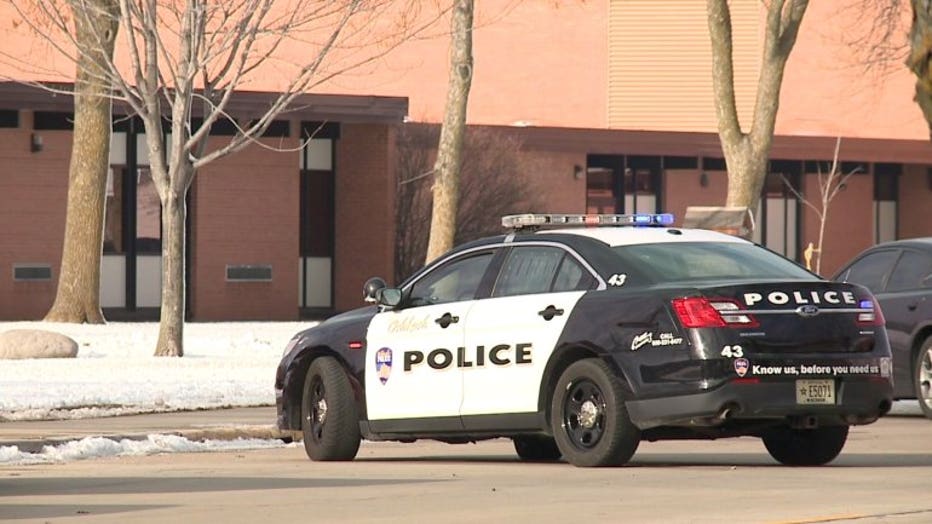 "Everybody's scared and worried and just want to be with their kids," said Tehya Freudeenstein, older sister of an Oshkosh West student.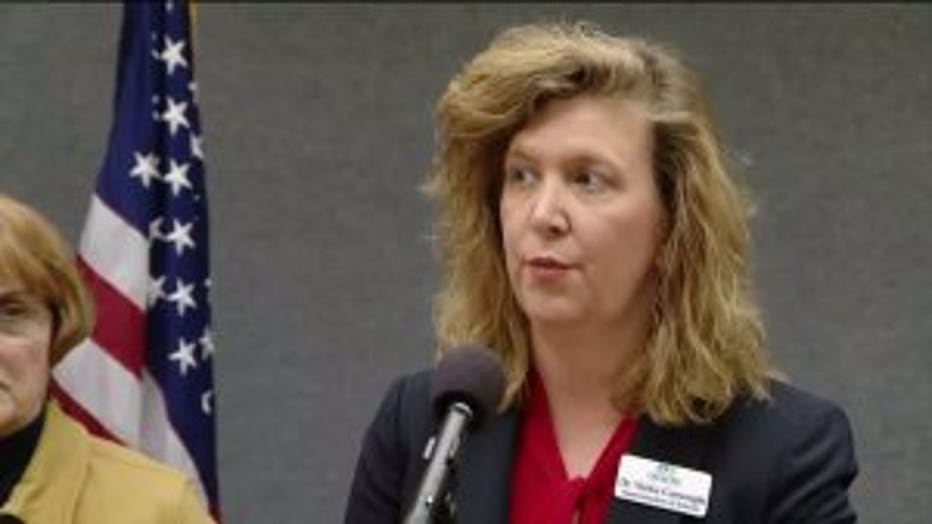 Superintendent Cartwright said school administrators followed ALICE training procedures in responding to the incident.

"Our students and staff followed our emergency protocols, including our ALICE protocols of alert, lockdown, inform, counter, and evacuate," Cartwright said.

Oshkosh North HS incident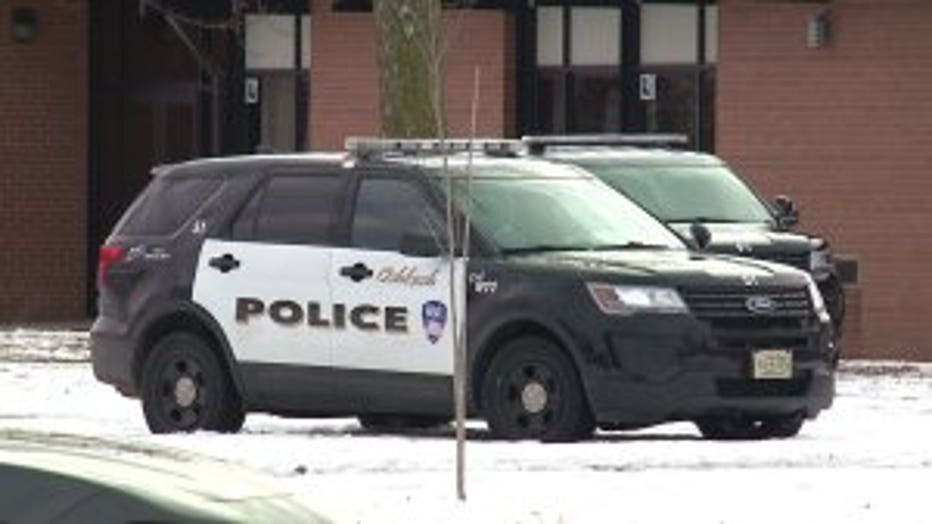 On Tuesday afternoon, Oshkosh police said they were investigating a comment written on the Oshkosh Police Department's Facebook page under the post about the officer-involved shooting that occurred at Oshkosh West on Tuesday morning -- implying a possible threat towards Oshkosh North High School.

Police said an investigation led them to believe students were not in danger, and this comment was not meant to be a threat against Oshkosh North High school.

Classes were canceled at all schools in the district for Wednesday, Dec. 4 and counseling services were made available for students in need.

The Wisconsin Department of Justice's Division of Criminal Investigation was tasked with leading the investigation into the shooting Tuesday morning.


CLICK HERE to read a letter to parents from Oshkosh Area School District
Waukesha South/North incidents

On Monday, Dec. 2, a resource officer at Waukesha South High School helped clear students out of a classroom after a 17-year-old student pointed a gun — it turned out to be a pellet gun — at another student's head. Another police officer entered the room and shot the student. No one in either incident suffered life-threatening injuries.

Police said the student apparently grew angry with another student and pointed the pellet gun at that student.

On Monday afternoon, it was reported that a Waukesha North High School student was in possession of a firearm, and a school resource officer believed there was a possibility that student was inside the school.

The school was placed on lockdown and searched.

A 15-year-old boy was located in a residence on Gascoigne Drive in the City of Waukesha -- and was taken into custody.

Role of teachers, police in schools

The debate about the role of armed teachers or police in schools has been a constant in the wake of school shootings across the country. But rarely have armed resource officers been able to prevent a shooting.

An estimated 43% of public schools have armed officers on campus, according to a survey by the National Center for Education Statistics. The survey covered the 2015-2016 school year, the most recent year surveyed. That figure doesn't include schools with armed private security guards or teachers and administrators who carry guns.

The U.S. Department of Justice has adopted best practices for resource officers from the National Association of School Resources. Those guidelines call for resource officers to serve as police officers as well as teachers and mentors.

NASRO recommends such officers have three years of experience and says they should be willing to engage with students and have excellent communication skills. They should complete a school-based policing course before being assigned to the beat and complete an advanced school policing course NASRO provides within a year of completing the basic course. They also should complete bi-annual training on how lone officers should handle threats and assailants.

No Wisconsin laws spell out any special requirements for resource officers or restrictions on their weapons. But the state Department of Justice has adopted best practices similar to NASRO's recommendations, calling for officers to work with schools on the extent of their duties, the skills they need, and where school discipline ends and illegal conduct begins. The state guidelines also suggest officers receive training in child development, restraint policies and de-escalation strategies.

Response to school shootings

As school shootings have become more frequent, gun rights advocates and gun control advocates have sparred over how best to respond to them. Supporters of gun restrictions have argued that putting more guns in schools does little to prevent shootings and just puts students at greater risk.

Last year, for example, armed guards at three high-profile school shootings — Marshall County High School in Benton, Kentucky; Majory Stoneman Douglas High School in Parkland, Florida; and Santa Fe High School in Texas — were unable to stop those shootings. In Parkland, the school's resource officer remained outside rather than enter the building to engage the shooter and try to stop it.

But gun-rights advocates believe having more armed educators and law enforcement in schools will help stop a shooter from going on a rampage.




Statements of reaction from officials

Senator Ron Johnson, R-Wisconsin

"The incidents at Waukesha South and Oshkosh West remind us that we do not possess the capability to completely prevent someone from bringing a weapon to school. We should all be thankful, however, that larger tragedies may well have been averted due to training, and the swift and courageous action of students, teachers, school administrators, and armed school resource officers. This confirms that action can — and should — be taken to mitigate harm and limit casualties when weapons are brought into schools.

"A recent report published by the Secret Service that studied 41 school shootings from 2008-2017 demonstrates that in every case, the shooter showed concerning behaviors prior to the attack. In addition, the Department of Homeland Security will soon go live with an internet clearinghouse of school safety best practices that school officials should be aware of and utilize. Let's not let anyone's vision of the 'perfect' solution prevent us from taking action that will do some good."

Governor Tony Evers

"What happened in Oshkosh today hits especially close to home for Kathy and I—two of our kids graduated from Oshkosh West when our family lived in Oshkosh, and our hearts go out to all of the folks at Oshkosh West and the Oshkosh community as they grapple with today's events."

"It's impossible to ignore the fact that in addition to today's officer-involved shooting at Oshkosh West, the Sparta School District is closed due to security threats, and that this happened just a day after we had another school shooting at Waukesha South. I said it yesterday and I'll say it again today—no kid should be afraid to go to school or be in the classroom, and no parent should be afraid to send their kid to school, either. The last two days tells us that we can't keep pretending that this only happens in other communities or in other states—it's happening here, too. We can't just accept that violence in our schools is a foregone conclusion, and we have to get to work to do everything we can to keep our kids and our communities safe."

Wisconsin Superintendent of Public Instruction Carolyn Stanford Taylor




"No words can express the anxiety and worry our parents, students, and staff must be feeling today. Violent incidents and threats against safety in our schools break my heart."




"Our schools have always been one of the safest places for our students, and I want that to always be the case. Schools train and prepare for threats and dangerous situations because of the unfortunate reality that this can happen anywhere. I wish this wasn't the case; we need to do more."




"I'm extending the resources of my agency to offer additional support during this time of need. I'm asking the Wisconsin Safe and Healthy Schools Center to provide whatever resources they can to the Oshkosh Area School District and the surrounding area. I will be looking into what we can accomplish with other state agencies to further address both the needs of our schools and the supports that can be provided."




"Our schools must be safe environments for our students and staff, and we are committed to working together to make sure of that."




Assembly Leader Gordon Hintz (D-Oshkosh)

"Less than 24 hours after the incident at Waukesha South High School, I am profoundly saddened to see my own friends, constituents, and neighbors having to come together to cope with an officer-involved shooting of a student at Oshkosh West. Our community is fortunate that no lives were lost today, and I am deeply appreciative of the staff and law enforcement who acted to keep our students safe.

"As an elected leader, every day I feel the urgency of a public that is looking for answers and deserves leadership from their government officials on reducing incidents like this. I reject the premise that students today must simply learn to live with the constant prospect of terror and violence when they attend school, or go about their lives in any other public space. In Wisconsin and across the country, we are deserving of leaders who are willing to step up and address this growing public health crisis."

Senator Dan Feyen (R-Fond du Lac)

"The safety and security of students and staff is one of my highest priorities. I am continuing to monitor this situation as it develops, the incident is being investigated by the State Department of Criminal Investigation. A student, armed with an unidentified weapon, confronted a school resource officer. The student and officer were both injured and transported to local hospitals. I am very thankful for the quick response from law enforcement at Oshkosh West High School."

Rep. Greta Neubauer (D-Racine)

"In less than 48 hours, Wisconsin students have been subjected to unimaginable terror in their schools," Neubauer said. "It is terrible and tragic that our students fear for their safety when they enter their classrooms each day. This cannot continue to be the status quo for our kids."

"As a legislator, I hear from constituents and people around our state who are looking for answers as to why this is happening in our schools, and for solutions to prevent future violence. We need to take urgent action to support gun safety in Wisconsin, and to provide students in crisis with the resources they need to keep themselves and their classmates safe."

"Thank you to the School Resource Officers who were able to intervene and prevent further violence in Waukesha and Oshkosh, and to the teachers and administrators who acted decisively to protect their students from danger."