PNC Milwaukee Marathon: $10 registration to run the Qdoba Burrito Mile Race
MILWAUKEE -- The PNC Milwaukee Marathon is more than just a race, it's a two-day event filled with fun for the whole family. Wednesday, October 4th, runners who want to take part in the Qdoba Burrito Mile race can sign up for just $10 until midnight.

According to a news release, the PNC Milwaukee Marathon lets you "pick your race and pick your pace," so runners for all ages and abilities can choose from: A Mile Race (October 14th), 5K Race, the new 10K Race, Half Marathon, and the Marathon -- which is a Boston Qualifier (all on October 15th).

The news release says the Pre-party and Fitness Expo will kick off the weekend's events at the Harley-Davidson Museum on Saturday, October 14th. The event will include food, vendors, and kids activities.

Families who want to enjoy a short run together can opt for the Mile Run on October 14th. Until Wednesday, October 4th at midnight, registration for the Mile Run is only $10, a savings of $20, and includes a finisher shirt for those who complete the race, goodie bag, pre- and post-race party access, and a free beer for participants over 21. Discount code at registration is "mile."

Feeling adventurous? Qdoba is sponsoring the Qdoba Burrito Mile Challenge. For $10, registration includes all of the above, PLUS a burrito to eat immediately before the race. If you complete the one-mile race successfully -- burrito in belly -- you'll get another coupon for another burrito to eat at a later date. Discount code at registration is "mile."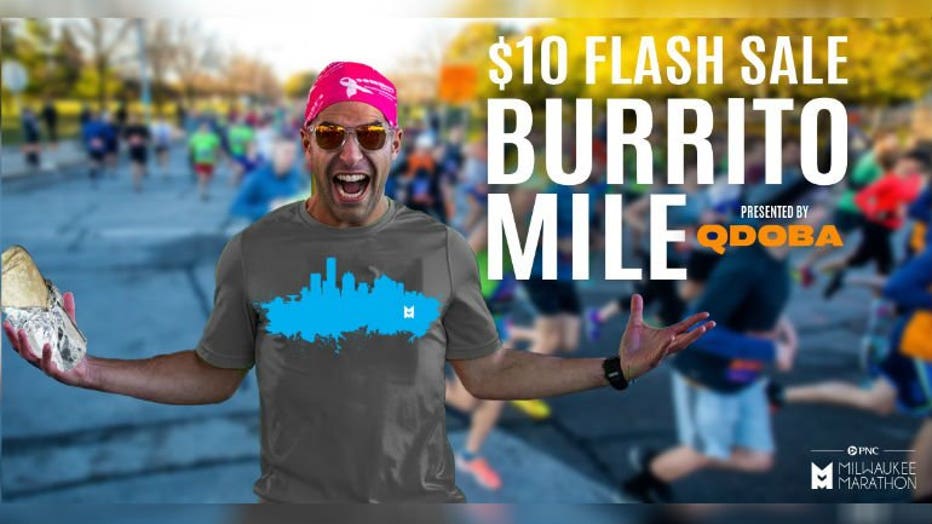 "What makes the PNC Milwaukee Marathon such a special event is the fact that it truly embraces the city and its many great neighborhoods," said President of ROC Productions, and producer of the Marathon, Joe Zimmerman. "The marathon and half-marathon routes in particular give runners and spectators a terrific overview of the city's distinctive streetscapes and buildings."

The Old World Third Street neighborhood (Mile 10 will feature a Lululemon cheer station and Spire Spin classes. Sherman Park Neighborhood (Mile 15) will feature breakfast and coffee to benefit Friends of Sherman Park as well as DJs, the Washington High School Band, and the Vincent High School Drum Line.

A total of 14 neighborhoods are participating and more activities are being added everyday, Zimmerman said.

"Runners and spectators will enjoy a huge range of food, fun, and music all along the route," said Zimmerman.

Folks who want to cheer on the marathon runners can take part in alternative activities, including Crew Classes hosted by Spire Fitness; family-friendly GoFitMobile bootcamp sessions; Urban Om Flow + Mindfulness sessions; Spire Fitness + Lululemon Pop-Up Rhythm Ride stations -- and many more.

The 27th Mile Finish Line Festival will be held on the grounds at Reed Street Yards, and will feature food trucks, Kids Zone, great race merchandise, live music, a runner recovery zone, VIP tent, contests and ice cold beverages.

For more information on the race and to register, CLICK HERE.