Pizzeria creates pizza box made out of pizza


NEW YORK CITY — It's a pizza lover's dream come true — a pizza box made out of 100 percent pizza.

Vinnie's Pizzeria in Brooklyn unveiled "the pizza box pizza" Wednesday on social media. It's a traditional New York-style pepperoni pie surrounded by a square pizza that serves as the "pizza box."

"No waste, 100% pizza and 100% delicious," the pizza parlor wrote one Twitter.




Owner Sean Berthiaume told PIX11 News he came up with the idea right before the lunch rush when business at the restaurant was slow. Out of pure boredom, he decided to experiment and thought about how he was tired of seeing people eat their pizza out of a cardboard box, then throwing the greasy carton away. What a waste!

Berthiaume said he thought about an edible box — a pure, delicious, square pie that not only served as a box, but food that you can eat and won't waste (if you don't throw it away).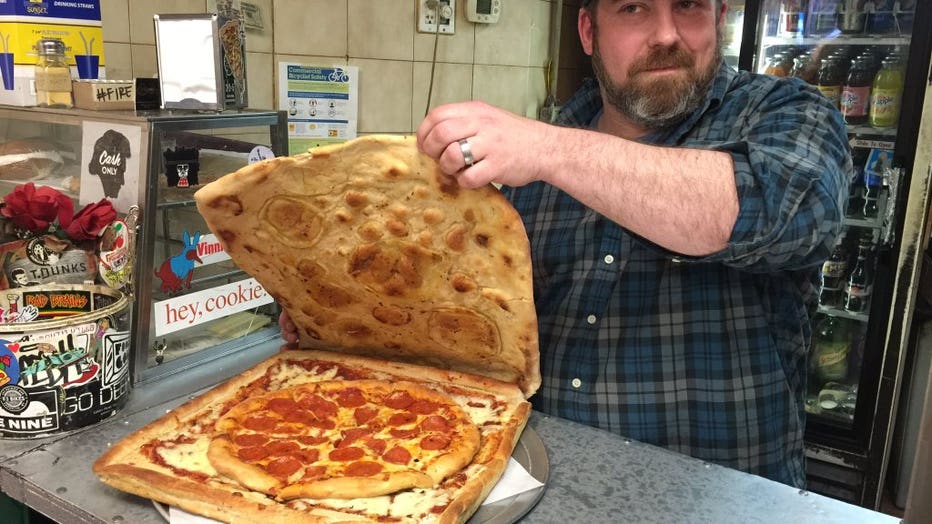 The pizza box pizza gives customers the option to eat the box and reduces cardboard waste. (Rick Boone/PIX11 News)


Getting your hands on a pizza box pizza is going to cost you some money. Each pizza box will cost $40.

And yes, you can have it delivered to your doorstep, but it's a process. Berthiaume prefers customers ordering the pizza box pizza pick it up at the store. This smells like a fast-growing cheesy food trend.

This wasn't the first time Berthiaume and Vinnie's Pizzeria made headlines. He created a pizza on top of a pizza last year that became a viral sensation. He sold hundreds of slices, dozens of pies and even appeared on the Jimmy Kimmel Show.