Penzeys Spices, 'Hamilton' the musical draw praise and criticism for anti-Trump stances


MILWAUKEE -- Supporters of President-elect Donald Trump are calling for a boycott of Wauwatosa-based Penzeys Spices  and the Broadway musical "Hamilton" after they took stances opposing the president-elect.

Bill Penzey, the owner of Penzeys Spices, said Trump's voters had committed a "racist act" by electing him president.

"The open embrace of racism by the Republican Party is now unleashing a wave of ugliness unseen in this country for decades," Bill Penzey wrote in his newsletter to those on his company's mailing list.

In a follow-up Facebook post titled "Cooking trumps racism," Penzey wrote of Republicans: "You really are a good bunch, but you just committed the biggest act of racism in American history since Wallace stood in the schoolhouse doorway 53 years ago. Make this right. Take ownership for what you have done and begin the pathway forward."



Bill Penzey did not return repeated requests for comment.

President-elect Trump's supporters said the company would lose business as a result of Bill Penzey's controversial posts.

"He doesn`t know me. He doesn`t know anybody that I know that had purchased from him. But we`re racist because we chose to vote for a person that in this country we have every right to do?" said Robin Moore, a Waukesha County Republican.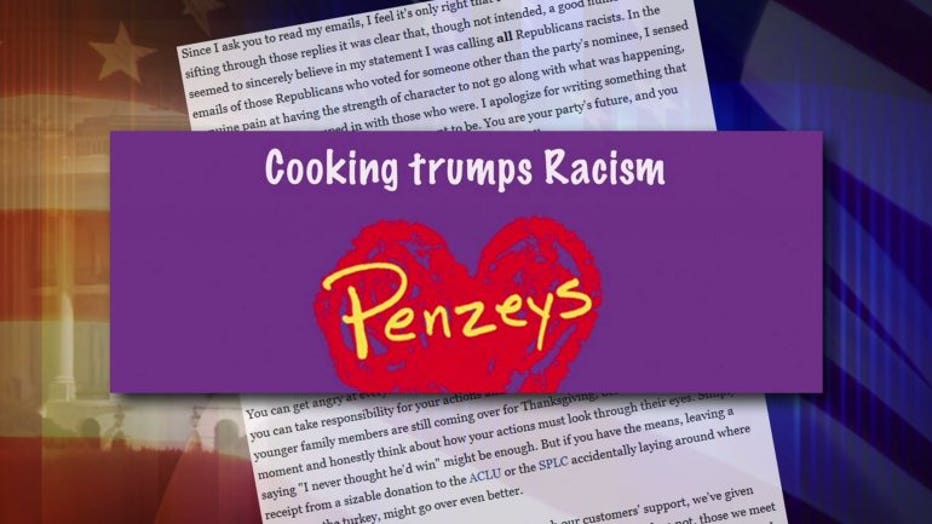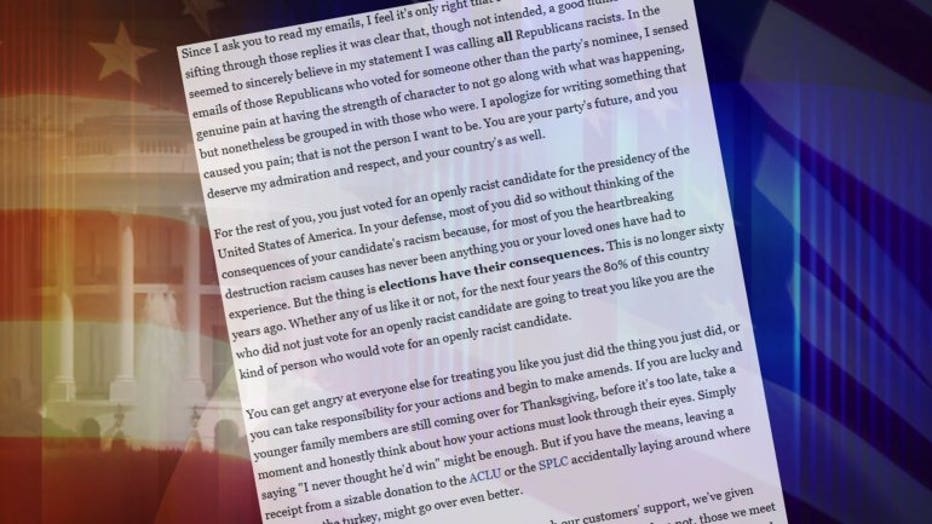 "He doesn't know what he's talking about," said Van Mobley, a support of President-elect Trump. "People have a right to (make political comments) but I don't think it's good business sense."

Thousands of people have commented and shared Penzey's post on Facebook. Many were positive, including one who said: "Thank you for having the courage of your convictions."

Others were opposed to Penzey's political stance, with one man writing, "Calling me a racist has cost you a customer."

Yet a Penzeys store in Brookfield, part of the Republican electoral stronghold of Waukesha County, remained busy on Sunday afternoon.

"Everybody has their opinion, and I think people should stand strong about what they think because it`s a democracy," said Cathy Stehr, as she left the Penzeys store with garlic she had purchased. Stehr said she opposed Mr. Trump in the election.

Bill Penzey has stirred controversy before. In 2014, he wrote that residents of Waukesha County had "fled west" to escape diversity in Milwaukee.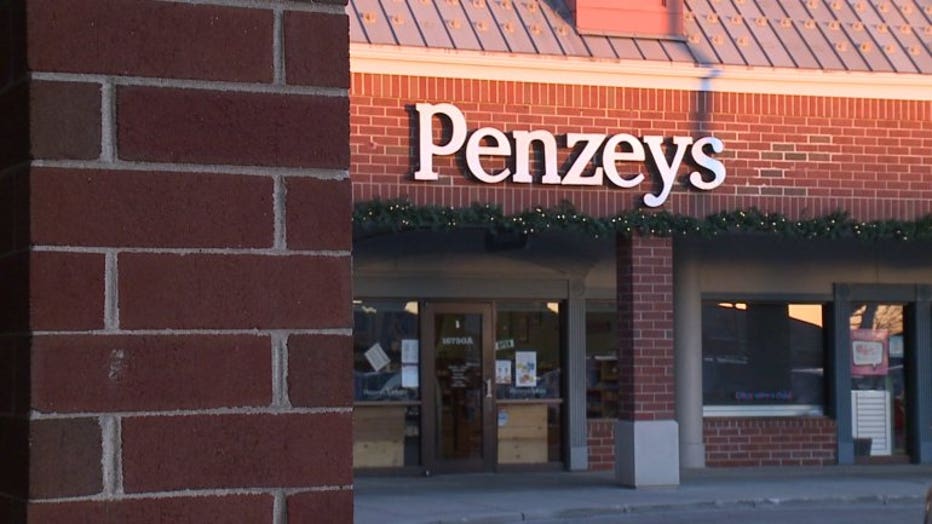 Meanwhile, President-elect Trump seemed to encourage a boycott of the hit Broadway musical Hamilton after cast members called out Vice President-elect Mike Pence late last week.

"The cast and producers of Hamilton, which I hear is highly overrated, should immediately apologize to Mike Pence for their terrible behavior," Trump tweeted on Sunday.

The Tony Award-winning musical is sold out.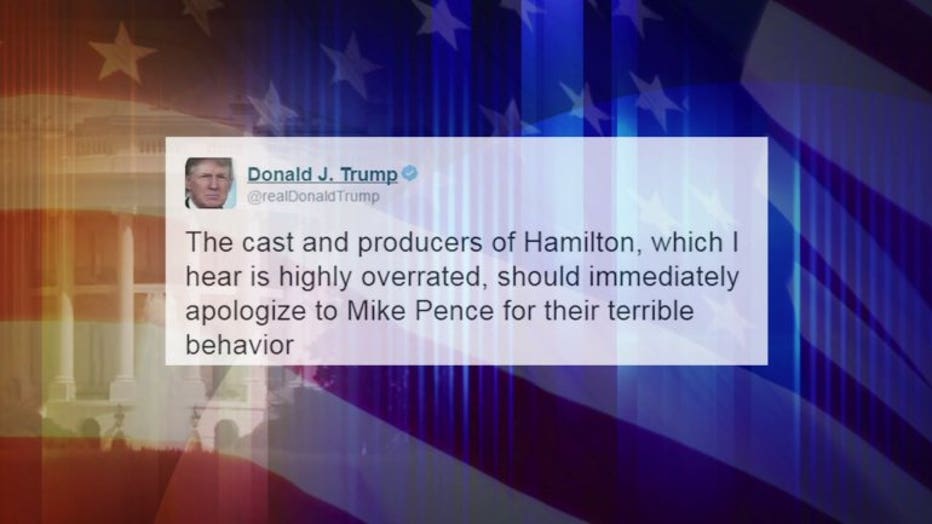 Pence received a smattering of boos and cheers from audience members when he entered a New York theater last week before the cast addressed him at the end of the musical.

"We sir, we are the diverse Americans who are alarmed and anxious that your new administration will not protect us," said Brandon Victor Dixon, who plays Vice President Aaron Burr on stage.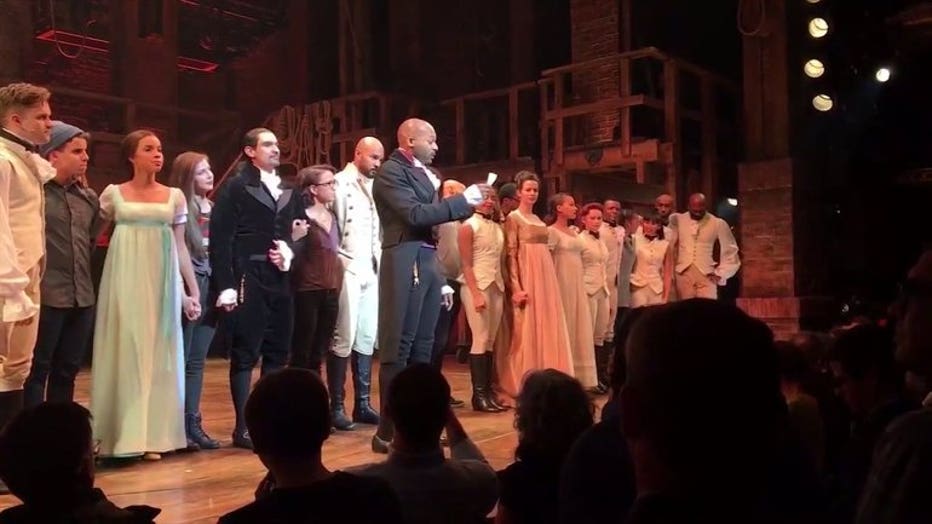 Pence said Sunday that he wasn't offended by the cast's commentary. As for the boos from the audience, Pence said, "That's what freedom sounds like."