Open records changes: Newly released emails show Assembly Speaker Robin Vos drafted the language


MADISON -- Newly released emails specify which lawmaker led the push to restrict access to government records. Assembly Speaker Robin Vos is listed as the lawmaker who requested language that would have made it much more difficult for the public to see how elected officials operate.

Ahead of the Fourth of July holiday weekend, the Joint Finance Committee approved changes to the state's open records law. Those changes had been made public just hours before the vote.

After widespread criticism from both liberals and conservatives, Republican leaders backed off the plan and removed the changes from the budget.

Now, we're learning Speaker Vos is listed as having asked for those open records changes.

After the changes were approved by the Joint Finance Committee, Senate Majority Leader Scott Fitzgerald's office was inundated with emails -- not from lawmakers, but from members of the public.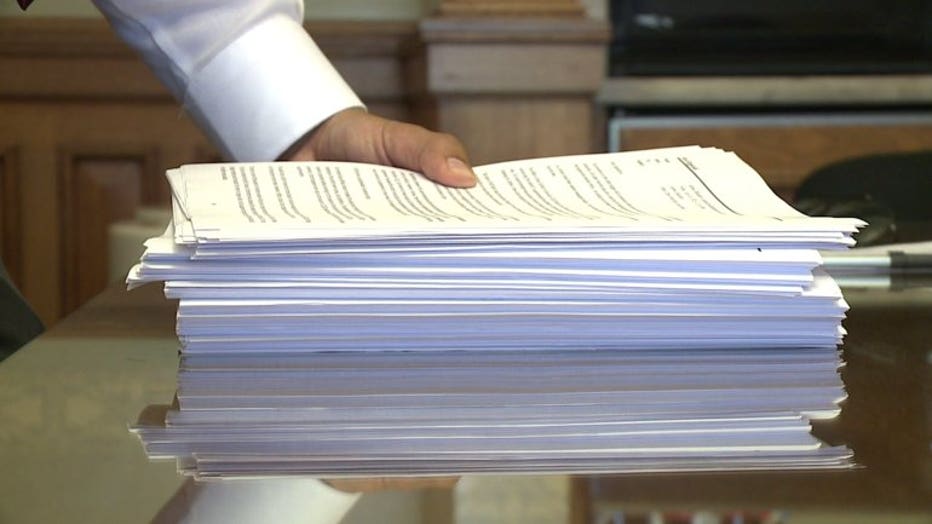 Emails to Scott Fitzgerald's office on proposed open records changes


 

A woman from New Berlin wrote: "Why would you do something like that?"

A man from Shorewood called the proposed changes "disgraceful," adding that "Wisconsin voters are watching."

A man from Mequon said he's supported Republicans for years, but he threatened to "never again (vote) for a Wisconsin Republican."

These citizens were responding to a proposal that would have severely restricted access to public records -- including emails from lawmakers and their staff, as well as the drafts of bills.

The emails are among hundreds of documents released by Senator Fitzgerald's office.

One email from June 29th lists Assembly Speaker Vos as the official who drafted the "legislative privilege" language.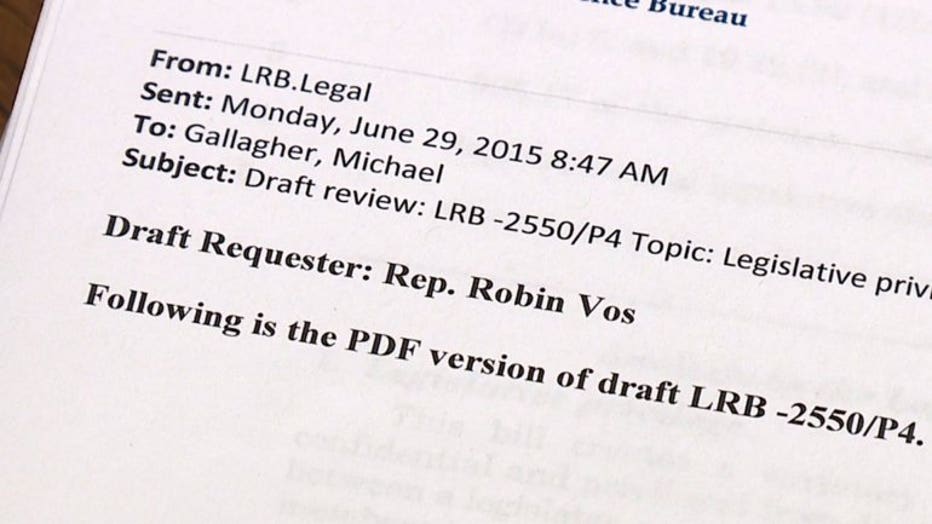 FOX6 News visited Speaker Vos' office in Madison on Thursday, July 23rd -- but a representative said he wasn't available.

A statement from Vos' office reads as follows:

"At the time of the email you reference, the concepts being discussed by Assembly Leadership were simple: Returning legislative powers ceded to the Executive Branch, and the idea that the legislature should be able to set its own common sense policies on open records and retention of drafting files. The intention was to study the practices around the country and update our policies to catch up with advances in technology, and to protect constituents.

As budget talks went on in to June and others engaged in the discussion, more ideas were added. What was voted on was ultimately a collaborative effort by the Senate, the Assembly, and the Governor's office."

Lawmakers eventually removed the proposed open records changes from the budget.

On the Senate floor, Senator Fitzgerald said in the future, lawmakers may consider perhaps less drastic changes to the law.

"I think this is gonna continue to be an issue as we move forward into the future. It`s about technology. It`s about change. It`s about privacy. And as long as those issues remain, it`s really hard for me to think we`re never gonna revisit anything as it relates to open records," Senator Fitzgerald said.

Senator Fitzgerald and a spokeswoman for Governor Walker have confirmed their offices were also involved in the proposed open records changes. They, too have cited constituent privacy concerns.